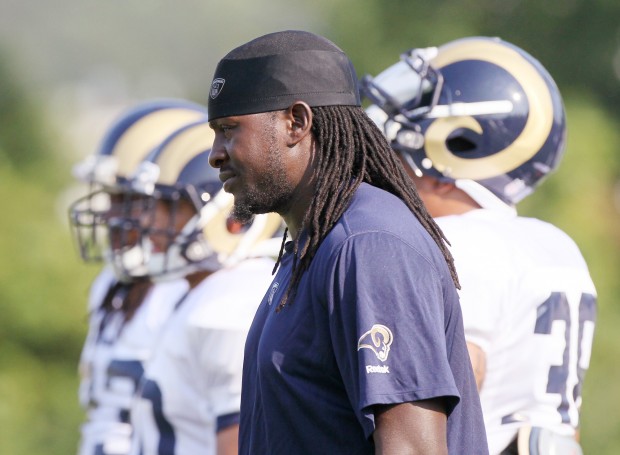 Another day, another round of free-agent signings by the Rams. The latest players to agree to terms: running back Jerious Norwood of Atlanta and outside linebacker Brady Poppinga, most recently of Green Bay. Both players will sign one-year deals.
Norwood and Poppinga bring to nine the number of outside free agents who have signed or agreed to terms with the Rams over the past week. The others: safety Quintin Mikell (Philadelphia), offensive guard Harvey Dahl (Atlanta), receiver Mike Sims-Walker (Jacksonville), linebacker Zac Diles (Houston), defensive tackles Justin Bannan (Denver) and Dan Muir (Indianapolis), and cornerback Al Harris (Miami).
Mikell, Dahl, Diles, Bannan, and most likely, Sims-Walker, project as starters.
Norwood, who turned 28 Friday, is a speedster who has been plagued by injuries during his NFL career. He gained more than 600 yards rushing in each of his first two NFL seasons (2006 and '07), and has an eye-catching career rushing average of 5.3 yards on 375 carries. But he played in only 12 games total over the past two seasons.
Norwood, 5-11, 209, also can return kicks and has a 25.5-yard career average on kickoffs — an average that would put him among the league leaders most seasons. He played in only two games in 2010 before suffering a season-ending knee injury. The Rams brought him in for a workout and a physical to check out the knee Monday. Norwood stuck around Tuesday, watching the Rams' morning walk-through while his contract was being worked out with the team.
Like all veterans who sign new contracts, he cannot practice until the collective bargaining agreement is approved, which is expected to take place Thursday.
One of the last items on the Rams' free-agent checklist was finding a backup running back for Pro Bowler Steven Jackson. There's a chance Norwood won't be the last running back to sign with the Rams. Another name that has surfaced as a legitimate candidate is Tampa Bay free agent Cadillac Williams, and league sources told the Post-Dispatch on Tuesday that there is mutual interest between him and the Rams. From a Rams perspective, the price has to be right given the team's hectic free-agent activity. They're running out of salary cap space.
Williams, 29, hasn't topped 1,000 yards rushing since his rookie season in 2005. He lost his feature-back role last season in Tampa to LeGarrette Blount but remained effective, gaining 437 yards rushing and 355 yards receiving.
Later in the day, the Rams agreed to terms with Poppinga, who is expected to compete with Na'il Diggs for the starting job at strongside linebacker. Poppinga, 31, has excellent size for the position at 6-3, 250 pounds. He played in only six games with one start last season for the Packers, registering 14 tackles and one sack.
He missed the rest of the season with a knee injury that required surgery and was released by Green Bay last week. Previously, Poppinga had started 39 games over a three-year period with the Packers from 2006 through 2008.
The Brigham Young University product is considered a stout run defender and a very good special teams player, but with liabilities in pass coverage. He visited Rams Park on Sunday for a physical and workout.
Muir, the former Colt who agreed to terms with the Rams on Sunday, has arrived and was on the sidelines for practice Tuesday. Former Rams fullback Mike Karney is paying a free-agent visit to Seattle.