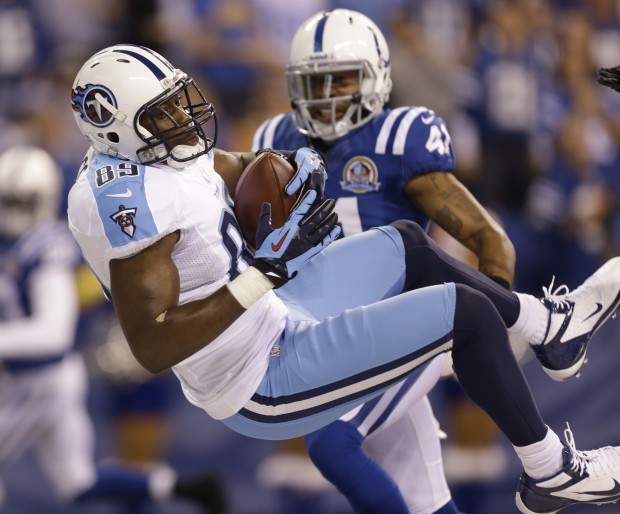 1. The Rams overpaid for free-agent tight end Jared Cook, but he's worth the risk, simply because he has the potential and talent to change their offense.
As an organization the Rams have been slow to evolve in recognizing the value of an athletic tight end that can create mismatches by outrunning linebackers and defensive backs and muscling smaller defenders.
Standing at 6-5, 248 pounds and gifted with 4.49 speed in the 40-yard dash, Cook has a rare combination of size and speed for the position. He can be utilized anywhere on the field, including the slot. Cook gives offensive coordinator Brian Schottenheimer a lot of options in drawing up creative formations.
Cook, however, has a lot to prove. He didn't play to his potential in Tennessee. There are two basic reasons for that:
• It took a raw Cook some time to learn the offense, and he didn't get rolling until 2011, his third NFL season.
• The Titans didn't utilize Cook nearly as often as they should have.
In 2011 and 2012 Cook was one of the league's best tight ends when lined up in the slot. And Pro Football Focus ranked Cook No. 2 among NFL tight ends in 2012 in catching passes of 20+ yards. He was rated No. 1 in the category in 2011. (Minimum of 25 percent of the snaps.) Cook had three TD catches on passes of 20+ yards last season.
Here's the problem: despite having this impressively fast tight end at their disposal, the Titans attempted only FOURTEEN passes of 20+ yards to Cook over the last two seasons. There were 18 NFL tight ends targeted more often than Cook in 2011, and 23 targeted more frequently than Cook in 2012. It simply makes no sense; the Titans largely wasted an asset.
That shouldn't be an issue in St. Louis. The Rams didn't spend all of this jack on a receiving tight end to turn him into a decoy or luxury-case display item.
2. I was a little surprised to see Rams fans react to the Cook signing with "Why do we need a tight end?" confusion. Here's why: the Rams need to make the tight end a weapon in their offense. In 2012 only 15.3 percent of Sam Bradford's passing attempts were thrown to tight ends, and only 16.5 percent of his completions were to tight ends. Among quarterbacks that had at least 100 passing attempts overall in 2012, Bradford was 35th in percentage of throws to tight ends, and 35th in percentage of completions to tight ends.
3. Lance Kendricks is an above-average blocker, and he's developing into a nice receiver. In fact his receiving stats from last year match what Cook did for Tennessee. But two points on that: Cook's numbers weren't what they should be because the Titans declined to take full advantage of him. (The Rams probably should have thrown more to Kendricks, too.) But more than that is the need for TWO tight ends that can be imposing targets in the passing game. And now the Rams have that capability.
The Rams don't have a tight end — or any receiver — with Cook's skill/ speed/size combo. They don't have a tight end that can consistently stretch the field. Cook has more explosiveness than Kendricks. Cook puts everything together and if used the right way, he'll fill a major void. And Kendricks can definitely do some damage as a receiving TE.
4. If left offensive tackle Jake Long passes the physical, it's expected that he'll sign with the Rams today. There are concerns about Long's health and long-term viability. Is he beaten down? How much does he have left in the tank?
First of all, here are Long's snap counts in each of his NFL seasons:
Notice the trend? The arrow is pointing down. It could be that Long suffered injuries, just like any other player suffers injuries, and his missed time doesn't indicate a larger problem or concern. The Rams will have to assess the risk factor. Obviously they have; clearly they want to sign Long.
If Long can hold up, he can still play at a high level. According to Pro Football Focus, Long was the league's top-rated pass blocking OT in 2010, and he ranked No. 2 in 2009. But Long has fallen in the rankings over the last two seasons. He hasn't been awful, or anything — just average. Clearly Long has dipped, and it's up to the Rams to determine why. It's also up to the Rams to decide if Long deserves elite-tackle money based on the last two (average) years. Rams offensive line coach Paul Boudreau does a superb job of squeezing all that he can from a player's ability, and he should be able to help Long if Long signs here.
5. Bob Glauber of New York Newsday tweeted this: if the Rams sign Jake Long, then incumbent LT Rodger Saffold will request a trade. My reaction: Uh, OK. I like Saffold, but I suppose I missed it when he became Jonathan Ogden. Saffold started only 19 of 32 games over the past two seasons because of injuries. He played very well at LT for the Rams last season (when available). And I understand why Saffold would want to remain at LT instead of switching to the right side. When Saffold becomes a free agent, his value would be higher as a LT than as a RT. But if this is true, and Saffold wants to be moved, I don't see Rams coach Jeff Fisher and GM Les Snead as the type of leaders that would capitulate to a player's demands.
Bonus Bytes on the Rams: I'd still like to see this team add speed at WR, but that likely will wait until the draft. … I'm intrigued by Darrius Heyward-Bey, who was released by the Raiders in a salary-cap move. Heyward-Bey can fly, he's averaged nearly 15 yards per catch in his career, and he's still only 26. … I wonder if Steven Jackson will find the free-agent market to be as strong (for him) as anticipated; too early to say. But the Green Bay Packers have let Jackson's agent know that they won't be used as leverage in SJ's upcoming talks with the Atlanta Falcons. … Former Mizzou QB Chase Daniel has attempted only nine regular-season passes in the NFL, and he got a three-year, $10 million deal from the KC Chiefs to be the backup to Alex Smith? And $5 million is guaranteed. Good for Chase. What a country.