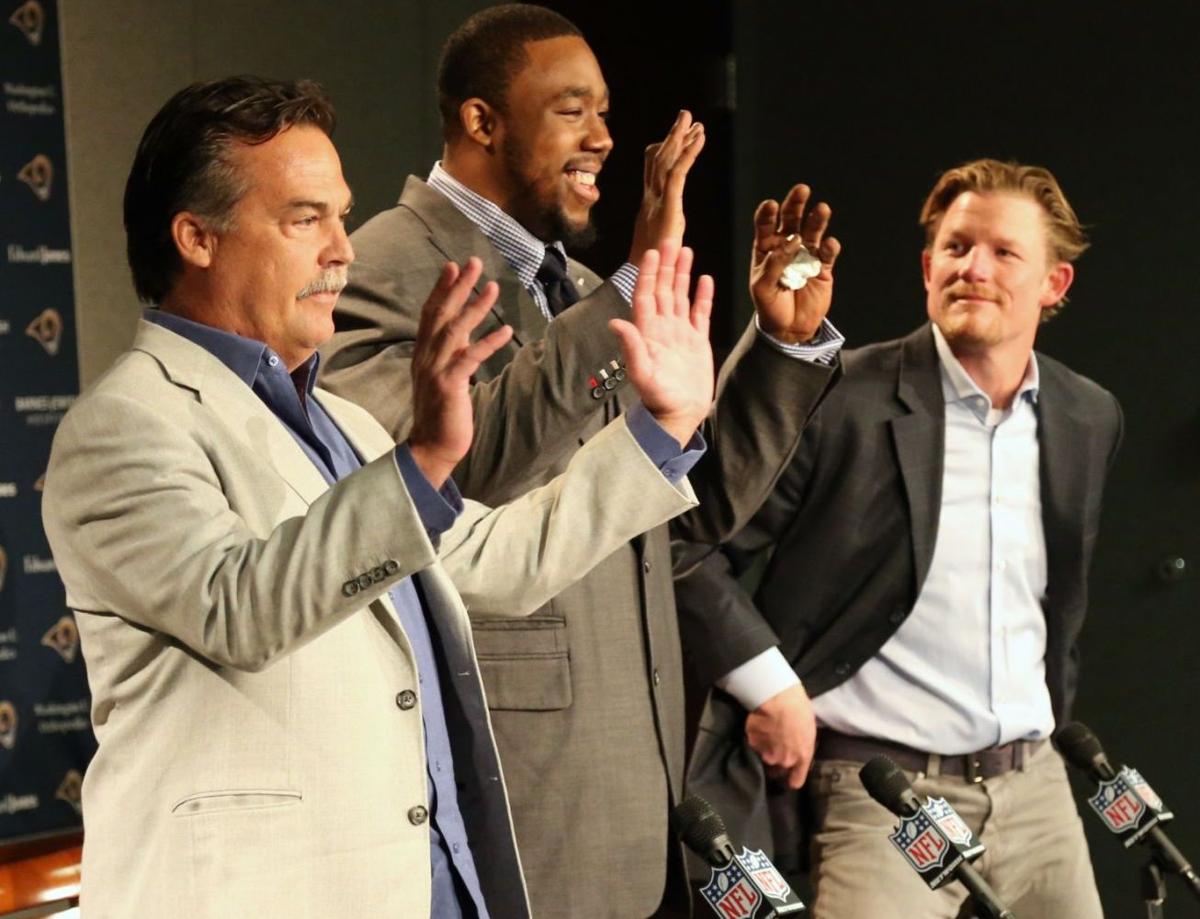 Greetings from Jupiter ... I'm watching the Cardinals and Marlins play at Roger Dean Stadium but wanted to take a few minutes to discuss the Rams' signings of free-agent defensive tackle Nick Fairley and outside linebacker Akeem Ayers. 
There's risk involved, because Fairley was up and down in his career with the Detroit Lions. Fairley wasn't always in the best shape, and his effort was questioned at times. And last season Fairley didn't play after Oct. 26 because of a knee injury. 
But the big man is talented. He's one of the best pass-rushing defensive tackles in the NFL, and it isn't easy to find guys that can generate that inside rush on a consistent basis. According to Pro Football Focus, Fairley has been a top-15 pass rusher at the position in each of the last three seasons _ with just under 100 total QB pressures since the start of the 2012 season. 
Not only that, but with this signing the Rams have an imposing tackle rotation with Aaron Donald, Michael Brockers, and Fairley. The Rams already had a good, disruptive defensive line. And now it should be even better. Donald is already one of the league's premiere DTs. Brockers has been disappointing in his three seasons as a Ram but still has the talent and attitude to be an elite performer at DT. 
The Rams gave Fairley a one-year deal for a guaranteed $5 million and with incentives it could grow to $8 million. Fairley should be fired up, because he'll be part of a group that will be relentless in getting after the quarterback. And Fairley will be playing for his next contract.
Rams coach Jeff Fisher is paying Fairley some good money in 2015 _ but he's also giving Fairley an opportunity to reestablish his value for a potential long-term deal. Fairley seems like an ideal candidate for a Fisher career-rehab special. 
I also liked the Rams' signing of Ayers, a strong-side LB who ranked among the NFL's top outside linebackers in a 4-3 alignment in 2013. Ayers was with Tennessee at the time, with Gregg Williams serving on the Titans staff as a defensive consultant/adviser. Williams, the Rams' defensive coordinator, obviously knows how to maximize Ayers' effectiveness. That's a reason to have a good feeling about Ayers' chances for success in STL. 
Ayers was ranked No. 4 among all OLBs by Pro Football Focus in '13 but wasn't as comfortable in the change to a 3-4 alignment last season before the Titans moved him to New England. 
If Ayers starts opposite of Alec Olgletree, the Rams will have two outside linebackers that can run well, blitz, and cover a lot of ground. Akers had 33 total QB pressures in '13, and that fits the profile coveted by Fisher and Williams.