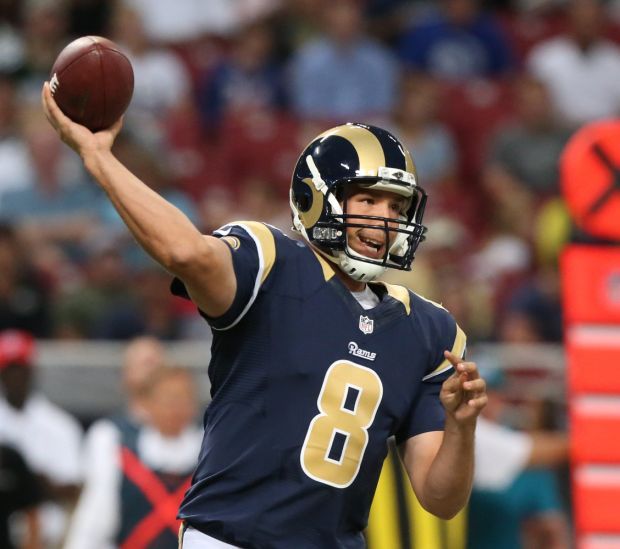 The 2014 NFL playoffs have reaffirmed something that we already knew, but it's worth repeating: if you want to win big in this league, you'd better have a quarterback capable of leading the way. Without a very good quarterback in place, you're pretty much out of luck.
Put the outliers aside. Don't be confused by the fact that Trent Dilfer was the starting quarterback when the 2000 Baltimore Ravens smashed their way to the Super Bowl championship.
Yes, Dilfer "won" a Super Bowl — by managing the offense on behalf of a physical, intimidating Ravens defense that allowed only 10 points per game that season. During Baltimore's 4-0 postseason run, Dilfer completed only 48 percent of his passing attempts, and connected for an average of eight completions per game.
I took a look at the teams that made it to the conference-championship round over the last five seasons. And 10 quarterbacks combined to start 17 of the 20 games: Tom Brady, Peyton Manning, Aaron Rodgers, Ben Roethlisberger, Joe Flacco, Russell Wilson, Colin Kaepernick, Eli Manning, Matt Ryan and Andrew Luck. Sure, the occasional team wanders into a conference championship game with Jay Cutler, Mark Sanchez or Alex Smith at QB, but that's the exception.
"There's usually a common thread with the consistently elite teams — having an elite quarterback," said longtime NFL general manager Bill Polian, an analyst for ESPN. "He's a guy who can make all of the throws. He can control the game. He operates the offense at an extremely high level. He can win under pressure. And if necessary, he can rise above the adversity and lead his team to comeback victories."
Polian knows. His excellent teams in Buffalo and Indianapolis competed in six Super Bowls with Jim Kelly (Bills) and Peyton Manning (Colts) at quarterback.
"When you have 'That Guy' in place," said Polian, "your job as a general manager is easier. Obviously, you have to assemble a quality roster. This isn't a Wimbledon (tennis) singles competition. But it all starts with the quarterback."
We're familiar with the concept in St. Louis.
In 48 seasons of NFL football in our town (Cardinals and Rams) only one quarterback, Kurt Warner, won a Super Bowl. And it just so happens that Warner is a first-time finalist for induction into the Pro Football Hall of Fame this year. For that matter, Warner is the only STL quarterback to lead his team to the conference-championship round. And only Warner, Jim Hart, Marc Bulger and Neil Lomax managed to take a St. Louis team to the playoffs.
The Rams and their fans have suffered through 10 consecutive seasons (2005-2014) of failing to make the playoffs. There are plenty of reasons for the futility: horrible drafts, inept coaching, and costly personnel blunders. But mediocrity at the quarterback position would rank high on the list of flaws.
With the "Greatest Show" Rams in their decline phase, the 2004 team went 8-8 and won a wild-card round playoff game at Seattle with Bulger at QB. But the team fell apart after that, and the franchise is still searching for "That Guy" to lead them back to the winner's circle.
The Rams thought they had him in Sam Bradford, the first overall pick in the 2010 draft. But Bradford hasn't stayed healthy, having started only 49 of 80 games since the Rams tabbed him to revive a slumping franchise. Bradford has missed the last 25 games with knee injuries, but there's more to it than that.
Bradford was the NFL's Offensive Rookie of the Year in 2010, and he's turned in some good stretches of play. But Sam hasn't elevated the Rams to a breakthrough season. Bradford's defenders blame that on the lack of talent around him; Bradford's critics blame it on his average (at best) performance history.
Either way, we can probably agree on this: the Rams have lacked transcendent play at the game's most important position. And with no obvious solutions in sight, Rams coach Jeff Fisher may crank up the rehabbing Bradford for another shot in 2015.
Fisher has cited Bradford as a prime reason for taking the St. Louis job before the 2012 season. But Bradford has started only 23 of Fisher's 48 games, and that was a bad break for the coach. But even though the Rams had the benefit of extra draft choices over the past three seasons, Fisher and GM Les Snead declined to take an aggressive approach to finding and developing a viable alternative to Bradford. And that's their fault.
Fisher's teams are known for their physical style — teams built on a disruptive, attacking defense and a power running game. But after 19 seasons as an NFL head coach, Fisher should have a full understanding of what it means to have a valuable quarterback.
Fisher's best quarterback was the late Steve McNair, who clearly made a positive difference.
In McNair's seven peak seasons at Tennessee, he had a 65-38 record, a .631 winning percentage, as the Titans' starter under Fisher.
Fisher went 76-55 (.580) overall with McNair starting games.
In games started by other quarterbacks in Tennessee and St. Louis, Fisher has a losing record (86-92-1.)
No, the quarterback isn't everything. But the challenge of winning is even more difficult when your team lines up with a limited QB.
If your team has a good one, you'll have the chance to compete in January's money games. If you don't have a good quarterback, then you should be looking for him. And if the coach and GM can't find the right quarterback, they'll probably be looking for new jobs.
That's how it goes in the NFL.
This is a quarterback league.
The Rams should have figured that out by now.