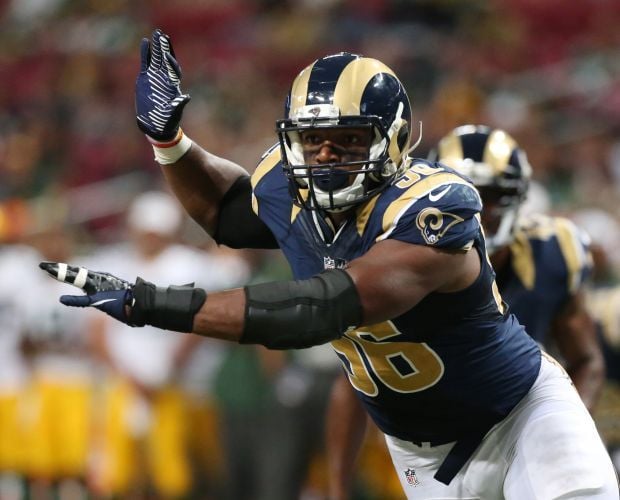 Released at the final cutdown Saturday, rookie defensive end Michael Sam failed in his quest to make the St. Louis Rams' 53-man roster.
That was his only failure.
In trying out for the Rams this summer, Sam triumphed over fear, paranoia, hatred and historically-embedded assumptions that are so hard to shake.
An athlete can't declare that he's gay. He'll kill his career. Wrong.
An NFL team would never draft an openly gay player. Wrong.
A gay player wouldn't be accepted by teammates. Wrong.
The presence of a gay player would cause "distractions." Wrong.
"There was no distraction," Rams coach Jeff Fisher said. "If someone perceived or thought there may be a distraction — they weren't in the building. We've said that all along. This was a football decision. Mike fit in very, very well. He was fun to be around. He was a good teammate. There was no issue there."
The "distractions" thing always made me laugh.
Understand that distractions are everywhere in team sports. There are players getting arrested. Players flunking league drug tests. Players partying too much. Players making fools of themselves on social media. Players getting consumed by celebrity, wealth and fame and losing focus on their jobs. It's part of the NFL culture … oh, but Michael Sam was going to arrive and set off an earthquake that would bring the house down? Please.
In Sam's case, I viewed the "distraction" caterwauling as a protective shield carried by those that couldn't quite bring themselves to tell the truth. They just couldn't come out and admit that they didn't like Michael Sam or approve of his lifestyle and were sourly displeased by the thought of a gay man being part of a team.
These folks didn't fear distractions. They feared the fact that it was 2014 and the world was changing around them, and that Michael Sam was going to get his shot to play pro football — and frankly, there wasn't a damned thing they could do about it.
The only people made uncomfortable with the Rams giving an opportunity to Sam are simply uncomfortable with the modern reality. And uncomfortable about their own intolerance.
It's way past time to accept the differences in fellow human beings who want what everyone wants: health, happiness, love, family, accessible goals and the right to pursue a chosen career.
The Rams and Sam had the guts to go for this.
And their courage easily conquered cowardice.
There was one distraction at Rams Park this summer, and I guess you can say it was Sam's fault … Sam Bradford, that is. The coaches and players were shaken for a day or two by the news that they'd lost Bradford, their starting quarterback, to a season-ending knee injury.
With Michael Sam there was no media stampede. There was one dumb story on ESPN about Sam's showering habits. (And only ESPN was distracted — by having to issue an apology.)
There were no hidden spy cams to track Sam's every movement. Rams players welcomed him. Sam went to work, practiced and studied hard, and impressed with his energy. He gave about as many interviews as any other player. Training camp was orderly and businesslike.
If Rams coaches, executives, players and staff could quickly accept Michael Sam as a person and a player, respect his relentless worth ethic and support his quest to make the squad, well, that's more powerful than hatred or paranoia.
Sam's coaches and teammates at Mizzou knew he was gay and didn't care. The 2013 Tigers had a great season. The Rams were happy to have Sam in camp and may add him to their practice squad.
We assume that the other 31 NFL teams noticed that Sam was drafted, and spent the summer working in Earth City, and that Rams Park is still standing. And that Sam, the man, made a positive impression.
The Rams and Sam showed the way to enlightenment.
Perhaps less enlightened teams will be emboldened to follow.
"There were a lot of things that were said right around the draft, right after we drafted him that this was a historical moment, for the league and everything," Fisher said. "We're proud to be a part of that, but it was a great experience but there were no issues. No issues in this team meeting room, on the field, any place.
"I just think there was a lot more made of it than there should have been and obviously, as I said back at draft time, I was proud to be a part of that. Enjoyed the experience and with Mike (and) Mike's got the ability, Mike played well. He has the ability to play someplace and it's got to be the right place, it's got to be a fit."
When Fisher referred to "fit" he meant Sam's potential to fill a role. He didn't fit the 53-man roster in St. Louis because the Rams had an abundance of quality defensive linemen, shortages at other positions, and couldn't afford the luxury of carrying an extra pass rusher. Moreover, Sam was outplayed by fellow rookie defensive lineman Ethan Westbrooks. As a seventh-round draft choice, the odds were against Sam from the beginning.
It didn't work out for Sam. Not now, anyway. But Sam's experience was a success on many other levels. Irrational fear and loathing will never vanish entirely, but Sam gave it a battering while knocking down a significant barrier.
As a player, Sam didn't quite prove that he belonged on the 53-man roster. But as a person, Sam proved that he belonged in the locker room. More than that, Sam belonged at the center of a unique and powerful moment in sports history.
I doubt that we'll see a seventh-round draft choice do as much for the NFL as Michael Sam has this summer. He opened doors and minds.