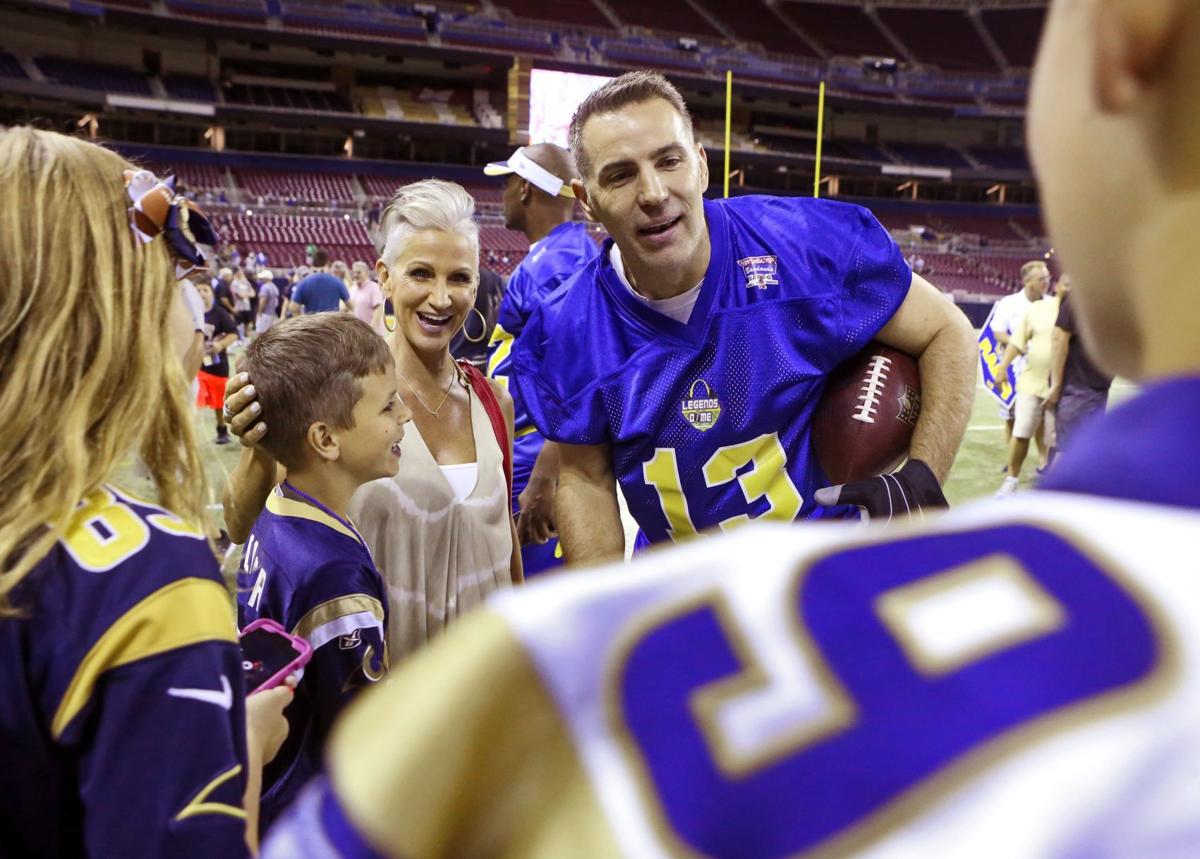 It's rare for wives to serve as presenters during the Pro Football Hall of Fame induction ceremony. In fact, only two of 303 Hall of Famers inducted prior to this year's class were introduced by their wives:
• Deanna Favre presented quarterback Brett Favre last year.
• Kim Singletary presented linebacker Mike Singletary in 1998.
But in the case of former St. Louis Rams quarterback Kurt Warner, who is part of the seven-member Class of 2017, could there be anyone other than Brenda Warner? Considering all they've been through, particularly in the early years of their relationship, it was all but a slam-dunk choice.
In a conference call Thursday, Warner said he went through a lot of names as possible presenters for his Aug. 5 induction in Canton, Ohio, including coaches he has had over the years as well as his seven children.
"But I think the bottom line is through this entire journey — all the ups and downs, all the good and bad — there's been one person that's been through it all," Warner said. "That's sacrificed as much as I had, and really allowed me within our circumstances to chase after my dream."
That would be Brenda, a former Marine who Kurt met at Wild E. Coyote's — a country bar and dance club in Cedar Falls, Iowa, during his college days at Northern Iowa. She was divorced at the time with two children, one of whom was developmentally disabled due to a traumatic brain injury as an infant.
After he was released in training camp by the Green Bay Packers in 1994, they all lived in the basement of Brenda's parents' home. She was on food stamps as she worked her way through nursing school. Kurt watched the kids in the morning, worked the overnight shift at a Hy-Vee grocery store and wedged in workouts in between as he struggled to keep his football dream alive.
"(Brenda) may have put things on hold or took on different responsibilities that she may not have if we went a different direction," Warner said.
But they persevered, and Warner's eventual emergence as league MVP and Super Bowl champion became one of the most improbable stories in NFL history. The story culminates in three weeks in Canton.
"Being up on the stage, it's a part of so many different people that helped me to get there," Warner said. "But she's the one that I believe deserves to share that moment with me, and share that stage with me."
Brenda has a strong personality and wasn't shy about speaking her mind during the Warners' time in St. Louis. Does that make Kurt curious about what she might say on Aug. 5?
"Any time that it's your wife, you're always wondering what they might say in public," he said, laughing. "So you're definitely wondering."
There will be another wife presenting for the Class of 2017. Dallas Cowboys owner Jerry Jones has chosen his wife, Gene.
Warner has been working on his induction speech, approaching it with the diligence and effort that characterized his preparation as a player.
"I have it pretty much laid out at this point, but still shaping it," he said. "I'm excited about where it's at. It may be a little different than what other people have done in the past. I think that's kind of fitting."
Warner has always had the gift of gab, so one of his biggest challenges is keeping his remarks at the recommended length of 12 or 13 minutes.
"To try to put your entire career (in perspective) and thank the people that you want to thank and do the speech justice, I think it's nearly impossible," he said.