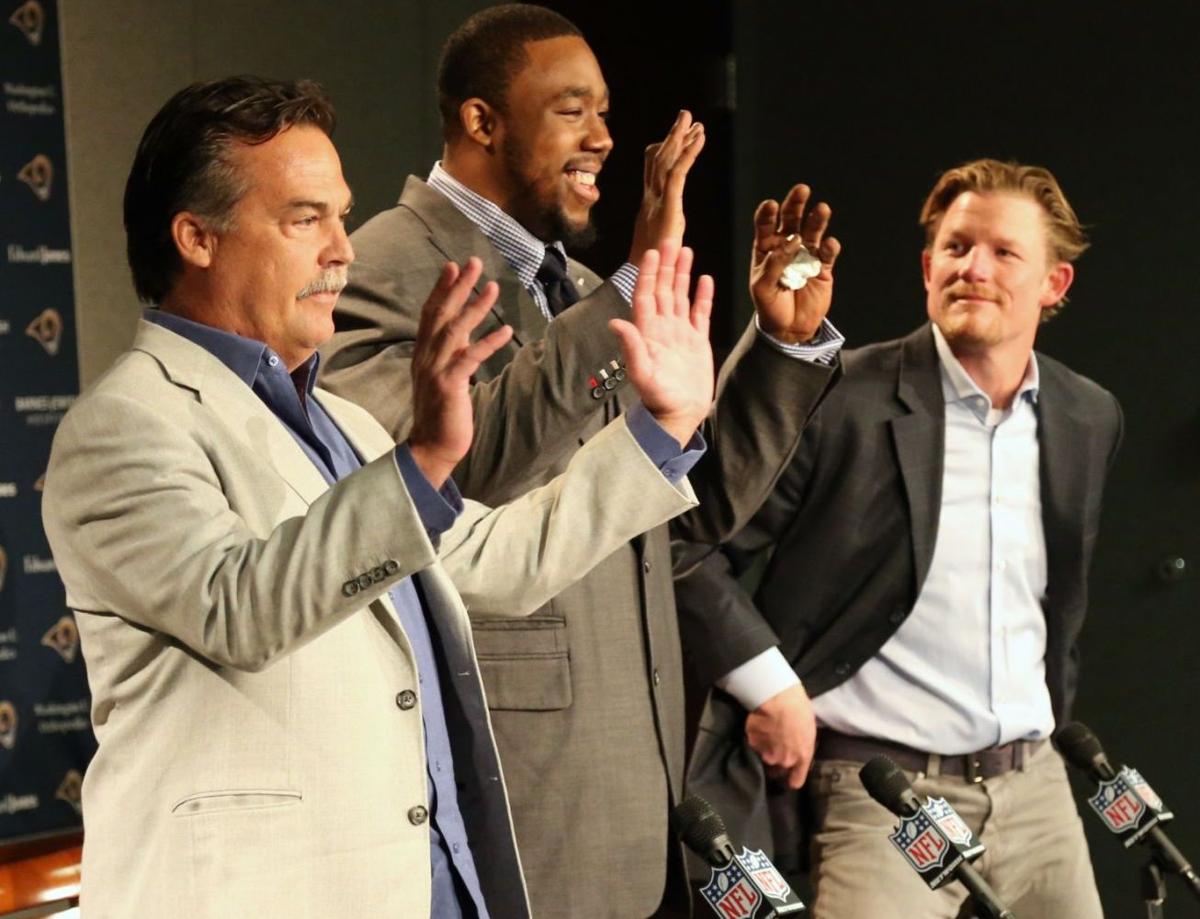 Just hours after signing Detroit defensive tackle Nick Fairley, the Rams continued to make moves in free agency by re-signing wide receiver Kenny Britt to a two-year deal, according to the team.
Britt revived his career last season with the Rams, catching 48 passes for a team-high 748 yards and averaging 15.6 yards per catch. New quarterback Nick Foles has shown an ability in the past to throw the long ball, and Britt obviously provides a deep threat. Besides his production, Britt surprisingly developed into the leader of a still-young Rams wide receiver corps.
Britt's return doesn't eliminate, but certainly lessens, the need for the team to seek a wide receiver in the draft. The Rams need Brian Quick to return successfully from shoulder surgery — an injury that is expected to keep him out until training camp. Tavon Austin, Stedman Bailey and Chris Givens also are under contract from last season's wide receiver corps.
During the early free agency period, things were quiet on Britt. It didn't appear that he took any other visits before deciding to return to the Rams.
Britt's signing means that two of the Rams' four free-agent priorities in terms of re-signing their own players will be back with the team in 2015. Tight end Lance Kendricks re-signed on the first day of free agency. Quarterback Shaun Hill signed with Minnesota. But offensive tackle Joe Barksdale, who has yet to take any visits, is still in play.
There were reports Friday night that Britt will make about $14 million, but early indications were that's a puffed up number that includes incentives.
Meanwhile, Fairley signed a one-year, $5 million "prove it" contract that could max out at $8 million with incentives.
The addition of Fairley gives the Rams a whopping five first-round draft picks on their defensive line. He was chosen 13th overall out of Auburn in 2011 and joins ends Chris Long and Robert Quinn, and tackles Michael Brockers and Aaron Donald as first-round defensive linemen on the roster.
At least initially, Fairley figures to be the Rams' third defensive tackle in what potentially could be a formidable rotation with starters Brockers and Donald.
"I feel like this is a perfect fit for me," Fairley said. "The guys in this group — the D-line — they're young, they're moving forward, and I want to be part of it."
No one doubts that Fairley has the talent and athletic ability to be a very good defensive tackle, but he comes to St. Louis with plenty of red flags. In four seasons in Detroit, he's had weight, injury, and off-field issues. Some have questioned his consistency and motivation from down to down and game to game.
But after playing at as much as 320 pounds in Detroit, a svelte-looking Fairley has hired a personal chef and lost 40 pounds.
"Right now I'm at 280," Fairley said. "Now that I'm down here I'm gonna be looking for (a personal chef) here."
Fairley plans to add weight; 280 is very much on the light side for a defensive tackle in the NFL, but he wants to do it the right way.
"I'm gonna put on some muscle, of course," he said
Fairley, 27, had six sacks in 2013 and 5 1/2 in 2012. But slowed by knee problems, he played in only eight games last season and finished with just 14 tackles and one sack. His knee ligament issues didn't require surgery, just rehab work.
Detroit chose not exercise a fifth-year option on Fairley last spring, foreshadowing his free agency this offseason.
"When they didn't pick it up, it was just the nature of the business," Fairley said "I don't feel like I have anything to prove. It's a new start for me. I'm just ready to start going, get here in April and get ready for the offseason workouts."
Fairley's only other visit since Tuesday's start of free agency was to Cincinnati.