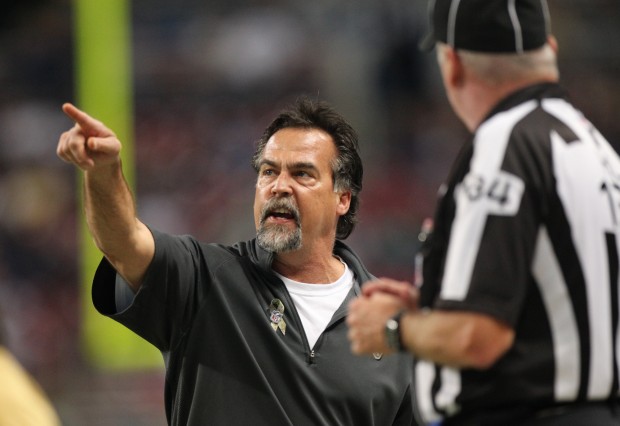 A week ago in San Francisco, the Rams were a young team searching for all the right words to describe just how close they'd came to a season-defining victory. A week ago, they were a young team bubbling with a belief that prosperity was just around the corner, as if some critical spark had been ignited in those demanding and often impressive five quarters of football in Candlestick Park.
But on Sunday back in St. Louis, in the quiet of another loser's locker room, the frustratingly inexperienced Rams were singing another tune entirely. They stood in front of their Edward Jones Dome locker stalls searching for the proper words and emotions to describe how they had just spit out this unsightly 27-13 loss to a dead team walking called the New York Jets.
"It was just ugly," Chris Long said in a voice barely above a whisper.
"It's extremely frustrating," said Jo-Lonn Dunbar before quietly slumping into a chair and staring into space for what seemed like an eternity.
It was the lament of a team on the verge of ... well, on the verge of what exactly?
A long-awaited, but repeatedly-delayed winning surge?
Or maybe it's just another agonizing Groundhog's Day regurgitation of the up-one-minute-down-the-next two step that teams stuck in perpetual mediocrity give us all the time?
I'm still sipping the Kool Aid that this is a green but growing team that is still wandering in the dark, but ever so close to walking through the door that will send them on a steady climb back to respectability. But because of that youthfulness, there are still going to be a few more head-scratching days like this when they bang into walls, trip over furniture and end up sprawled out flat on their faces before they have that great awakening that allows them to become consistent winners in the rugged world of the National Football League.
So, impressive but imperfect games like last week's overtime thriller with the San Francisco 49ers can be inexplicably followed up by stinkers like this against a bad team like the Jets because getting over that hump is turning out to be a lot harder than anyone could have imagined.
"It's pretty difficult," said nine-year veteran Steven Jackson, one of the rare old heads on one of the youngest teams in the NFL. "It's frustrating because we'll go in tomorrow and we'll look at the film and we'll see some things that we did really well and then we'll see some things that we didn't do too well."
All week in practice, the Rams seemed to be almost resurgent, bubbling with the confidence that they'd discovered themselves against the 49ers. Yet by the end of the Jets game, it felt more like they'd left something in San Francisco. It wasn't their heart, but it was the concentration and execution that's required to win every week in pro football's most demanding workplace.
You can't come out of the gates like a ball of fire then sputter the rest of the way. You can't throw interceptions on the goal line. You can't fumble away the ball on drives that are supposed to spark a comeback. You can't have breakdown after breakdown on the line of scrimmage on offense and defense and expect to win.
You can't continue to lose attention to detail and expect that even a woefully bad team like the Jets won't take advantage of you.
Jackson, who tried his best to lead the Rams to victory with a positively bullish show of force – 81 yards rushing, averaging 6.2 yards per carry – said he was going to do his best as one of the veteran leaders to teach his younger teammates what it takes to win.
When asked what it is that they haven't quite grasped yet, Jackson didn't hesitate.
"That each and every week is a new game," Jackson said. "Each and every game is going to be a tough fight regardless of who the opponent is, regardless of what the record reflects. It's tough to win in this league."
And it's even tougher to be a consistent winner. Right now, the 3-6-1 Rams have gone almost seven weeks without a victory. They are making improvements every week that anyone can see is a dramatic upgrade from last year's 2-14 nightmare. But for some reason, whether it's injuries or inexperience or just an uncomfortable shortage of winning-ready talent, Jeff Fisher's kiddie corps hasn't been able to turn these weekly lessons learned into whatever is needed to string together some winnable games.
It looked like last week was the turning point, but after that opening offensive drive, not much happened that reflected how close the Rams might be to getting their act together.
They made Mark Sanchez look like a poised offensive leader. They made somebody named Ellis Lankster look like Lester Hayes out there. "We played bad and we can be a lot better," said Long. "I guess you can attribute it to being young. But it's not an excuse. We have to be more consistent ... But we have to execute. As professionals we have to execute."
They teased us with that September surge, but now reality has settled in and the climb back up that steep mountain called respectability turns out to be a much more demanding journey than we expected.
On days like this, it's hard to preach that the Rams are getting better. On days like this, unless you squint real hard, you will be hard pressed to see anything positive, because this was the worst defeat of the season. It was worse than losing 45-7 to New England, because the Patriots are defending AFC champions, a legitimate Super Bowl contender and the Rams had to journey halfway across the world to play that game.
But losing like this at home to a vulnerable Jets team hurts. And it hurts bad.