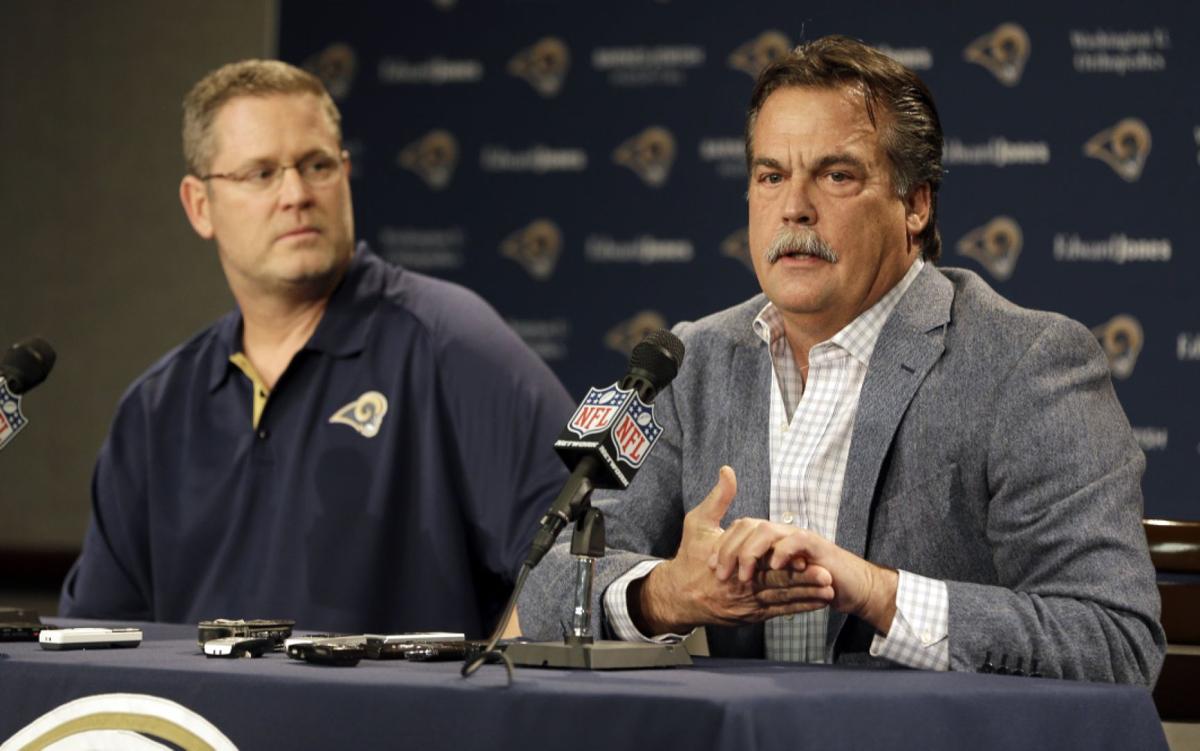 Backup quarterback Austin Davis says the Frank Cignetti scheme has its own flavor. Wide receiver Kenny Britt said there's a big learning curve involved in getting it down.
But if you're expecting a radical departure scheme-wise from what was done under predecessor Brian Schottenheimer, think again.
"It's like this: Coach Schottenheimer put a tremendous foundation in place here," said Cignetti, the Rams' new offensive coordinator. "It's like buying a house. The foundation's there. What do you do? 'Let's remodel a couple rooms.' So really that's what we've done."
So there may be a new rug here; some curtains there; fresh paint in a couple of rooms. But it's not like the place has been gutted and the Rams are starting from scratch.
"All we have done is put our personal touches in different areas," said Cignetti, the team's quarterbacks coach the previous three seasons under Jeff Fisher. "And frankly, if Coach Schottenheimer was here, that's what you do as a staff every year. You look at it and you continually look for ways to improve."
It may take weeks, even months, once training camp starts to fully flesh out the changes. But some are evident already.
Up front the Rams are switching to a zone blocking scheme, which should make it a little easier for a young offensive line to figure out who to block from play to play.
There is a new emphasis on the short passing game and getting the ball out quickly, perhaps another concession to the inexperience up front and the need to keep new starting quarterback Nick Foles upright.
As Fisher has mentioned on several occasions, the play-calling has been streamlined and simplified. That should make it easier to grasp the system overall and easier to keep everyone on the same page on game day.
According to Britt, Cignetti is making a concerted effort to play to the strengths of each skill position player.
"He's getting everybody in position to use their talents to the best of their ability," Britt said. "And that's something that we needed. Each one has so many different skill abilities. He's putting it to use this season."
By the end of the spring practice period Thursday, most of the concepts in the running game, passing game and pass protection had been installed and introduced to the players.
"There's a new flavor to everything we're doing," said Davis, who's expected to battle Case Keenum for the No. 2 quarterback job in training camp. "Coach Cig, he's his own man. He's his own coordinator. He wants to do things differently in some areas. But at the same time we're running a lot of the same concepts. So most of it is review."
Although Cignetti has had extensive coordinator experience at the college level, this is his first bite of the apple at the NFL level. He's loving every minute of it so far. Then again, he has yet to be second-guessed over a play call or been forced to make a split-second decision on third-and-long.
"I love just leading the group," Cignetti said. "I love trying to put people in a position to be successful. I love the schematics of being a coordinator — the organization of being a coordinator."
Cignetti points out that this is "our" offense, not "his" offense. It's a collective effort, with input sought and put to use from the entire offensive staff.
"Every day is a blessing," he said. "I come to work trying to have fun, trying to do the best job I can teaching. ... I've been around it my whole life. I'm a coach's kid.
"I've been on this field ever since I was 5, 6 years old. I'm comfortable on the field, in the locker room. Just love it. Can't get enough of it."
The son of a longtime small-college coach in Pennsylvania, Cignetti will have his exuberance tested by the defensive gantlet that is the NFC West, not to mention out-of-division games against the likes of Pittsburgh, Baltimore, Cincinnati and other strong defensive clubs.
Much remains to be done once the team returns from its summer break for training camp at the end of July.
Cignetti may not be able to get a true read on running back Todd Gurley's readiness until well into training camp, as the former Georgia standout completes his rehab from knee surgery.
On the offensive line, continuity is mere rumor with rookies Rob Havenstein and Jamon Brown getting their first taste of the NFL at right tackle and right guard, respectively. There's a three-ring circus at center with Barrett Jones, Tim Barnes and Demetrius Rhaney all competing for a starting job.
"It's a process," Cignetti said. "Every day you want to see these young men come out here and continue to get better, which is what we've seen."
And line "veterans" Rodger Saffold at left guard and Greg Robinson at left tackle were limited to individual work during the OTAs as they rehabbed from offseason surgery.
At quarterback, Foles got tons of reps during the June sessions, many more than he'd have gotten had he been with the club for a few years.
"Nick Foles, first off, is an unbelievable person," Cignetti said. "High character. Great leadership. He does a great job in the classroom, great in the locker room. He's able to take the teaching from the classroom to the field. Every day you've seen that Nick has gotten better."
In the continuing efforts to get Tavon Austin more involved in the offense, Cignetti liked what he saw from the wide receiver this spring.
"Tavon Austin's had a great offseason," Cignetti said. "It starts in the classroom. He's learning. He's paying attention. He's bringing it to the practice field.
"You just see it from his route running. What a difference. His effort, his attention to details. Every day out there, the guy's made plays."