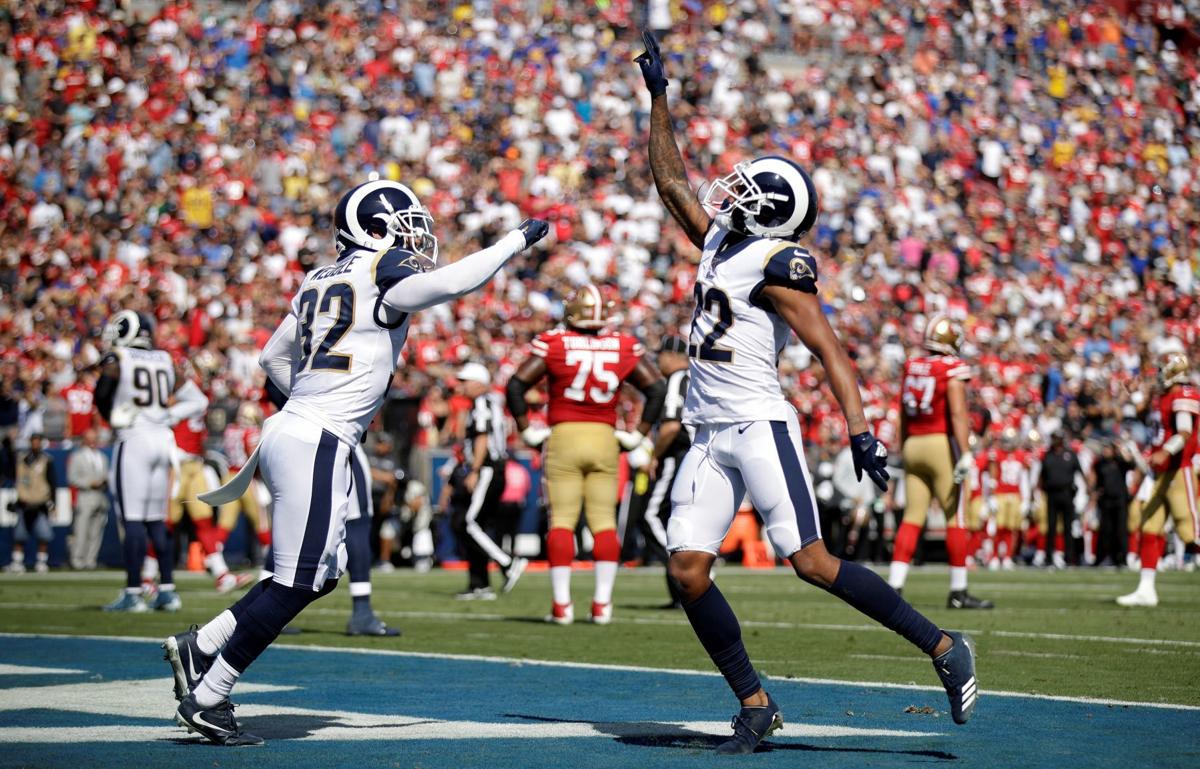 The Rams couldn't wait to charge out of St. Louis at the first opportunity they had, as owner Stan Kroenke was lured by the riches beckoning in Los Angeles.
He whisked the team there four seasons ago and began construction on a stadium, whose cost reportedly has reached $5 billion, that will house the Rams and also will have the Chargers as a tenant. They were moved out of San Diego by the NFL in another money-first move.
Los Angeles had no NFL teams for more than two decades. Suddenly it has two. But neither has been well-received by fans there, as home games continue to draw massive numbers of rooters for the opposing teams. This was especially evident Sunday, when San Francisco 49ers boosters overtook the Coliseum to see their team upend the Rams, and Steelers fans dominated the crowd at the soccer stadium in the suburbs in which the Chargers are playing until they move into the Kroenke Corral next year.
This caught the attention of the Los Angeles Times' Arash Markazi and ESPN's Scott Van Pelt.
"The end result is a home-field experience for the Rams and Chargers that still feels very much like an NFL international game in London or Mexico City," Markazi wrote. "Walk around the tailgates at (either stadium) and you'll see plenty of people wearing the opponent's colors, but you'll also see jerseys of random teams such as the Cowboys, Patriots, Raiders and other teams that aren't playing anywhere near LA. There are plenty of NFL fans in LA, they just might not be fans of the teams that now claim the city as their home."
He added: "The Chargers are selling season tickets next year for as low as $50 per game. In other words, a Chargers fan could pay off their season tickets for next year in the new stadium by reselling just the Steelers and Packers games this season. It was a deal apparently too good to pass up for most Chargers season-ticket holders."
"Imagine spending $5 billion on anything … then realizing the football tenants, the main reason for getting the thing built, might not be worthy of the outlet," he said.
Then Van Pelt pointed out that 49ers general manager John Lynch went on social media to "thank them for creating a home game" and added that the overtaking of the stadium by opposing teams' fans "was even more noticeable for the Chargers because they play in a much more intimate venue and it was almost entirely filled with Steelers fans. … At one point the video board began playing "Renegade" by Styx, which is the unofficial anthem of the Steelers. The place goes bananas. … Chargers players were not happy."
Van Pelt added that the new stadium will seat 70,000 for football, and the Chargers now are playing in a facility that has one-third of that capacity — and even in that their fans are being far outnumbered.
"Who's going to go to those Chargers games (in the new building)?" Van Pelt asked. "What's the visual going to be? How does the NFL sell it, or spin it? They've got it worse than the Rams. But the Rams were in the Super Bowl last year. Look at the Coliseum. It's got to be half red (49ers color)."
He concluded: "Zero teams in Los Angeles — that wasn't enough. Two's clearly too many. There are NFL fans in Los Angeles, plenty of 'em. Most of them just root for other teams. And they're going to have a fancy new place to see them play when they come to town."