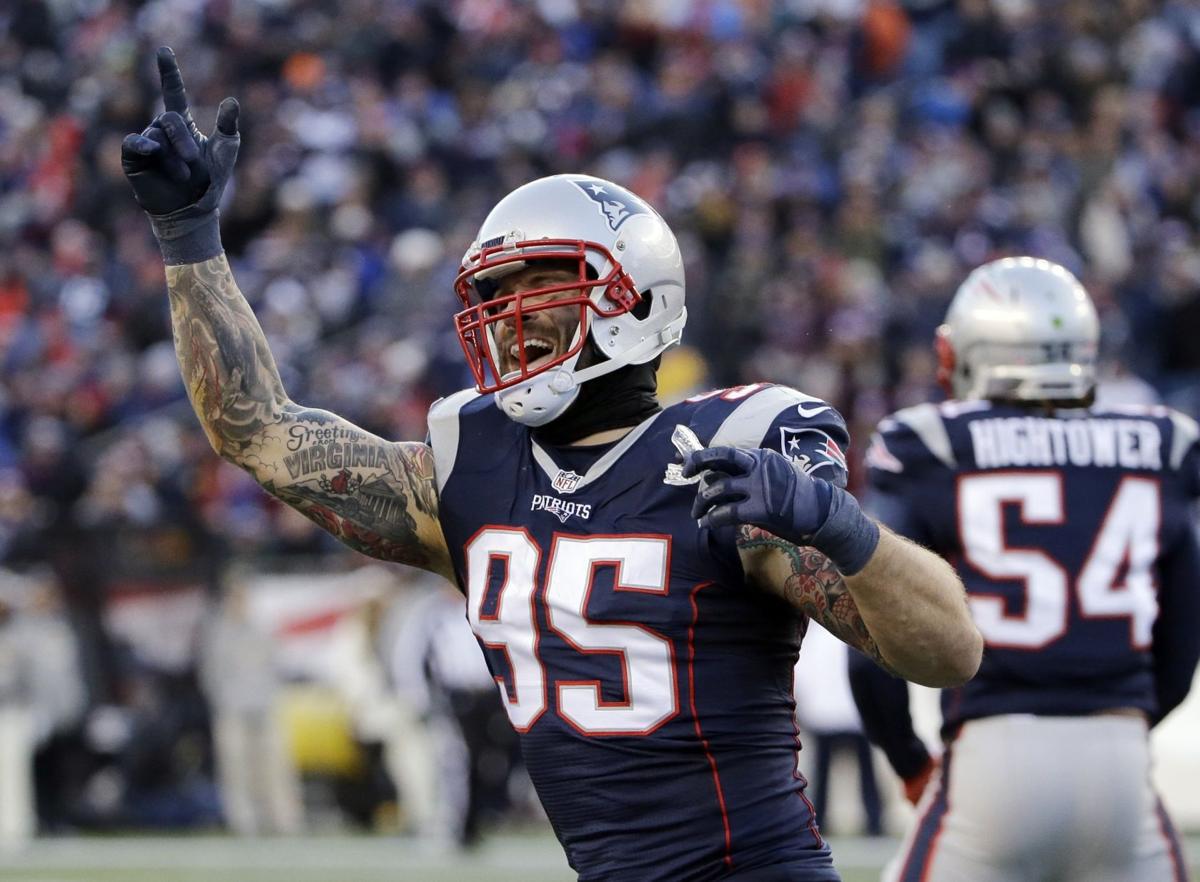 HOUSTON • Camera tripods were stacked up two- and three-deep around the podium. Reporters jockeyed for position to get the next question in. All that was missing, in the words of the late, great Bryan Burwell, was the clicking and whirring of mini-cams.
So what was going on here? Who was attacting all this attention at the New England Patriots media session?
"I guess I'm at the Super Bowl answering questions," chuckled Chris Long, longtime defensive end for the St. Louis Rams. "This is different, huh?"
About as different as could be when compared to his eight seasons toiling for the Rams. Long won only 39 of 128 games playing for Stan Kroenke's franchise. This season for New England, he's 16-2.
Sixteen victories in five months. It took him nearly five years in St. Louis — December of his fifth season — to reach 16 victories.
And now, here he is: Chris Long at the Super Bowl.
"This is a new height for me on a team level," he said. "Obviously, leaps and bounds from where I've ever been."
Long had some very good individual seasons with the Rams. He probably should have made the Pro Bowl in 2011 when he registered 13 sacks for a 2-14 club. Or even in 2012, when he registered 11½ sacks for a 7-8-1 team. Over a four-year stretch from 2010-13, Long totaled 41½ sacks.
You know the rest of the story. Slowed by injury, his playing time and productivity dropped in his last two seasons in St. Louis. He was cut following the 2015 season in a move partly fueled by salary cap considerations.
To say he landed on his feet would be understatement. Atlanta went after him hard. Detroit, too. But after all that losing with the Rams, what Long wanted most at this stage of his career was a chance to win a championship.
And here he is in the Super Bowl, playing for the Patriots and the man who revives careers: Bill Belichick.
In Houston, Belichick went on and on about Long's contribution this season on a Patriots defensive front that is deep in talent and comes at you in waves.
"Chris Long had done a great job for us this year," Belichick said. "He has come in and played a lot of different positions for us. He has played both ends, inside, probably dropped into coverage more this year than he has in quite a while.
"He's smart. He works very hard. He's tough. He is there every day and gives you great effort on every play and on every day. You can really count on his competitiveness."
Belichick likened him to veteran players from seasons past who found success with the Patriots later in their careers, mentioning running back Corey Dillon, wide receiver Randy Moss and linebacker Bryan Cox.
(Cox, the former East St. Louis Flyer, is at the Super Bowl as defensive line coach for Atlanta.)
"Some of these players that have been with the Patriots for a while have had a lot of successful seasons and won a lot of games," Belichick said. "Chris hasn't. I think he appreciates winning a lot, and I think that energy and spirit that he has about winning carries over to some of the guys."
So at age 31, Long is soaking up the Super Bowl atmosphere like someone who has waited his entire career to get here.
"I just had to get used to the media being everywhere," Long said, with a mini-chuckle. "Like including when we landed. It's crazy. It's just a reminder of how many people are gonna be watching what we do. You definitely want to put your best product out on the field on Sunday."
Long has made another interesting discovery. The more success you have in the postseason, the bigger the stage, the more trinkets you receive. Like the Super Bowl hats the Patriots received when leaving the plane Monday.
"I got a cool (Super Bowl) sweatsuit already," he said. "It's awesome."
In his media sessions Monday and Tuesday, Long has quickly shown he's savvy enough to avoid saying anything dumb. But his fun-loving nature makes him more than capable of handling whatever's thrown his way.
Asked to name his favorite pizza topping: "Golly, I hate to be boring, but chicken. I have chicken in a lot of other situations."
His favorite football movie? "I don't like a lot of football movies. I don't like 'Remember the Titans.' ... 'Rudy' was good. 'Little Giants' was solid. 'We Are Marshall' is a good one. 'Any Given Sunday' is good just because of the speech. The pregame speech is like the best thing ever."
How does he likes his guacamole? "I would say a lot of salt and a lot of lime."
(Which sounded more like an answer to how he likes his tequila.)
When it came time for a serious answer, Long seamlessly shifted gears. Like whether he wanted to keep playing after his release by the Rams.
"If I play football, I don't want to lose," Long told himself. "I want to be in a situation like this. I was basically just betting on who's gonna be there?"
It turned out to be the Patriots, who are in the Super Bowl for a league-record ninth time overall.
"These guys have been here so many times, and I see why, being here all year and realizing the work we put in, the coaches we have, the players we have," Long said.
Long said he harbors no ill-will toward the Rams.
"I really wanted it to work out there," he said. "I've got a lot of love for all those people, even Coach (Jeff) Fisher, who cut me. ... It's a production business, and I wasn't producing toward the end and that's the way things go. You can't hang on to stuff like that in a negative way."
Instead, Long is living in the moment. And what a moment it is, far removed from what he left behind.