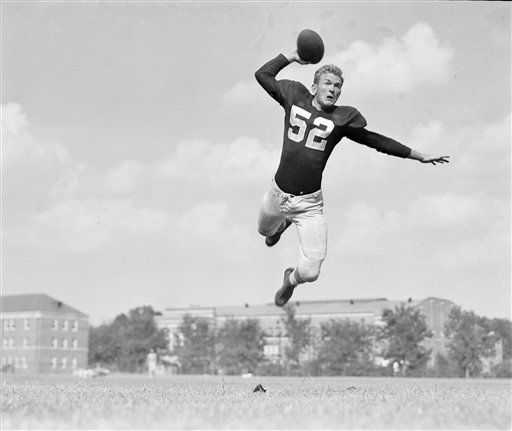 Harry Gilmer, a former No. 1 overall NFL draft pick and a longtime assistant coach for the St. Louis football Cardinals, died Saturday. At age 90, he had been one of the oldest living former NFL players.
He is a member of the College Football Hall of Fame, the Alabama Sports Hall of Fame, and had been named a Southeastern Conference "Living Legend."
"When I was a little kid, and you played quarterback, you had to do the jump pass," said Jim Otis, a fullback with the Cardinals during part of Gilmer's coaching tenure in St. Louis. "He was the first guy that ever did the jump pass."
Gilmer, a native of Birmingham, Ala., starred at halfback for the University of Alabama in the 1940s. In those days of single-wing football, the halfback also threw forward passes, and Gilmer was known as "Jumping" Harry Gilmer for his jump pass. Legendary sportswriter Grantland Rice called him "the greatest college passer I ever saw."
In 1946, Gilmer was named MVP of the Rose Bowl after the Crimson Tide's 34-14 victory over Southern California. In 1948, he was drafted No. 1 overall by Washington. In a 2010 interview with the Post-Dispatch's Vahe Gregorian, Gilmer said his $10,000 signing bonus was deducted from his first two years' salaries of $15,000.
He played nine seasons in the NFL with Washington and Detroit, earning two Pro Bowl berths. His coaching career included a two-year stint as head coach of the Lions in 1965-66, after which he embarked on a long career as an assistant coach that included a couple of stints with the football Cardinals that spanned parts of three decades.
In St. Louis, Gilmer was part of Big Red coaching staffs of Charley Winner, Jim Hanifan, Don Coryell, and Bud Wilkinson, usually as quarterbacks coach.
"He was a laid-back country boy," Otis said. "He was the first coach I ever saw that wore house slippers to team meetings. I never knew anybody that didn't think the world of him."
He later served as a scout for the Big Red, spanning the franchise's last years in St. Louis and initial seasons in Phoenix. Hanifan once called him the most honest man he knew.
"Harry was one of the nicest human beings I have ever known in my entire life," Hanifan said Saturday. "He was almost devoid of ego. In the state of Alabama, this guy was like a god."
As an assistant coach during the "Cardiac Cards" era of the mid 1970s, Gilmer "had terrific football knowledge, and was a very calming influence on both Joe Gibbs and myself." Hanifan said.
In retirement, Gilmer lived on 57 acres in O'Fallon, Mo., raising horses, chickens, and goats — much to the delight of his visiting grandchildren and great grandchildren. The land was sold to Gilmer by Otis, who stayed in close touch with him over the years.
In recent years, Gilmer suffered from Alzheimer's disease. He is survived by four children, seven grandchildren, and 14 great grandchildren. His wife Katherine died in 2005. Plans for a memorial service are pending.