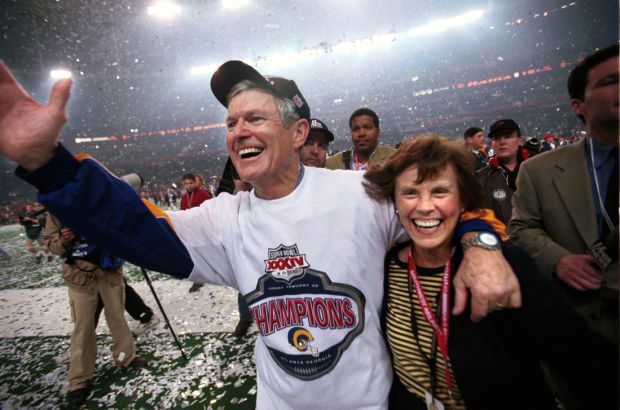 Fifteen years ago, coach Dick Vermeil referred to it as a special place in time. On Oct. 12-13, members of the Rams' Super Bowl championship team of 1999 will gather to relive that moment and their improbable run from worst to first in the NFL.
The two keystone events will be an event billed as the "Greatest Show on Turf Celebration" at the Union Station Hotel on Sunday night Oct. 12, and halftime ceremonies commemorating the '99 team during the Rams' Monday game Oct. 13 against longtime rival San Francisco at the Edward Jones Dome.
"Those guys all cherish those years, and it's really unique to hear them talk about it," said Rams marketing executive Kyle Eversgerd, who has been the point person in terms of organizing the event. "Those are the moments that are really special. A lot of them are bringing their families. It's really unique."
When all is said and done, Eversgerd said about 50 members of the '99 Rams, plus Vermeil and select members of his staff, are expected in town for several events Sunday and Monday.
"Saturday, guys will start coming in," Eversgerd said. "Sunday, even more guys will come in. For those 48-72 hours, the Greatest Show on Turf, the Super Bowl XXXIV team, is gonna be in downtown St. Louis."
All over downtown. On Sunday morning any members of the '99 team wishing to attend the 2014 team's final walk-through that day for the 49ers' game will be bussed out to Rams Park from their hotel.
Sunday afternoon, there will be an informal get-together of Rams staffers at a downtown restaurant, with several '99 Rams players and coaches expected to drop by.
The big event comes later that day, with the Greatest Show Celebration starting at 5 p.m. at the Union Station Hotel.
"Essentially it's a combination of giving our fans a chance to relive some of the fun parts of that season, with a Fan Fest type of scenario," Eversgerd said.
The "Fan Fest" portion of the evening goes from 5 to 7:30 p.m. Fans will have an opportunity to get their picture taken with the Lombardi Trophy from Super Bowl XXXIV. There will be autograph sessions with players.
"We've got a unique setup — a green screen — where you can get a photo taken and it's gonna look like you're on the stage with those guys afterwards," Eversgerd said.
There will be a silent auction with unique items from that season, as well as throwback merchandise available for purchase.
Then at 7:30 p.m., the more formal part of the evening begins, with Rams radio play-by-play voice Steve Savard serving as emcee.
"At 7:30 is when we're pretty much gonna bring everybody out," Eversgerd said. "Fans are gonna get the opportunity to hear from all of the guys at some point. About an hour and a half presentation in which we'll go through the offense, defense, special teams.
"All sorts of things. You never know in those situations. You can't script that. You never know when Mike Martz and Az Hakim and Torry Holt are on the stage, when they all get the mike, how long that might go what stories they might tell," Eversgerd said.
All fans in attendance will get a Super Bowl XXXIV replica ring.
"Those look pretty sweet," Eversgerd said. "We just got 'em all in. They look very cool. Obviously not the same thing (as the actual ring), but it's a unique collectible for the fans."
The Post-Dispatch is providing a commemorative poster for those in attendance as well.
Tickets for the Greatest Show celebration cost $99 for season ticket holders, and $150 for the general public, and are available at www.stlouisrams.com.
"Food and drink is all covered, including beer and wine," Eversgerd said.
(Mixed drinks are extra.)
"Gourmet Football Fare is what we're calling the food," Eversgerd added. "Imagine an RV tailgate, not the back of the truck. That's how I'm referring to it."
On Monday, there will be an NFL Legends luncheon for the '99 Rams in which Hall of Famer Aeneas Williams will be the featured speaker. This event is closed to the public.
Also on Monday, quarterback Kurt Warner will be inducted into the St. Louis Sports Hall of Fame during a luncheon at the Missouri Athletic Club.
At some point Monday, Vermeil is going to address the entire team, although Eversgerd wouldn't disclose when and where. (Will he cry, will he give out hugs, will he say "gotta go to work." Probably "yes" to all.)
Then comes the Monday Night game. Although some details are still being worked out, fans getting that last beer or a hot dog before the game may just see one of the '99 Rams in the concourse areas of the Dome.
"Our fans will definitely recognize that we are honoring the '99 team," Eversgerd said. "Everything in the stadium — from the end zones to the midfield area, to the jerseys on their backs — it's all throwback."
The finale of the '99 Rams reunion will be the halftime ceremony.
"This will be the first time that most of them are back as a group," Eversgerd said.
"The coolest thing, I think, of the 56 guys on that roster that we've invited back, we're gonna get close to 50 out of those 56 that'll be back. Some guys it was a quick text, other guys, we had to do a little digging to find them. But those that are coming are excited."
Among those who won't attend are wide receiver Ricky Proehl, who is a little busy these days as wide receivers coach for the Carolina Panthers. Ditto for cornerback Todd Lyght, who is assistant secondary coach for the Philadelphia Eagles.
There will be some logistical issues for Warner and defensive tackle D'Marco Farr during the halftime ceremonies, because both are doing radio analyst work during the broadcast of the Rams-49ers contest _ Farr for Rams radio, and Warner for Westwood One's national broadcast.
Warner and Farr must either hustle down to the turf for the halftime, or wave from their respective broadcast booths.
Ram-bling • The Rams added TE Brad Smelley to their practice squad and released DE Kourtnei Brown.