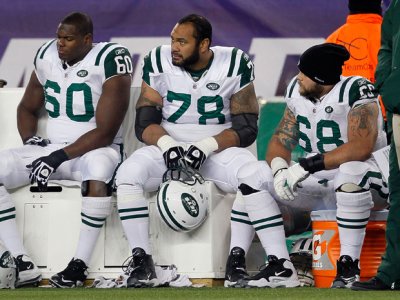 Most of the 1981 sci-fi action movie "Escape From New York" was filmed in St. Louis. For offensive tackle Wayne Hunter, last week's trade bringing him to St. Louis from the Jets was his escape from New York.
"I'm so happy for a fresh new start," Hunter said. "I think it's what I needed. I think it's what we both needed, from what I heard."
Hunter was referring to Jason Smith, whom the Rams sent to New York in exchange for Hunter in an Aug. 28 trade of benched right tackles.
"It'll be interesting," Hunter said. "So I wish him the best, and I'm going to make the best of this opportunity over here. It's going to be fun."
Hunter, 6-5, 318, got his feet wet in the Rams' preseason finale against Baltimore, seeing action with the second unit at right tackle.
Although not showering him with praise, Rams coach Jeff Fisher in general liked what he saw from Hunter against the Ravens.
"He did fine," Fisher said. "He had a number of plays that he was familiar with. We stuck with them, and I thought he was productive."
The quicker Hunter gets up to speed on the playbook, the better, because he opens the regular season as the swing tackle behind starters Barry Richardson at right tackle and Rodger Saffold at left tackle. The Rams had been looking at left guard Quinn Ojinnaka to handle the third tackle role as well, but Ojinnaka was released Sunday.
One of the newest Rams, Ty Nsekhe, almost certainly isn't ready for game action. So unless the team decides to move right guard Harvey Dahl out to tackle — as happened late last season under Steve Spagnuolo — Hunter is next in line should Richardson or Saffold go down due to injury.
Hunter was just glad to get out of New York, where his play received the type of fan and media scrutiny normally reserved for the head coach and quarterback. Asked to put into words what it was like playing in New York, Hunter replied: "No, I can't. No words describe it. If you can handle the 'Concrete Jungle,' you can handle anywhere. I've been through it all."
Things reached a boiling point during the Jets' Aug. 26 preseason game at MetLife Stadium against Carolina. After Hunter allowed a fourth-quarter sack, fans behind the Jets' bench let him have it with boos and verbal abuse. Hunter lost his temper and had to be restrained by his teammates.
"They're like sharks," Hunter said. "If they don't like you, they let you know right off the bat. And even if you're doing good, they might just not like you for the heck of it. It's brutal over there. Those fans, they know what they want, and they pretty much demand it. So if you don't give it to them, they'll let you know."
Quarterback Kellen Clemens, before he was released by the Rams over the weekend, offered words of support for Hunter, his former Jets teammate.
"How much he struggled there is debatable," said Clemens, who was with the Jets three seasons with Hunter, from 2008-10. "Certainly, in that market once they smell blood in the water now, it gets vicious in a hurry.
"But Wayne is a great guy, first and foremost as a person. Great father. So he'll be a great addition to the locker room, and he'll really help at the offensive line spot. ... He's a good player. He really is. Very athletic. Very strong. Scary strong."
Hunter earned the respect of some observers at the end of last season, when the Jets' hopes of making the playoffs and participating in a third straight AFC title game crumbled with three straight losses. It was Hunter who took on wide receiver Santonio Holmes in a huddle scuffle that broke out because Hunter — and undoubtedly some of his Jets' teammates — thought Holmes was dogging it in the team's season-ending loss to Miami.
Hunter and Holmes buried the hatchet in the offseason, and when it comes to his former teammates and employers, Hunter has no hard feelings.
"I just want to come in, I just want to participate, I want to help the team win," he said. "That's all it is for me. There's no chip on my shoulder. The New York Jets treated me so well. I had the best four years over there. We had a great run with two AFC championship games. I've got nothing to complain about. I love those guys, I wish 'em the best, but it's time for me to move on."
If nothing else, Hunter probably will be used right away in St. Louis as an extra blocker in short-yardage and goal-line situations. Before the 2011 season, when Hunter was a full-time starter, that's how former Jets offensive coordinator Brian Schottenheimer — now with the Rams — liked to use him.
The Rams will hold their first full-scale practice today since the preseason finale against Baltimore. ... Just released from the Rams, tight end Michael Hoomanawanui has signed with Washington's practice squad.