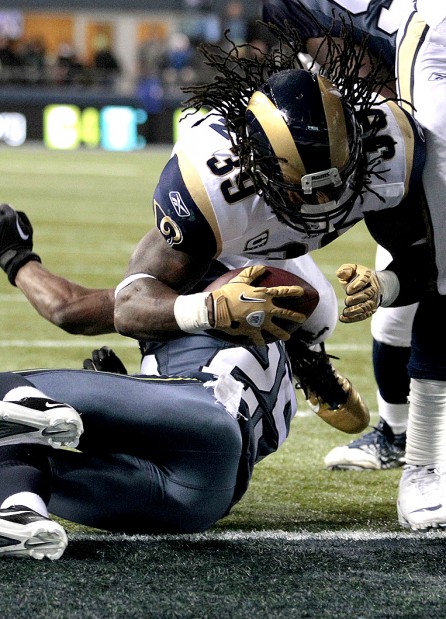 With 105 yards rushing Sunday against visiting Cincinnati, Steven Jackson would reach 1,000 yards for the season. At first, Jackson tried to downplay the feat at his regular Thursday media session.
"It'll be nice to eclipse that," Jackson said. "But first things first. We've got to make sure that we execute the offense and get us in the flow of things. I'm pretty sure they'll be determined to stop the run."
But reaching 1,000 yards in 2011 isn't really the story of what Jackson could accomplish against the Bengals. It's the fact that it would make it seven consecutive 1,000 yard seasons for Jackson. When that milestone was mentioned, Jackson went from somewhat disinterested to NFL historian.
"Only five others have done it," Jackson volunteered, with a measure of pride.
Close, but actually it's six other players who have seven or more consecutive seasons with 1,000 yards rushing. And what a list it is: Emmitt Smith, Barry Sanders, Thurman Thomas, and Eric Dickerson are all in the Hall of Fame; Curtis Martin is retired and became Hall of Fame eligible last year; LaDainian Tomlinson is still playing but is all but a Hall of Fame lock.
"It's a special group to be a part of," Jackson said. "I think it shows that not only are you productive but you can sustain it season after season. I'm pretty sure those guys have played through injuries. It just marks that you're a tough guy, a gritty guy that a franchise can hang their hat on."
So on a Sunday when former Rams great Marshall Faulk will be honored for his Hall of Fame induction and will be added to the Ring of Honor at the Edward Jones Dome, Jackson could achieve an impressive career milestone.
Getting to 105 yards rushing Sunday won't be easy for Jackson, because the Bengals have a fast, snarling defense. Although they've struggled some lately, the Bengals still rank seventh in the league in run defense.
"Very aggressive — that's what sticks out," Jackson said. "They have multiple looks where their secondary will be blitzing from different depths. And their linebackers are downhill and play with intimidation."
No doubt Jackson would trade yards for more victories. As he completes his eighth season in the NFL — all spent with the Rams — Jackson has never experienced a winning season. The best he has done is 8-8 in 2004 and 2006. The only playoff games for him came as a rookie in '04, when he shared time with Faulk in the backfield and the Rams squeaked into the postseason as a wildcard.
As his career has unfolded, surely Jackson has asked himself: Why did I have to be here at this time, with all this losing?
"That was a question I asked myself maybe three, four years ago," Jackson said. "At this point now, I think it's clear that my legacy will be defined by me having to deal with these hard situations. And watching me grow. You guys watching me grow.
"And understanding that now I've become a pillar of strength more so than just a running back. It's hard to be a great running back when you have guys like Marshall and Eric Dickerson that were in this franchise. But my legacy will be defined by the things that I've overcome, and the adversity."
Cardinals baseball fans have heard this before — from Albert Pujols — and gotten burned by it, but Jackson wants to spend his entire career with the Rams.
"I would love to remain, retire — and not a one-day retirement, one of those kind of deals," Jackson said. "I would love to finish my career here. And whoever's the next guy to come in and fill in for me and take over — teach him the ropes, teach him the legacy and the things that have been taught to me. I'll take pride in that. I would love to do that."
As 2011 winds down, it looks like a contract clause that potentially could have shortened Jackson's legacy in St. Louis won't take effect. When Jackson and the Rams renegotiated his contract in 2008, the new deal included an escalator clause that could void the final two years of his contract (2012 and 2013). Specifically, if Jackson averaged 1,200 yards rushing and 400 yards receiving through the first four years of the deal (2008 through 2011), either Jackson or the Rams could void the final two years after the '11 season.
"To be honest with you, it's not something that's important to me," Jackson said. "That part of the business is that itself."
In other words — business.
"My main focus always is to be the best player on this team and go from there," Jackson said. "By doing that, I think that puts me among the elite."
In any event, unless Jackson has an explosion in receiving yards over the final three games, it looks like the contract clause won't take effect.
Entering this season, Jackson needed 1,101 yards rushing and 516 yards receiving to reach the 1,200/400 averages. With 895 yards rushing, he needs 206 yards in the final three games to reach the rushing plateau, a total well within reach.
But with only 222 yards receiving, Jackson needs 294 yards in the final three games — or an average of 98 per game — to reach the receiving plateau. That's almost certainly not going to happen, unless Jackson has a few more 50-yard screen passes in him, like the one Monday night in Seattle that was the Rams' second-longest pass play of the season.