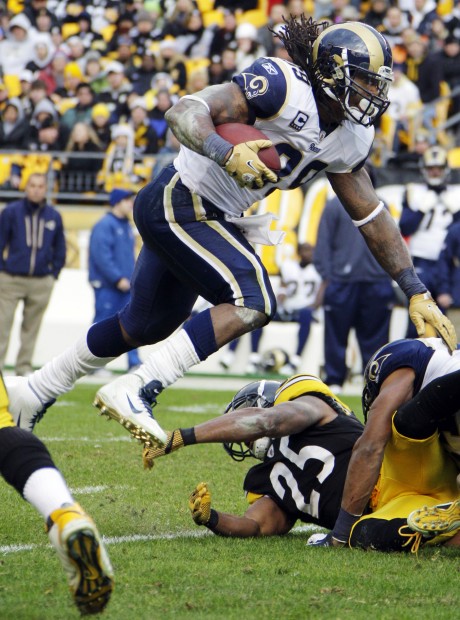 No matter what the score, what the situation, one thing is certain from Steven Jackson. He always gives his best.
Saturday was no different. In the midst of another dreary loss in another miserable season, Jackson kept churning, kept pushing, kept running against Pittsburgh — all the way to an impressive NFL milestone. Think it's easy to run for 1,000 yards? Try doing it for seven consecutive seasons.
Only six others have done so previously in the history of the NFL, and it's a star-studded list: Emmitt Smith, Barry Sanders, Curtis Martin, Thurman Thomas, LaDainian Tomlinson, Eric Dickerson.
"If the levels of admiration are 1-to-10, I'm at a 15," coach Steve Spagnuolo said. "I don't know how else to say it. He's a very passionate football player. He's very passionate about how he plays, the way he plays. He's passionate about the team he plays for, he's passionate about the guys he plays for. It's been that way ever since I've gotten here. He hasn't changed."
Jackson needed a modest 34 yards against the Steelers to reach 1,000, and got there in the second quarter. After a four-yard gain on the final play of the first quarter, Jackson stood at 33 yards on eight carries — one yard shy of 1,000.
Then he had to wait awhile. The Rams passed the ball on the next five plays to open the second quarter, a drive ending in a failed fake punt. When the Rams got the ball back for their next possession with 10 minutes 25 seconds to play in the first half, Cadillac Williams was in the huddle. It was Williams' series, and it ended in a 3-and-out.
"I was in sync with what was going on as far as yardage-wise," Jackson said. "And I personally thanked the offensive line when we hit that mark. They wanted to know and they were just as eager for us to hit the 1,000 mark, just as much as I was."
"That was one of our goals," left guard Jason Brown said. "Of course our main goal was to win a football game. But in the back of our minds we knew that we had to get that done for Steven. He deserved it."
After a John Clay touchdown gave Pittsburgh a 10-0 lead, the Rams got the ball back again, and Jackson finally reached 1,000. It was nothing fancy — a hard-earned three yards off right guard with 6:25 left in the second quarter.
"It's a huge achievement," Jackson said. "It's a special group of guys to be a part of. It is really special; something that you dream about. Something you're just amazed at the accomplishment of it. But once again, my guys fought hard for me on the offensive line. The receivers, tight ends — everyone really dug in to help me achieve this and I'm very grateful for that."
Before the day was over, Jackson had 103 yards on 24 carries, marking his fourth 100-yard game of the season and the 31st of his eight-year NFL career. Making the day even more meaningful was the fact that the opponent was Pittsburgh, for years known for its rugged run defense and No. 1 in total defense this season.
"You go over 100 yards against that defense, that's saying something," said quarterback Kellen Clemens. "That's saying something about Steven, and that's also saying something about how an offensive line is playing down the stretch. So yeah, there's a couple good statements there. We have to put some more plays together offensively, but we're very happy for him."
But on a day when the Rams' passing game couldn't even get to 100 yards, the Rams were kept out of the end zone and off the scoreboard. The 27-0 loss to the Steelers dropped the Rams to 38-91 during Jackson's tenure with the team. He has never experienced a winning season, and only as a rookie in 2004 did he experience postseason football when the Rams squeaked in as an 8-8 wild card. That's a lot of losing.
"He's certainly seen his share of adversity here but I think the measure of a football player, especially in this league, is how he handles adversity," defensive end Chris Long said. "And I think Jack is the epitome of handling adversity with class. And coming out of it with great production."
"Not only is Steven an unbelievable running back, he's a great leader," linebacker James Laurinaitis said. "I remember my rookie year when we went through a 1-15 season he was a guy that I looked at on how to get through it, how to battle through like a professional. He's always been that way."
Despite basically missing three games with a quadriceps muscle injury, Jackson has 1,069 yards on 244 carries this season, an average of 4.4 yards a carry. He had only two carries in the opener against Philadelphia, suffering the injury on the first carry. He missed the New York Giants game entirely in Week 2, and then had only four carries in Week 3 against Baltimore.
With 32 yards rushing in the season finale Sunday, Jackson will reach half of a two-tiered trigger that could void the final two years of his contract. But he needs 198 yards receiving to reach the second part of the trigger — and that's not going to happen, unless Jackson has the receiving game of a lifetime.
But even with all the losing, Jackson seemingly has no desire to play anywhere else.
"I'm in a great city in St. Louis," he said. "And when you're a part of tradition that I share with the list of guys that have been Rams over the years, I think being a running back with that group of guys is impressive."