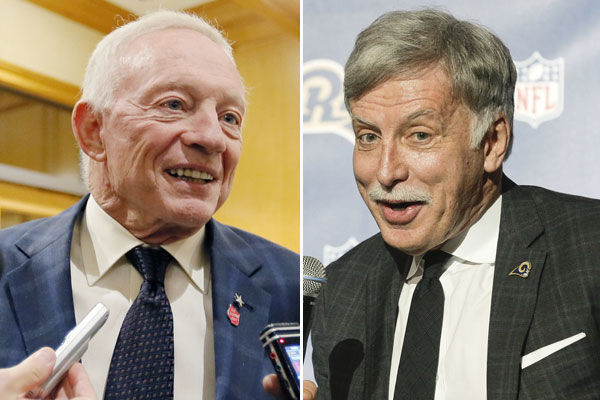 Some NFL observers believe the efforts made by Jerry Jones to get the Rams to Los Angeles — and out of St. Louis — helped get the Dallas Cowboys' owner into the Pro Football Hall of Fame.
But the plaintiffs in the St. Louis relocation lawsuit against the NFL and all 32 team owners believe otherwise.
Nearly a full page in the 52-page lawsuit filed Wednesday in St. Louis Circuit Court is devoted to Jones and what the suit claims was his intentional interference with the plaintiffs' business relationship with the Rams.
The lawsuit claims Jones did so "by encouraging, promoting, and conspiring with Mr. [Stan] Kroenke to develop a plan to relocate the Rams to Los Angeles and convincing the other member-teams to approve the relocation."
The Cowboys, through a team spokesperson, declined to comment.
Kroenke, of course, is the owner of the Rams. The league approved the team's relocation to Los Angeles from St. Louis on Jan. 12, 2016, by a vote of 30-2.
The plaintiffs in the lawsuit, which seeks damages and restitution of profits, are the St. Louis Regional Convention and Sports Complex Authority, and St. Louis city and county.
The lawsuit mentions several examples of how it claims Jones interfered with the plaintiffs' reasonable "business expectancy" — in other words, when a person intentionally damages a plaintiff's contractual or other business relationship with a third party.
• In August 2013, Jones and Kroenke discussed the Inglewood, Calif., site as a desirable location for a new stadium to house the Rams.
• Jones lobbied other owners for support of Kroenke's proposed move of the Rams before the vote on relocation.
• Jones advised Kroenke to start the process of building the California stadium project before NFL approval "so as to move the project along and encourage ultimate NFL permission."
• After the initial vote rejecting the proposed relocation, Jones persuaded other owners to approve the move based solely on the amount of money that could be made in Los Angeles.
• Jones provided the blueprint for the deal that ultimately received enough votes for relocation.
• Contrary to standards established in the NFL relocation policy, Jones engaged in this conduct believing that St. Louis was a viable football city and could support a team. After the vote, Jones suggested that St. Louis should get another team and stated that St. Louis is "certainly an NFL town without question."