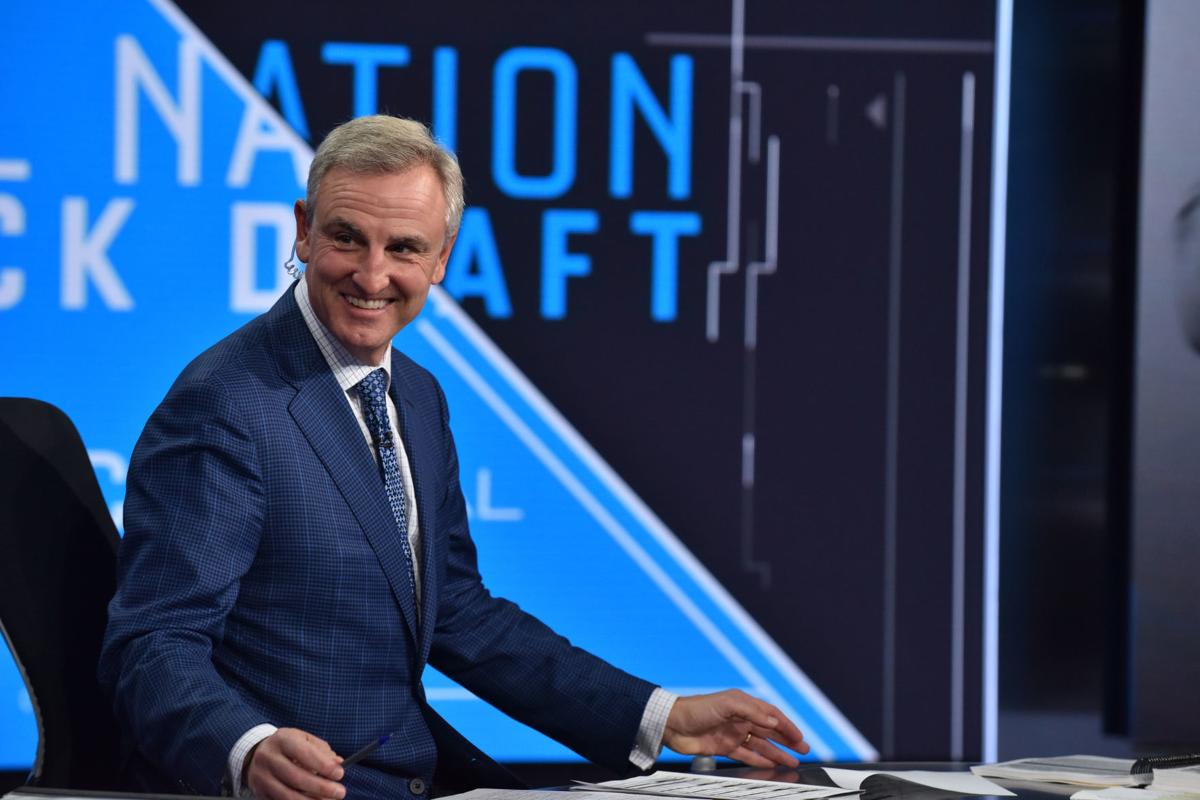 It began on a whim, a nutty idea in 1980 to provide weekday afternoon programming to a fledgling sports television network that suddenly had a voracious appetite for content.
Televise the NFL draft? Who'd watch that?
"When we first put it on people said, 'Are you kidding me?'" Chris Berman has said. "It's like reading the phone book — which in the early years, it was."
Berman should know. He hosted ESPN's coverage from 1988-2016, after having been involved in earlier productions in other capacities.
Howard Balzer, who at the time was the pro football editor for the St. Louis-based Sporting News, was there for the early years.
"It was about three weeks before the (1980) draft, and a producer called and asked for my mock draft," Balzer has said. "They were going to compare it to the picks as the day went along. I suggested that maybe I do it (provide analysis) over the phone during the draft. About an hour later he called back and said, "How'd you like to come to Bristol and be part of the telecast?'"
So Balzer went to ESPN's Bristol, Conn., headquarters.
"That first year, talk about flying by the seat of your pants," he said. "There was not much (video) tape, so it was a lot of talking and analysis. Each year it got better and better. They kept introducing more technology. It just took off."
It has taken off now to the extent that it has become a prime-time event, a focal point on the American spring sports calendar. NFL Network has been showing its own version of coverage since 2006, and this year for the first time an over-the-air network (ABC) will carry the entire draft.
It will be the 40th time the selections have been televised.
ESPN and ABC are owned by Disney  and two separate productions are planned on those networks for the first two days of the three-day event, which begins Thursday night.
The ESPN version will take the customary nuts-and-bolts approach. Former KSDK (Channel 5) sportscaster Trey Wingo will host Round 1 for the third year. He'll be joined by analyst Mel Kiper Jr., who is covering his 36th draft, and others.
The rendition on ABC (KDNL, Channel 30 locally) will be more personality slanted, as the network says it "focuses on the journey of the ... prospects, as viewers go up close and personal to understand the part their families play in their success and the hard work involved in attempting to become an NFL draft selection."
There also is to be a look at events going on around the draft and at other hoopla taking place in the host city, Nashville. Appearances by celebrities also is to be included.
Rece Davis is the host on ABC, and "Good Morning America's" Robin Roberts, a former ESPN anchor, is to participate.
On Saturday, when the final four rounds are held, ABC will simulcast ESPN's production.
"ABC and ESPN plans for the NFL draft are more ambitious than ever," ESPN vice president of production Lee Fitting said in a statement. "... We will cover the festivities in Nashville from every angle."
NFL Network also goes full bore, with Rich Eisen again anchoring its coverage and former St. Louis Rams quarterback Kurt Warner among the analysts. Deion Sanders interviews players on-stage after they are picked.
A highlight of NFL Network's coverage has become its eavesdropping on "war rooms" of many teams, as cameras show club executives in action as they make their selections. Cameras are to be in 23 teams' facilities this time, a record, including that of the Arizona Cardinals. It will be the 10th straight time NFL Network has done so for the team with the first pick. The Chiefs and Rams are among the clubs to be featured.
NFL Network began its live buildup to the draft on Sunday, and has more than 76 hours of coverage planned for draft week.
BLACKOUT FOR SOME?
Unless a settlement is reached, subscribers to AT&T U-Verse and DirecTV Now won't have access to NFL Network's coverage.
It's the latest contract dispute in which consumers are the losers of programming. This tiff centers on "NFL Sunday Ticket," the service on which all out-of-market Sunday afternoon games have been available on DirecTV for the last quarter-century. The deal was exclusive with DirecTV, which AT&T bought in 2014.
NFL commissioner Roger Goodell recently told the Bloomberg news service that the league also wants to sell "NFL Sunday Ticket" on streaming outlets.
DRAFT, BREAD & MILK?
Meanwhile, Balzer will be reporting on the draft for the 42nd time but won't exactly be doing it from a glamorous location this time.
He'll be on Charlie "Tuna" Edwards' show Thursday, which will be broadcast from the Schnucks grocery store at Harvester Square in St. Charles. Edwards is "on tour" on Thursdays, doing his program from different Schnucks locations around the area.
"It's fitting that I will be in a grocery store talking about the draft on a night when a former St. Louis team (Arizona Cardinals) has the first pick," Balzer said. "Let's hope that their choice is as good as Schnuck's gooey butter cake!"
The show, on KFNS (590 AM), runs from 7-9 p.m. and Thursday will concentrate on the draft from 7:30 p.m. to its conclusion.
LOCAL LINE
Not surprisingly, ESPN's ratings for its draft coverage have slipped in St. Louis the last two years, since the Rams jilted the city for Los Angeles.
They left after the 2016 season, and the three days of coverage across ESPN, ESPN2 and ABC for the two drafts since they left were seen in an average of 1 percent of St. Louis homes with a TV. The three previous years averaged 1.6. (Figures for NFL Network's draft presentations were not available.)
Draft ratings on ABC/ESPN/ESPN2 combined in recent years nationally and locally:
NFL DRAFT ON TV
Thursday • Round 1, 7-10:30 p.m., KDNL (30), ESPN, NFL Network
Friday • Rounds 2-3, 6-10:30 p.m., KDNL (30), ESPN (moves to ESPN2 at 7 p.m.), NFL Network
Saturday • Rounds 4-7, 11 a.m.-6 p.m., KDNL (30), ESPN, NFL Network