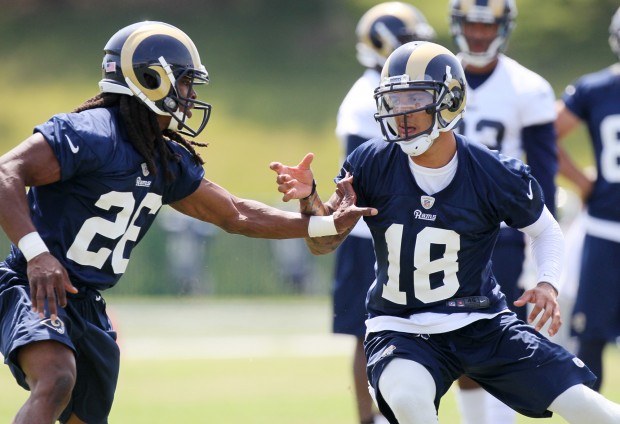 Tempting as it might have been, Austin Pettis didn't place an apple on offensive coordinator Brian Schottenheimer's desk this week with a note reading: I'm back. Remember me?
OK, Pettis may not have been teacher's pet when it came to learning the new offensive scheme. But he sure looked like a quick study in training camp and the preseason. The second-year wide receiver, a third-round draft pick in 2011 out of Boise State, caught six passes for 63 yards during exhibition play and shared the team-lead (with Danny Amendola) with two touchdown catches.
After serving the final two games of a four-game suspension for violating NFL policy on performance-enhancing substances, Pettis wants to pick up where he left off now that he's been reinstated.
"I've been smiling all morning," Pettis said Monday, his first day back at Rams Park. "It was just good to see a lot of these guys' faces. I missed these two weeks going out there and battling, so I'm just excited to get back and fight with them." It doesn't usually happen this way with suspensions, but Pettis served the first two games of his punishment at the end of the 2011 season, then finished it off by sitting out the first two games of this season.
During this month's two-week hiatus, Pettis trained at Emerge Fitness Training in St. Charles.
"I had a couple of (trainers) who were working me out on the field and in the weight room," Pettis said. "Just trying to keep myself ready. And I stayed in my playbook. I'm just trying to hit the ground running this week."
For most of the preseason, Pettis was among the Rams' top three or four wideouts. If he resumes that role, it will be interesting to see how that affects rookies Brian Quick and Chris Givens — who were getting scant playing time as it was. Neither has a catch so far, with Givens targeted three times and Quick once.
If Pettis is active for Sunday's game in Chicago, it's possible that Quick or Givens could be inactive if the Rams decide to dress only five wide receivers.
If nothing else, Pettis should have fresh legs, even with his training in St. Charles.
"Absolutely," Pettis said. "I feel good right now. It obviously was an unfortunate two weeks, but my body's feeling pretty healthy. I'll be able to give some of these guys that are a little banged up some (practice) reps off as well."
On game day these past two Sundays, Pettis plopped on his couch at home and watched the Rams on his big-screen TV. "It was tough, definitely," he said. "But watching a win's not bad."
To make room for Pettis on the 53-man roster, rookie offensive guard Rokevious Watkins was placed on the injured reserve list. Watkins, a fifth-round pick from South Carolina, suffered what team officials said was a significant ankle injury at the end of the Rams' season-opening loss in Detroit. He was using crutches last week and did not play against Washington.
His departure leaves the Rams with two backups on the interior offensive line in guard Shelley Smith and center-guard Tim Barnes. With center Scott Wells given the injured reserve-designated for return spot, and left tackle Rodger Saffold expected to miss a month or more with a knee injury, the Rams may have felt they couldn't keep another injured offensive lineman on the 53-man roster.
Cornerback Quinton Pointer, who was released from the active roster Friday, has been signed to the practice squad. Wide receiver Brandyn Harvey was released from the practice squad.
Quarterback Sam Bradford has been nominated for NFL player of the week, and punter Johnny Hekker has been nominated for NFL rookie of the week. Fans can vote on the awards at www.nfl.com.