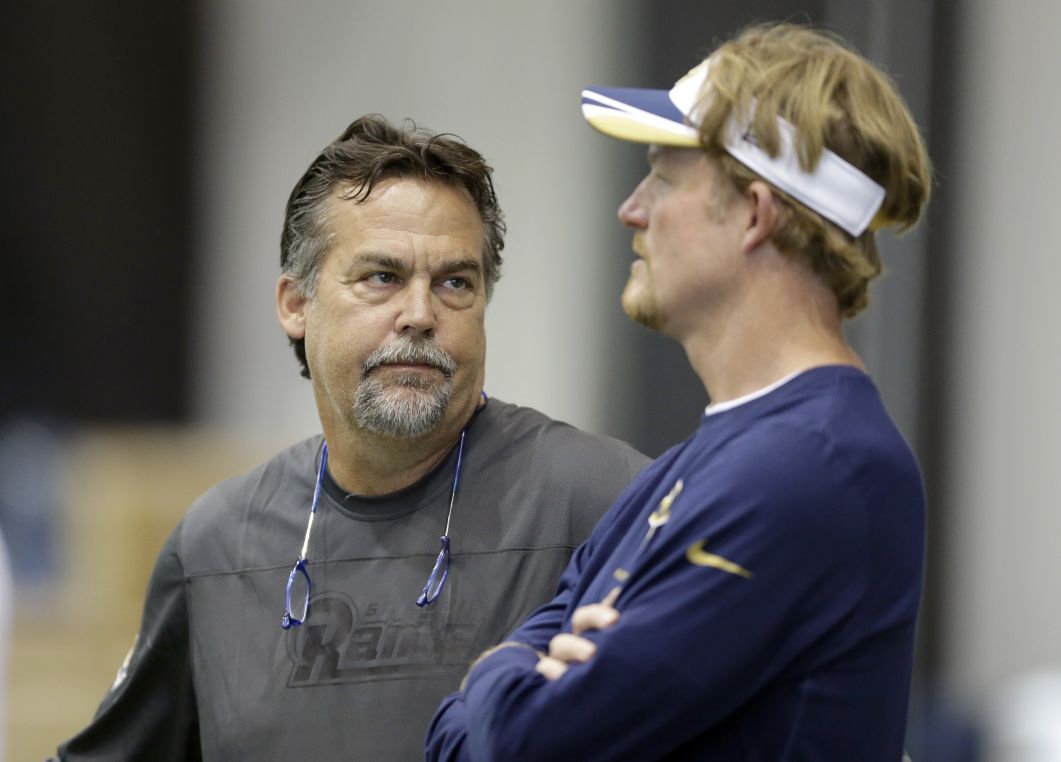 As usual, Rams coach Jeff Fisher is feeling pretty confident about his annual charity softball game.
"This one's going to work out,'' Fisher said following organized team activities (OTAs) this week at Rams Park in Earth City. "I conceded a little bit last year and settled with the (22-22) tie. That's not happening this year. I had my draft the day before yesterday, so things are looking good.''
The fourth annual Coach Fisher and Friends Celebrity Softball Game will be held Sunday at T.R. Hughes Ballpark in O'Fallon, Mo.
The event, which will also feature a home run derby and postgame fireworks, will benefit five charities: BackStoppers, the Jack and J.T. Snow Scientific Research Foundation, Mercy Ministries, the Wounded Warrior Project and Catch-A-Dream Foundation.
"Each year, our players really look forward to this fun and unique evening for charity,'' Fisher said. "It's a great family-friendly event that allows our fans to get an up-close look at our players and their personalities without their helmets and away from the football field. For some of our players,, their athleticism on the football field transfers to the softball field, but for others it can be a comedy of errors, which makes the game all the more entertaining and memorable.''
After a very successful three-year run at GCS Ballpark in Sauget, home of the Gateway Grizzlies, this year's game shifts to T.R. Hughes, home of the area's other Frontier League franchise, the River City Rascals.
"We really enjoyed the tremendous hospitality and partnership with the Gateway Grizzlies and their staff over the past three years," Fisher said. "In planning for this year's game, we heard from many of our fans who wanted us to bring the game to Missouri, so we're glad that we were able to get that done for our fans and we look forward to selling out T.R. Hughes."
Rams players expected to take part are Stedman Bailey, Kenny Britt, Michael Brockers, Jared Cook, Austin Davis, Aaron Donald, Nick Foles, William Hayes, Johnny Hekker, Janoris Jenkins, Case Keenum, James Laurinaitis, Chris Long, Tre Mason, Jake McQuaide, Alec Ogletree, Isaiah Pead, Chase Reynolds, Greg Robinson, Eugene Sims, Brad Smelley, Robert Quinn and Greg Zuerlein.
The Rams' 2015 rookie class will not play but will be on hand to visit with fans and sign autographs. Also expected to be on hand will be former Rams defensive back and NFL Hall of Famer Aeneas Williams.
John Fassel, the Rams' special teams coordinator, will coach against Fisher on Sunday.
"He understands. He's preparing to accept defeat,'' kidded Fisher, whose teams tend to find ways to win in this event. "He may have already talked to (former offensive coordinator Brian Schottenheimer) and to (former) Coach (Alan) Lowry down in Tennessee. He understands what's ahead.''
But at least one member of Fassel's team, running back and special teams leader Reynolds, expects his side to put up a fight.
"We're looking to pull off the upset,'' he joked after Friday's OTA.
The home run derby will begin at 5:45 p.m., with the game to follow at 7 p.m. Fireworks will begin around 9 p.m.
The Rams appear to be rotating all three candidates for the starting job at center. Through the first week of OTAs, Mizzou product Tim Barnes, 2013 draft choice Barrett Jones and 2014 draft choice Demetrius Rhaney each got time with the first-, second- and third-team offensive units.
With left tackle Greg Robinson (toe) and left guard Rodger Saffold (shoulder) limited as they return from offseason surgery, the Friday first unit remained Brandon Washington at left tackle, veteran Garrett Reynolds at left guard and rookies Rob Havenstein and Jamon Brown at right tackle and right guard, respectively.
Rhaney, a second-year pro from Tennessee State who spent last year on injured reserve, was the center on the top unit Friday. He was a seventh-round draft pick a year ago.
• Robinson, who has dropped about 20 pounds to 319 in an effort to improve his quickness, did not take part in Friday's work. Nor did receiver Damian Williams, safety T.J. McDonald, tight end Alex Bayer and rookie guard Cody Wichmann, who finished Thursday's workout with an ice bag taped to his calf.
Also sitting out was running back Todd Gurley, the Rams' top draft pick at No. 10 overall. The former University of Georgia standout is being brought along slowly after having knee surgery in November.