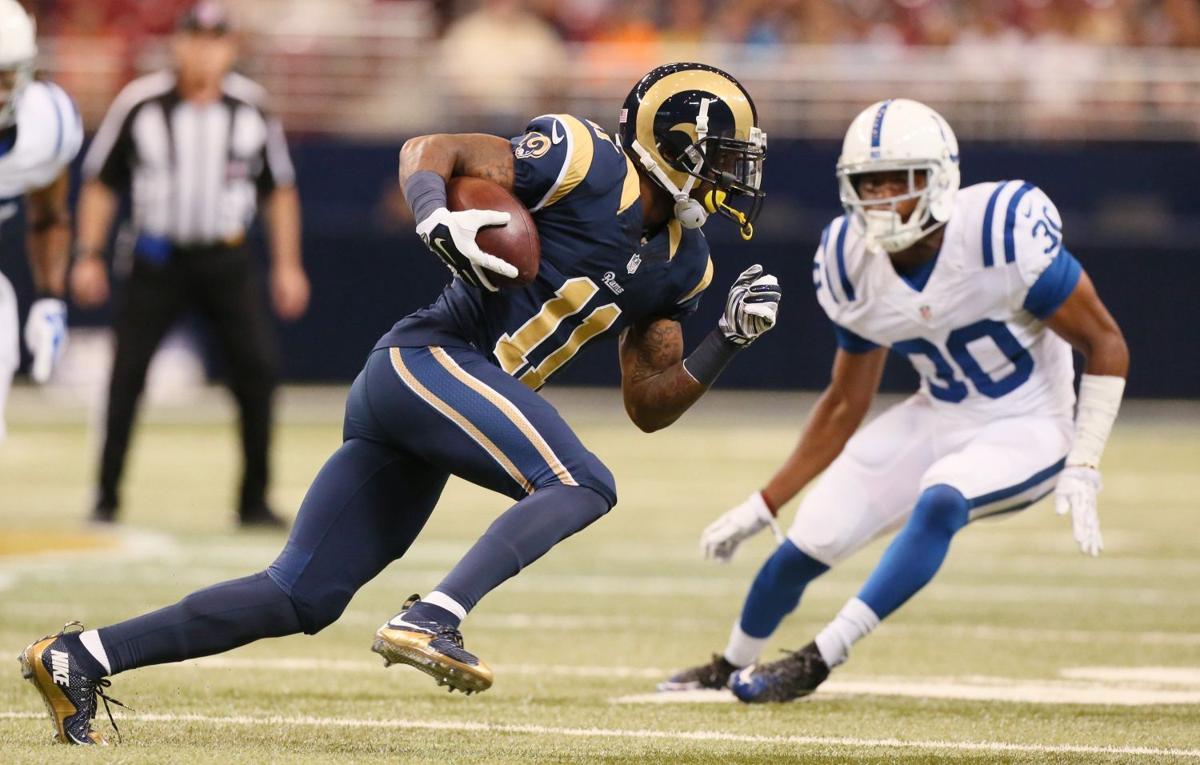 Well, it took nine series to get there, but Nick Foles and the Rams' first-team offense finally got into the end zone.
And even though the Rams made enough mistakes and committed enough penalties to give them plenty to work on next week, the offense showed signs of life in Saturday's 24-14 loss to Indianapolis.
Only 37,460 tickets were distributed for the Rams' preseason home opener.
"I think we're improving," Foles said. "We still have a log ways to go, but I was really proud of the guys. We were moving the ball. We had a couple of good drives. We have to stop getting penalties on ourselves, but I think we're stepping in the right direction."
Despite spotty, at best, blocking by the offensive line, Foles easily was the sharpest he's been in the preseason, completing 10 of 11 passes for 128 yards and a touchdown. His passer rating was 145.5.
"It looked like Nick was very precise," coach Jeff Fisher said. "His numbers were good, he knew where to go with the ball. We had a couple protection issues which I think you attribute to preseason. He knew he was gonna get hit and he took the hit. He got back up and kept playing."
That first touchdown came as a result of good field position, compliments of the special teams and defensive units.
After Isaiah Pead downed a Johnny Hekker punt, Indianapolis was pinned at it's own 5-yard line to start a second-quarter possession. Three running plays later, the Colts were punting from their 1 thanks to stout run defense by defensive tackles Michael Brockers and Aaron Donald, who dropped Colts running back Daniel Herron for back-to-back losses.
"That's kinda the play that we expect, or that I expect, out of our defense," linebacker James Laurinaitis said. "It's like people got upset and decided to just take it to another level. Our D-line fired off, big time."
The Rams took over at the Indy 44 following a Colts' punt, and struck quickly. Using play-action that included a fake end-around, Foles seemed to temporarily freeze the Indianapolis defense then threw deep to a streaking Chris Givens, who ran under the ball for a 44-yard score.
It was the second big play for Givens in as many games. Against Tennessee, he scored on an 80-yard TD pass play from backup QB Case Keenum. This one came with 10 minutes, 18 seconds to play in the first half and narrowed Indy's lead to 10-7.
"It definitely feels good," said Givens, who has been the Rams' most impressive wide receiver this preseason. "It felt a lot better too hook up with Nick and make a good play for our team when I felt like we needed it the most."
Even prior to the Givens' score, the Rams' offense showed signs of life but self-destructed on two occasions because of penalties:
• On the opening series, Foles connected with Tavon Austin for a 25-yard gain that was wiped out by an offensive pass interference call on Austin. Austin did extend his arm as if to push off, but his jersey also was grabbed briefly by a Colts defender. All in all, it should have been a no-call.
• On the Rams' second series, the Rams overcame a facemask call against center Barrett Jones, but couldn't overcome a facemask call against right guard Demetrius Rhaney deep in Indy territory. A sack by Erik Waldenn, who got around right tackle Rob Havenstein, took the Rams out of field goal range.
"Tonight's a great illustration of if you turn the football over and you have costly penalties at the wrong time, it can cost you the ballgame," Fisher said. "We've got to get the penalty thing under control."
The Rams were penalized 10 times for 83 yards and have been guilty of 29 penalties for 229 yards in their three preseason games — all losses.
After the Given's TD, the Rams reached their 44 before stalling after failing to pick up a well-executed Colts blitz, leading to another sack of Foles.
Defensively, the Rams were able to shut down the Indianapolis running game in the first half, limiting the Colts to just 28 yards on 15 carries — or 1.9 yards per carry. It should be noted that Pro Bowl running back Frank Gore, the former 49er, did not play.
"We always want to start fast," safety T.J. McDonald said. "We didn't do that this game, but we bounced back. That's one thing that we always talk about is responding. I think we responded real well. We have some stuff that we'll go over in the film room and get better."
Converting on a pair of third-down plays, the Colts did put up three points on an Adam Vinatieri field goal on their opening drive. They then fooled the Rams on an onside kick, with Indy's Clayton Geathers outscrapping the Rams' Cody Davis for the loose ball.
Quarterback Andrew Luck then got a freebie. A busted coverage left Andre Johnson, the longtime Houston Texan and seven-time Pro Bowler, open deep down the seam. Cornerback Janoris Jenkins had a chance to bring him down at the 7-yard line but whiffed. The result was a 32-yard TD and a 10-0 Colts lead with 7:45 to play in the opening quarter.
Luck came out to start the third quarter, but a botched handoff by running back Josh Robinson resulted in a fumble on the first play from scrimmage of the second half. Rookie linebacker Byrce Hager recovered for the Rams at the Indianapolis 17.
With Keenum in at quarterback, the Rams needed just three plays to reach the end zone — two runs by Trey Watts sandwiched around an 8-yard reception by Cory Harkey. Watts' second carry was a three-yard TD run off right tackle in which he scored untouched.
The extra point by backup kicker Michael Palardy gave the Rams a 14-13 lead with 13:28 left in the third — their first lead of the preseason since Greg Zuerlein's field goal on the Rams' first possession of Game 1 in Oakland.
But the lead didn't last long, with Indianapolis converting a Sean Mannion interception into a TD (and 2-point conversion) and Vinatieri added a third field goal late.