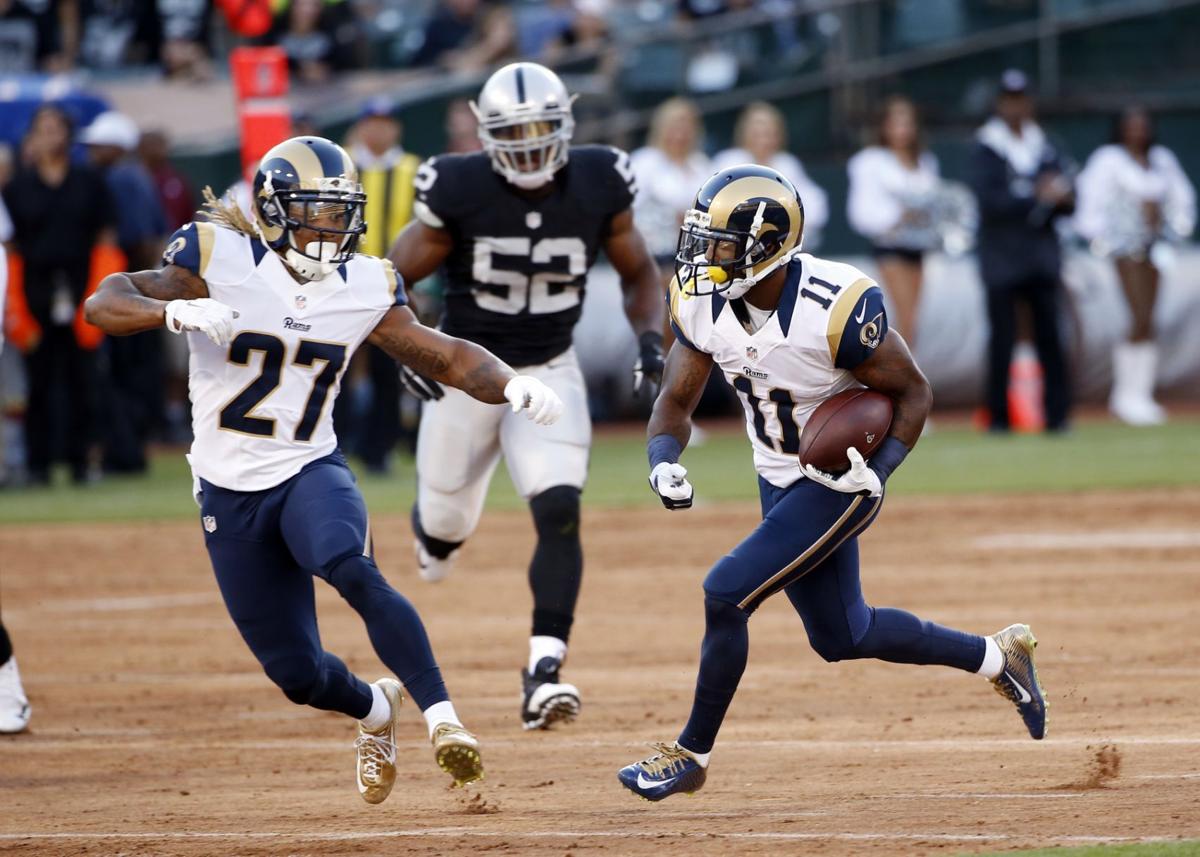 OXNARD, CALIF. • Welcome to the land of $4 a gallon gas, 13 percent state income tax, water shortages and congestion — otherwise known as Stan Kroenke's land of milk and honey.
Amid rumors that the Rams are scouting sites in the Thousand Oaks area for their permanent practice facility in the Los Angeles area, and that they have told the team's equipment people and athletic trainers they plan to bring them out West, the Rams will practice Monday and Tuesday near LA against the Dallas Cowboys. The Rams will work on their own Wednesday before flying back to St. Louis.
It seems all too coincidental that the Rams are practicing in Oxnard, about 55 miles northwest of Rodeo Drive in Beverly Hills. Cowboys owner Jerry Jones has made no secret of the fact that he is a big backer of Kroenke's plan to build a $2 billion stadium in the Inglewood area of LA — St. Louis and its $1 billion stadium project notwithstanding.
But Rams coach Jeff Fisher said over the weekend that this is just the way things worked out.
"I've said this numerous times, we felt like our team was in a position needing some additional experience on the practice field (against another squad)," Fisher said.
So why not do so in the Midwest? In past seasons, the Rams have trained with the Chicago Bears (in Platteville, Wis. and Macomb, Ill.); with Fisher's former team, the Tennessee Titans (in Nashville, Tenn., and Macomb); and with the Indianapolis Colts (at the University of Illinois).
"We talked to a number of clubs," Fisher said. "And it just so happened that from a timing standpoint it worked out that Dallas was our best option. We did talk to Midwest teams, and timing-wise it just didn't work out.
"Just from a travel standpoint, with the late game (Friday) night and avoiding the late travel back we felt like because of the Cowboys' availability that this was gonna be our best option."
The Rams headed to the Oxnard area — they're lodging about 25 miles south of the Cowboys' facility — following Friday's 18-3 loss at Oakland in their exhibition opener. The players had a day off Saturday, prompting some social media wiseacres to surmise it gave the players a chance to tour the area and look for homes.
Linebacker James Laurinaitis used part of the day to work out at a Gold's Gym in Southern California where he tweeted that he ran into "Arnold" in the gym building. We presume he meant Arnold Schwarzenegger, not Tom Arnold.
On Sunday, Rams players had a walk-through at a high school near their hotel, as they reviewed game film and went over corrections from the Raiders game. There was a sighting of Fisher and at least some members of his staff late Sunday afternoon at the Cowboys' practice facility.
Rams players won't be there until Monday afternoon for the first of two practices with the Cowboys.
"The players are looking forward to it," Fisher said. "We'll get great work. I spoke with Coach (Jason) Garrett. We've got a really good practice schedule together, so we'll get quality work out there. We'll just use this as an opportunity for both teams to improve."
At most of these joint practices, the players from each team stretch and go through individual periods separately. But when the one-on-one periods begin, and then seven-on-seven, and 11-on-11, it's one team against another.
For example, Cowboys defensive backs covering Rams wide receivers taking throws from Nick Foles & Co. during one-on-ones. Rams linebackers and defensive backs working against Cowboys wideouts, running backs and tight ends during seven-on-seven work. And vice versa.
The Cowboys have two practice fields at their disposal — fields that are part of a hotel's property. So while, for example, the Rams' offense is working against the Dallas defense on one field, the Rams' defense can be working against the Dallas offense on the other.
"It's just another opportunity for the team to grow and bond together," Foles said. "It's a road trip, really. I mean, it's a business road trip. So we're gonna be getting our work in and working hard against a Dallas team that had a great year last year. I'm very familiar with them."
As a Philadelphia Eagle, Foles missed both games against Dallas last year because of a broken collarbone. But he has played the Cowboys four times in his career, including three starts. In fact, his NFL debut was against Dallas on Nov. 11, 2012 —he came off the bench in place of the injured Michael Vick.
"I've done joint practices before, and you get a lot out of 'em in the sense that you get on the same page with your guys," Foles said. "In my situation, a young O-line gets to go against Dallas' defensive front, so it'll be really good to practice against them."
The Cowboys normally practice before a few thousand fans every day — they drew more than 50,000 total over the course of their 2014 camp. So the Rams will be working before a bigger house than they do in the more intimate setting at Rams Park, where the average attendance was 1,100 or so this summer.
"That should be fun," said Jamon Brown, one of those young offensive linemen. "To have a couple more eyes watching you it's always good."
And the crowds should be bolstered by the appearance of West Coast Rams fans excited for the potential return of the team to Los Angeles in 2016 should Kroenke get his way on relocation.
"There's a lot of fans on the West Coast because the team has been in LA," Foles said. "They're still Rams fans. They follow the team in St. Louis, and they love the Rams.
"We could see it out there (in Oakland) — it was fun seeing all the Rams fans out there. And I'm sure that when we're in Oxnard, they'll be there as well. So the St. Louis Rams fans are everywhere."
With the NFL considering a season-ticket deposit campaign for the potential arrival of the Rams, Chargers, and/or Raiders in Los Angeles in 2016, having the Rams practice in Oxnard for a few days in 2015 is a pretty good PR and marketing strategy.
But again, this is all coincidental.