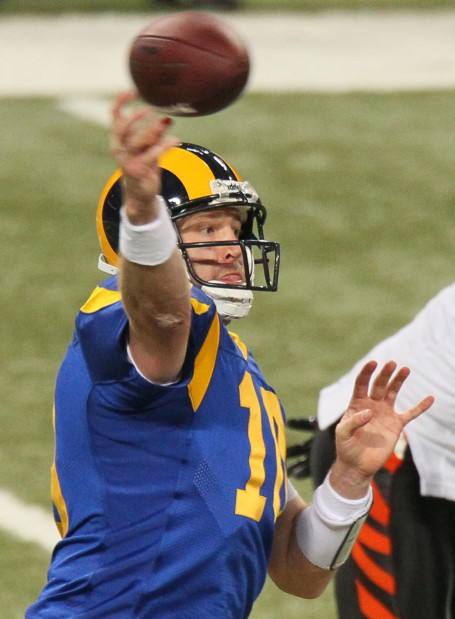 Here are the grades for the St. Louis Rams after their 20-13 loss to the Cincinnati Bengals at the Edward Jones Dome:
QUARTERBACK: The Rams mustered just 79 net yards passing through the first 45 minutes. During the decisive third quarter they earned just one first down. Overall, though, fill-in Kellen Clemens did well under tough circumstances. He completed 25 of 36 passes for 229 yards and a 95.7 passer rating after just a handful of practices with his new team. He sensed pressure, moved out of trouble well and made good decisions with the ball. When the Bengals dropped back into a deep prevent defense late in the fourth quarter, Clemens marched the Rams downfield with ease and lofted a TD pass to Danario Alexander. This performance did Kellen's career some good. GRADE: A-minus.
RUNNING BACK: The Rams honored Marshall Faulk on Sunday. Steven Jackson responded with an appropriate all-purpose performance. He rushed for 71 yards and caught nine passes for 72 more. He got 27 touches and moved the team between the 20s. But his line's inability to block short-yardage plays prevented Jackson from becoming a finisher again in this game. GRADE: B-minus.
RECEIVERS: Alexander soared for his late 25-yard TD catch, fully exploiting his reach advantage over shorter defensive backs. He also caught a 22-yard pass over the middle during that scoring drive. Unfortunately, the WR corps had little offensive impact during the first 57 minutes of the game. Only 12 of the 25 Rams completions went to Alexander, Brandon Lloyd and Austin Pettis overall. GRADE: C.
TIGHT ENDS: Rookie Lance Kendricks magically appeared late in the game to catch three passes for 19 yards. But where were the TEs when the Rams needed to convert third-down plays earlier in the game? A catch-and-run threat like Kendricks should be a bigger factor, especially with the Rams trying to work a quick-passing scheme with a newbie at QB. GRADE: D.
OFFENSIVE LINE: Veteran Adam Goldberg started at left tackle with Mark LeVoir injured, forcing the Rams to continue their offensive line shuffle. This makeshift front opened some seams for Jackson and generally protected Clemens in the pocket. But it failed repeatedly in critical situations. The Rams converted just two of 13 third-down opportunities. When confronted with a four-and-one scenario at midfield in the third quarter, Rams coach Steve Spagnuolo opted to punt. Nothing about the line's play suggested they could convert that gamble. The lowlight for the line came when right tackle Harvey Dahl earned 25 yards in penalties for holding and unsportsmanlike conduct on the same play. He uttered a profane response to the initial call within range of the referee's microphone — allowing America to share in his R-rated displeasure. GRADE: D.
DEFENSIVE LINE: Sunday brought more ups than downs for the front wall. Consecutive short-yardage stops turned the ball over on downs late in the first half and allowed the Rams to hold a 6-3 lead. Hobbled DE Chris Long earned a nice second-effort sack, but otherwise the Rams didn't apply much pressure on Bengals quarterback Andy Dalton. Rookie DE Robert Quinn, starting in place of the injured James Hall,  got manhandled on several key running plays. But . . . Quinn did swat down a third-down pass in the fourth quarter, earning the Rams a critical stop. GRADE: C.
LINEBACKERS: MLB James Laurinaitis and OLB Brady Poppinga combined on the key fourth-down run stop in the second quarter. Laurinaitis made five solo tackles and Poppinga broke up a pass. On the other hand, officials flagged OLB Chris Chamberlain for two unnecessary roughness penalties to facilitate Cincinnati's clinching TD drive. Whether Chamberlain actually deserved both of those penalties was the subject of some debate. GRADE: C.
SECONDARY: With CB Justin King sidelined by a shoulder injury, the Rams started Josh Gordy and Rod Hood. They used a third safety in their nickel scheme and a fourth safety in their dime package. Despite that unlikely configuration, the Rams fared OK in coverage. Dalton hit a 55-yard bomb to A.J. Green, but suffered an interception at Gordy's hands. Safeties Darian Stewart and Quintin Mikell forced Cedric Benson fumbles, but the Rams failed to recover either loose ball. Mikell made eight tackles, according to press box statistics, but one came after Green got behind him on that big aerial strike. GRADE: C.
SPECIAL TEAMS: The explosive Quinn partially blocked a punt, which was a good thing. Josh Brown kicked field goals from 26 and 43 yards. Donnie Jones stuck three punts inside the 20-yard line in four tries. But Brown missed his first field goal try (from 45 yards), Jerious Norwood didn't help much in kickoff returns and the punt coverage squad allowed Brandon Tate's 56-yard ramble. James Butler tacked an unnecessary roughness penalty on top of the return, setting up Bernard Scott's go-ahead touchdown run in the third quarter. GRADE: D.
COACHING: The beleaguered Spagnuolo was correct with his post-game assessment. For most of the game the injury-riddled Rams played the Bengals to a standoff. They showed resolve by mounting a belated rally. Offensive coordinator Josh McDaniels kept Jackson busy and coaxed a nice game from Clemens at QB. But the game turned after halftime. The Bengals started rolling in the third quarter and the Rams mustered no response. The responsibility for that failure falls on the coaching staff. Normally the coaches would also take some blame for 109 penalty yards, too, but officials appeared to job the Rams on some of those calls. GRADE: D.