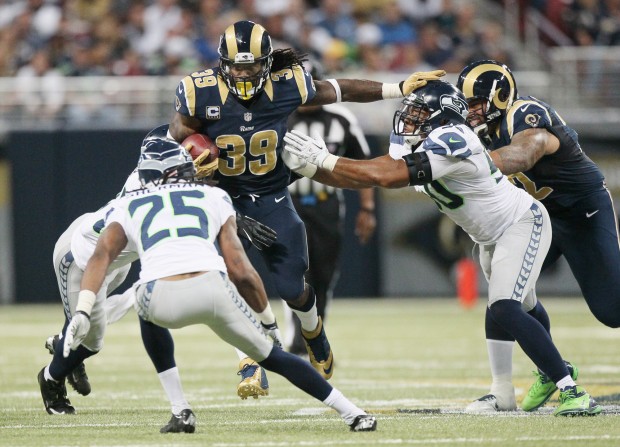 Even before the Rams negotiated and completed long-term contract extensions with defensive end Chris Long and middle linebacker James Laurinaitis, running back Steven Jackson had let it be known that he was interested in a contract extension with St. Louis.
The three-time Pro Bowler has said on many occasions that he wants to retire a Ram, and he obviously believes he has more than two years left as a productive back. (His current contract expires after the 2013 season.)
But with negotiations on an extension going nowhere, the Rams and Jackson have come up with a unique compromise. The Rams have given Jackson the option to void his contract after the 2012 season, both the Rams and Jackson's agent have confirmed.
It's actually a new contract, one that was re-done right around the time that the Laurinaitis deal was done. But its revised language doesn't change Jackson's base salary in 2012 or 2013, if he decides to stay in St. Louis. He's still due to make $7 million in 2012 . And if he decides to stay in '13, he still makes $7 million as was the case originally.
But in essence, this could become a contract year for Jackson, who has been slowed in the early season by a groin injury.
There are now a variety of things that could take place at the end of this season:
• Jackson could decide to stay, and play under the current terms of the contract in 2013.
• Jackson could decide to leave St. Louis prior to the start of free agency by voiding 2013.
• The Rams could decide to sign Jackson to a contract extension.
• The Rams could release or trade Jackson if Jackson doesn't void the contract.
Jackson's agent, Eugene Parker, declined comment. Rams executive vice president Kevin Demoff said: "Those were the results of our discussions. There's really nothing more to say."