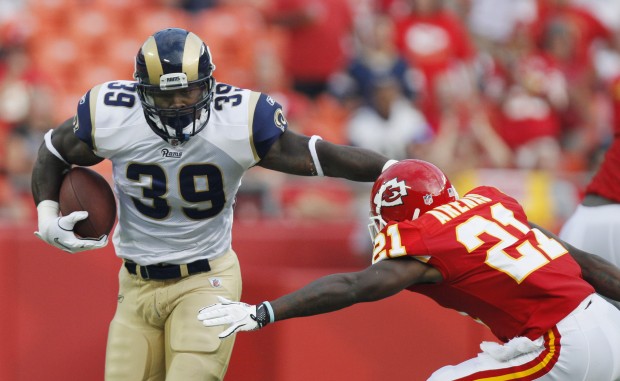 The Urban Dictionary defines "beast" as: A person who is very good at something.
More traditionally, Merriam-Webster defines it as: An animal, especially a large or dangerous four-footed one.
Rams running back Steven Jackson has come up with his own definition.
"It's funny," Jackson said. "I've been referred to as 'the Beast' for quite some time. I said, 'I'm going to look it up.' I'll give you a quick synopsis of how I looked at it, and how I thought of it. It is a mammal that bears the weight of something and transports it. And I feel like I've been a beast because I've borne the weight of some tough times around St. Louis."
Jackson began carrying the load in 2005, his first year as a full-time starter, just as the embers of the Greatest Show on Turf were flickering out. Tough times followed, including a 6-42 free-fall from 2007 through 2009.
And now, with the Rams seemingly on the cusp of better times, Jackson said he wants to help carry the team, "hopefully to the new age and a new reference to the days of glory."
Jackson believes it's his job to finish the task. "I've been the particular chosen one, that feels that maybe he's the one that's strong enough to bring us through the darkness back to a point where Sam (Bradford) and these younger guys will bring us back to a point of glory."
Jackson has had six consecutive 1,000-yard rushing seasons, and is the franchise record-holder for career rushing yards. He's a two-time Pro Bowler. But he's never been part of a Rams team with a winning record, and hasn't been part of a playoff team since his rookie year (2004), when the Rams qualified as an 8-8 wild-card team.
"Our organization, for quite some time, has been overlooked," Jackson said. "And I took that as a slap in the face as -- I hope this isn't taken out of context -- here I am working hard, just as hard as anybody else. And I felt that I just kept getting overlooked.
"And that put a huge chip on my shoulder. So when you saw us 2-14, 1-15 seasons, and you saw me running the way I was running with a passion, it was not only a passion for the game. But it was somewhat of hurt. Because here I am playing the game, I feel the way it should be played, and it's not being recognized."
Several of those lean years with the Rams were a test, but Jackson believes it helped him dig deeper within himself and made him a better person. As a player, he never backed down and kept showing up on game day.
"As a player, I think I'm stronger than some guys that have probably won multiple championships," he said. "I don't think they could deal with the things that I've dealt with. And I'm damn sure I didn't deal with the things that they've dealt with."
Like holding up a Lombardi Trophy and standing amid a shower of confetti.
NOTE: Read about Jackson as one of the last of a dying breed: the every-down back, in Sunday's Rams/NFL preview section in the Post-Dispatch and stltoday.com