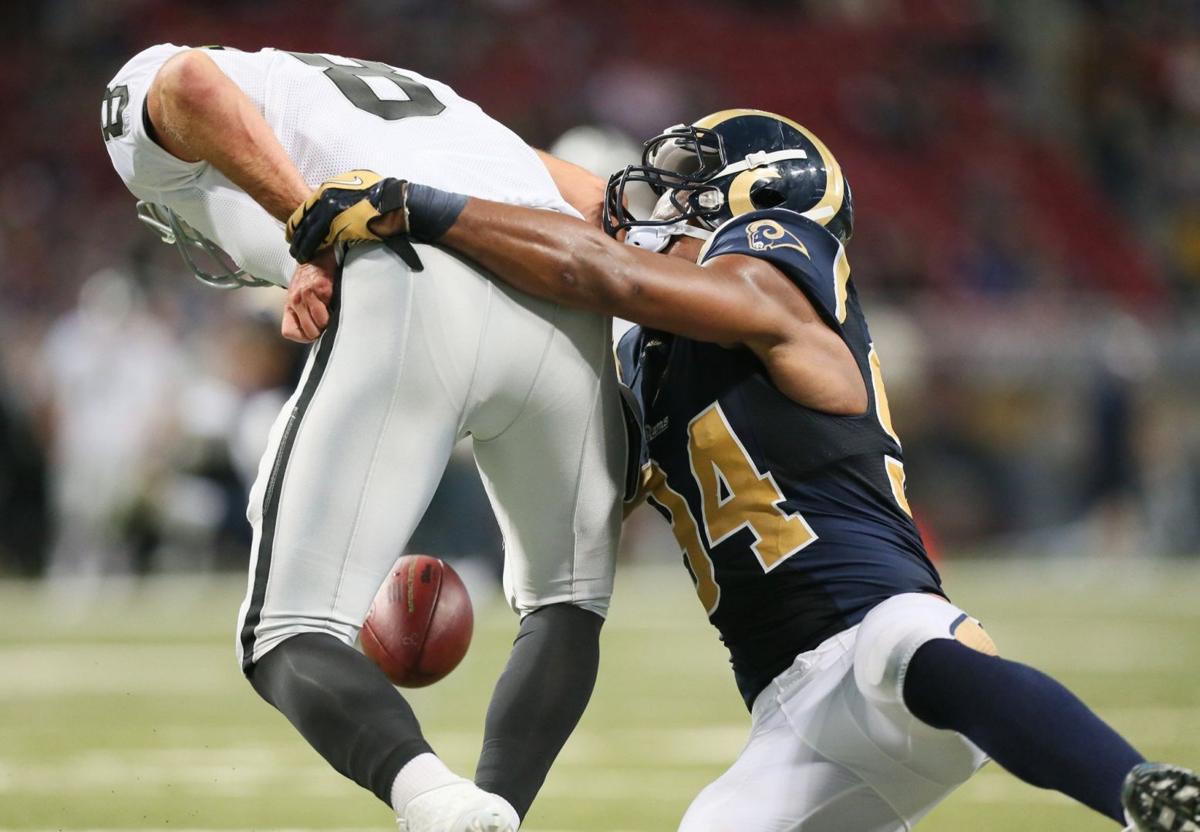 When all is said and done, the Rams should be in decent shape salary cap-wise this offseason. But with the Super Bowl completed, and the offseason officially upon us, the team's salary cap situation looks tight at the moment.
The Rams currently have 56 players under contract as they build toward the training camp limit of 90. Only the 51 players with the highest salary-cap figures count against a team's cap until the 53-man roster is set in early September.
With that in mind, the Rams' team cap number currently is at $142.964 million for 2015, according to figures from the NFL Players Association and other league sources.
The official team salary cap figure has yet to be announced, but most projections are in the $140 million to $150 million range. The final cap number tends to end up on the high end of projections every year.
For the sake of argument, let's split the difference and put the cap at $145 million. That would leave the current Rams just a couple of million under the cap limit.
But the Rams will have an additional $3 million cap credit as a result of last year's release of cornerback Cortland Finnegan.
The Rams were hoping to get that credit a year ago, but didn't, so last year's loss is this year's gain.
When you subtract about $1.5 million in incentives earned by players last year that count on this year's cap, that makes a net gain of $1.5 million.
And as the Rams wind their way through the offseason, they have plenty of ways to add to their cap space, either through reduced contracts or outright releases of players:
Quarterback Sam Bradford: The Rams want to restructure the final year of the injury-plagued Bradford's contract. They could do so by lopping off some of the $12.985 million base salary he is due in 2015, the last year of his contract, while potentially putting in incentives that could allow Bradford to recoup much of that money.
An outright release would save the team that $12.985 million out of an overall cap count of $16.58 million.
Defensive tackle Kendall Langford: He's in the final year of a four-year deal and is scheduled to be paid a $6 million base salary and count $7 million against the cap. With the emergence of Aaron Donald as NFL defensive rookie of the year, Langford no longer is a starter and his playing time is down. So the Rams could consider shrinking his base.
An outright release would create $6 million in cap space.
Center Scott Wells: He has a $2 million base salary and counts $5.5 million against the cap. Wells has had tough luck with injuries and illness since signing with the Rams in 2012 as a free agent from Green Bay. He played in all 16 games last season, but it was an uphill struggle because of both an elbow injury and a tick-borne infection that put him in intensive care last spring and resulted in a 20-pound weight loss.
Do the Rams decide to go young at center this year? Or do they stay with Wells for the final year of his contract?
An outright release saves $3.5 million. Wells is due a $1 million roster bonus on the third day of the so-called "league year," so one way or another the Rams have to make a decision by then.
The league year begins March 10.
Tackle Jake Long: He has missed 10 games over the past two seasons because of knee injuries, and is coming off his second anterior cruciate ligament surgery in less than a calendar year's time. If coach Jeff Fisher sticks with his plan to keep Greg Robinson as the team's starting left tackle, Long could end up shifting to right tackle or guard.
In the third year of a four-year deal, Long counts $10.5 million against the cap and is scheduled to make $9.25 million in base salary this year. The Rams could seek a restructure.
An outright release would save the team $8 million in cap space. If Long is on the roster the fifth day of the league year, $4 million of his base salary is guaranteed, so that could impact the Rams' timetable.
Running back Isaiah Pead: He has had next to no impact with the team after being drafted in the second round in 2012, the first draft of the Fisher/Les Snead regime. The roster is brimming with running backs with Tre Mason, Benny Cunningham, Zac Stacy and Trey Watts.
Releasing Pead would create just under $941,000 of additional cap space.
Wide receiver Chris Givens: His scheduled base salary of $1.574 million (with a cap count of $1.698 million) doesn't seem exorbitant. Then again, the Rams could deem it too much if Givens is the fifth wideout behind Kenny Britt, Brian Quick, Tavon Austin and Stedman Bailey.
Also a member of that initial 2012 draft class, and in the final year of his contract, releasing Givens would save $1.574 million.
The bottom line: If the Rams released all six of those players, they would save $34.25 million in cap space. That's highly unlikely. But if they merely saved one-third of that cap space through some combination of restructuring, releasing or not touching those six contracts, it would free up $11.42 million of cap space.
The Rams obviously need some of that money for a variety of reasons. For one, they have a free-agent list that includes wide receiver Britt, tight end Lance Kendricks, right tackle Joe Barksdale and quarterback Shaun Hill.
In varying degrees, the Rams would like to sign all four of those unrestricted free agents. In addition, the Rams' list of restricted free agents includes free safety Rodney McLeod, tight end/fullback Cory Harkey, and quarterback Austin Davis.
Looking ahead to 2016, the Rams have 35 players under contract for that season and beyond, who will count $89.91 million against the '16 cap. That might look like a ton of cap space, but the Rams have several players whose contracts expire after the 2015 season.
The list includes safety Mark Barron, defensive tackle Michael Brockers, linebacker Jo-Lonn Dunbar, defensive end William Hayes, cornerback Janoris Jenkins, cornerback Trumaine Johnson, wide receiver Brian Quick, defensive end Eugene Sims and kicker Greg Zuerlein.
That's in addition to the aforementioned Bradford, Givens, Langford, Pead, and Wells.
Undoubtedly the Rams would like to lock up at least a couple of those players during the 2015 season, as they did during 2014 with Robert Quinn and punter Johnny Hekker.