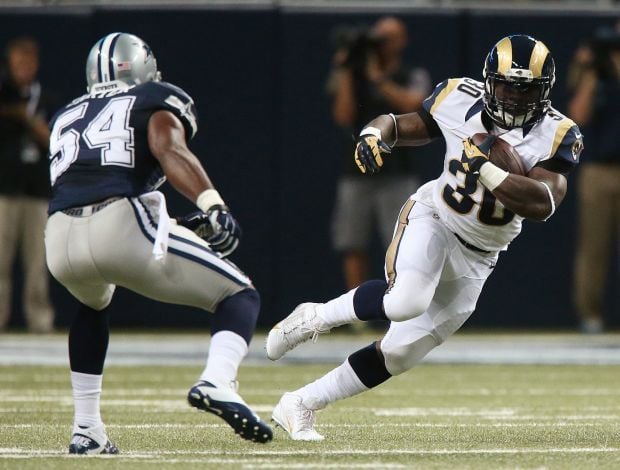 Once again, Rams running back Zac Stacy is forced to play the waiting game.
A year ago, after getting just one 4-yard carry through the team's first four games, Stacy came on to lead the Rams with 973 rushing yards and eight touchdowns.
This year, despite leading the team with 257 rushing yards, he has seen his playing time drop off in recent weeks as rookie Tre Mason (222 yards) and Benny Cunningham (173 yards) have received the bulk of the rushing attempts.
"It's a unique situation, a very strange situation,'' Stacy said Wednesday. "But at the end of the day, it's a business — some players tend to forget that — but I'm still here, obviously, and I'm fortunate to have this opportunity to play in the league.
"It doesn't matter if you're first string or fifth string, you just have to be professional about yourself in terms of preparation.''
Stacy was on the field for just one play in the Rams' 28-26 win over Seattle on Oct. 19 and for 15 plays in the following week's 34-7 loss in Kansas City. There, he ran five times for 17 yards and had three catches for 20 yards. In Sunday's 13-10 win over San Francisco, he dressed but did not play.
"I'm trying to stay prepared. At this point, that's all I can do,'' he said. "I still have a good grasp of the offense, so I'm tuned in. I'm communicating every day with Benny and Tre. Obviously, Tre's doing a great job; the game's slowing down for him and he's taking advantage of it.''
Earlier in the week Rams coach Jeff Fisher credited Stacy for his professionalism and unselfishness.
"We've not lost faith or confidence in him,'' the coach said, noting that his backfield choices are based on schemes and each week's opponent. "We've got good backs, just can't play them all.''
The Rams' initial injury report of the week has eight players, including seven who sat out Wednesday's workout. That group has cornerbacks Janoris Jenkins (knee), E.J. Gaines (knee) and Marcus Roberson (ankle), safety Rodney McLeod (knee), defensive end William Hayes (fibula), linebacker Jo-Lonn Dunbar (toe) and tight end Cory Harkey (knee).
Safety Cody Davis (concussion symptoms) was limited.
"Again, each day's important,'' Fisher said. "We'll probably get some guys back over the next couple of days.''
Sitting out Wednesday's workout for Arizona was starting right tackle Bobby Massie (ankle, knee), reserve running back Stephan Taylor (calf) and reserve linebackers Lorenzo Alexander (knee) and Marcus Benard (illness).
Starting running back Andre Ellington was limited with a foot injury. Starting linebacker Larry Foote (back) was a full practice participant.
Following a league review, defensive end Robert Quinn is expected to be awarded a third sack in the Kansas City game. On the play, Quinn ran down Chiefs quarterback Alex Smith from behind and knocked the ball loose. Quinn, who had 19 sacks last year, went without a sack through the first five games but now has six over the last three games.
• Arizona's Justin Bethel was named NFL special teams player of the week on Wednesday. Named to the Pro Bowl as a special teamer a year ago, Bethel blocked a field goal and had a special teams tackle in the Big Red's 28-17 come-from-behind win in Dallas last weekend. It was the third blocked field goal of Bethel's career and the league-best 18th for the Cardinals since 2008. He's the third Arizona player to earn Special Teams Player of the Week honors this season, joining teammates Ted Ginn Jr. (Week 2) and Chandler Catanzaro (Week 6).
Philadelphia wide receiver Jeremy Maclin (Kirkwood, Mizzou) was named NFC offensive player of the week after catching six passes for 158 yards and a pair of touchdowns in a 31-21 win over Houston.
• Two days after being released, ex-Rams running back Chris Ogbonnaya was re-signed by the Carolina Panthers. In Green Bay, running back Michael Hill (Missouri Western) was cut from the Packers' practice squad.
Boeing Co. is partnering with the Rams and the USO of Missouri to provide 1,000 tickets for military members and their families for the team's Salute to Service game against the Denver Broncos on Sunday, Nov. 16.
In addition, the Rams are offering another allotment of tickets available at a discounted rate to military members, their families and veterans. For more information, visit www.stlouisrams/uso and use the promo code USO.
In addition, fans are encouraged to visit www.usomissouri.org to make a personal salute to servicemen and women who are deployed.
Fisher has a long commitment to the military. In 2009, he was part of a USO tour that visited troops in the Persian Gulf and climbed Mount Kilimanjaro in 2011 to raise funds and awareness for the Wounded Warrior Project. The Rams honor a Wounded Warrior on the field during each home game, and Fisher invites the honoree to the team walk-through the day before the game to personally thank him or her for their service.
"We take great pride in recognizing the brave men and women of our nation's military during our Salute to Service game,'' the coach said.