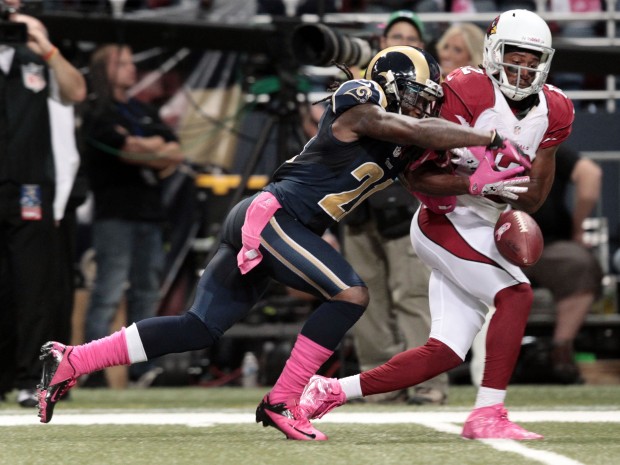 The Rams certainly won't get any style points. Perhaps much of the national television audience called it a night early or flipped over to a reality show. But in this long-forsaken football outpost, there was nothing but joy Thursday night in downtown St. Louis.
Football has returned to St. Louis after a long absence. Winning football, that is. For the first time since Nov. 4, 2006 when Scott Linehan's inaugural squad had a 4-3 record, the Rams are above .500 after beating previously unbeaten Arizona 17-3 Thursday at the Edward Jones Dome.
It was the Rams' first home victory over the Cardinals (4-1) since 2004. At 3-2, the Rams are just a game out of the division lead in the NFL's new black-and-blue division, the NFC West. These two teams pounded at each other all night long before a spirited, towel-waving crowd.
The Rams made pulp out of Cardinals quarterback Kevin Kolb, but the blitzing Big Red didn't exactly treat Sam Bradford with kid gloves. There were so many injured players helped off the arena floor it looked like an episode of Spartacus.
"It was a great effort," coach Jeff Fisher said. "The team had a sense for what we had to do going into this game because of the respect factor for their defense. Their defense is really, really talented. So we knew it was going to be a hard day offensively, so the defense had to step up and they did."
They stepped up to the tune of nine sacks and great red zone play.
"This defense is the heart and soul of this team right now," said rookie wide receiver Chris Givens, who gave the Rams some much-needed breathing room with a 51-yard touchdown reception from Bradford early in the fourth quarter. "We feed off their energy. You guys see how they go out there every snap, and play with passion and intensity."
Arizona got inside the Rams' 20 on three occasions and got only a field goal to show for it.
On two other red zone forays, the Big Red were stopped on downs late in the fourth quarter, once on a sure tackle of Arizona wide receiver Larry Fitzgerald by rookie cornerback Janoris Jenkins on the 3 after a short completion with 5 minutes, 25 seconds to play.
And once on a sack by Cortland Finnegan on a corner blitz on fourth-and-1 from the St. Louis 13 with 2:09 to play.
But the Rams had to make one more defensive stand after getting the ball back from Arizona with 1:41 left. This time, defensive end Robert Quinn ended any suspense. His third sack of the game resulted in a fumble by Kolb with defensive lineman William Hayes falling on the football. After that, it was time for the victory formation kneel-downs after the Rams' third home victory in as many tries.
"It's nice to end the game on our first caused fumble and recovered fumble of the year," Fisher said. "God, I hope they keep coming."
The Rams' defense entered the game second in the league with eight interceptions but did not even force a fumble — much less recover one — in their first four games.
Facing the league's third-stingiest defense in terms of points allowed, the Rams knew they would have their work cut out for them scoring points. The Rams didn't score an offensive touchdown four days before against a Seattle team ranked second in total defense. But it took them less than 2∏ minutes to do so against an Arizona defense that had yielded only four TDs this season entering Thursday's contest.
The big play on the drive was a 44-yard pass from quarterback Bradford to Danny Amendola. Amendola did a great job of tracking the ball in the air while being interfered with by Cardinals cornerback Patrick Peterson on the play.
St. Louis declined the pass interference penalty, taking the play and a first down at the Arizona 11. On third-and-6 from the 7, Bradford fired a strike to tight end Lance Kendricks in the end zone. Greg Zuerlein's extra point gave St. Louis a 7-0 with 12:39 left in the first quarter after what was Kendricks' first NFL touchdown. Keep in mind, Arizona entered the game second in the league in red zone defense, allowing only three TDs in the red zone in its first four games.
After an Arizona field goal, the Rams and Cardinals played the field position game. But a 14-yard punt return by Amendola to the 50 followed by two runs for 15 yards by Steven Jackson advanced the ball to the Arizona 35. And that's all the room the Rams needed for a 53-yard field goal by "The Leg." Zuerlein's 13th consecutive field goal gave the Rams a 10-3 lead with 10:45 to go in the first half.
Midway through the second quarter, the Rams suffered a couple of costly injuries. On a play in which he almost made a spectacular 22-yard catch on a fade pattern from Bradford, Amendola suffered a shoulder injury landing on the turf. The play originally was ruled a catch, but Arizona was successful on an instant replay challenge on third-and-5 at the St. Louis 9. Amendola did not return.
After a 19-yard return by Peterson following a Johnny Hekker punt, Arizona took over at midfield. And on the first play of that Big Red drive, Rams strong safety Quintin Mikell suffered a head injury making a tackle. Mikell had been playing some of his best football since joining the Rams in 2011. He was replaced by Darian Stewart and did not return.