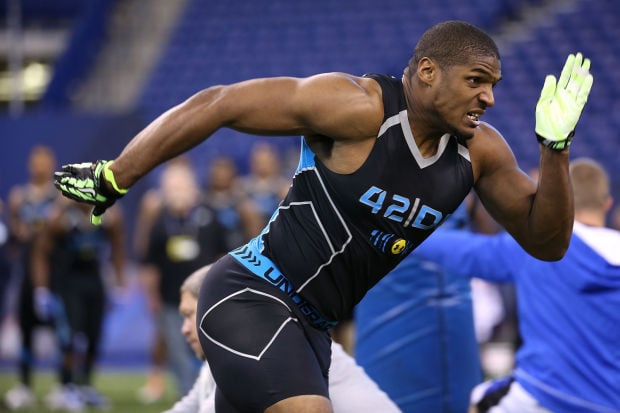 For Michael Sam, the call finally came late in the seventh round of the 2014 draft. Much to his, and everyone's surprise, it was Jeff Fisher on the other line.
"To be honest with you, the only thing I heard from Coach Fisher was: 'Michael Sam, this is Coach Fisher of the St. Louis Rams ...' " Sam said.
After that, Fisher might as well have been an encyclopedia salesman.
"I had no idea after that what he said," Sam said laughing.
But Sam knew he had just joined an exclusive fraternity, he had just been drafted into the NFL. Sam was in California at the time, and with ESPN cameras rolling, Sam broke down in tears. There were kisses, there were hugs, there were more tears. Tears of joy.
"Waiting three days, I think you'd be a little bit emotional yourself," Sam said.
He was referring to his long wait to be drafted. But there was much more obviously, to that emotional release. Ever since his February announcement that he was gay, the great unknown was how would the conservative, macho world of the National Football League react.
Would teams back off from drafting Sam, the University of Missouri defensive end, because of his sexual orientation? Would the revelation hurt the draft status of the Southeastern Conference's defensive player of the year?
With 248 picks gone and just eight picks to go in the draft, you could argue that the answer to both questions was "yes."
But then came the phone call from Fisher. About an hour later, Sam took part in the obligatory post-selection conference call with St. Louis media. By that time, the emotion of the moment hadn't subsided. He had channeled it equal parts energy, joy, and bravado. He was just a little fired up. So fired up, that some salty language figured into the dialogue.
"I knew I was gonna get picked somewhere, and every team that passed me I was thinking I'm gonna sack their quarterback," Sam said.
Assuming he makes the final roster, first up for Sam — the new Ram — will be the Minnesota Vikings, whose roster currently includes QBs Matt Cassel, newly-drafted Teddy Bridgewater, and Christian Ponder.
"The 2013 co-defensive player of the year is ready to (bleeping) show the world that he is ready to work," Sam said. "Let me tell you something, if we were playing the Vikings right now, I'd probably have three sacks."
These have been overwhelming times for Sam. But now he must prove, once again, that he can play football.
"Since February, since my big announcement, this has been a whole speculation of the first openly gay football player," he said. "But you know what, it's not about that. It's about playing football.
"Can Michael Sam play football? And yes I can. The St. Louis Rams know I can, and I'm gonna give everything I've got to the St. Louis Rams, to help the Rams win the championship."
Sam got so many texts, tweets, and calls after getting drafted, his phone went dead. Before that happened he noticed several texts from his new Rams teammates.
"I don't know who they are ... I don't know their numbers," Sam said. "But they just said, 'Welcome to the team.' "
Even Tennessee State center Demetrius Rhaney, who in terms of garnering attention had the unfortunate distinction of getting drafted by the Rams one pick after Sam, threw out the welcome mat.
"Michael Sam, he's like a brother now," Rhaney said, when asked about Sam. "That's my teammate. I can't wait to meet him."
Sam's new position coach, ex-Marine Mike Waufle of the Rams, talked to Sam at the NFL Scouting Combine in February. About a month later, the Rams sent a three-person contingent that included assistant head coach Dave McGinnis to Columbia for Mizzou's pro day.
Even so, Sam said, "I had no idea they were this interested in me. I want to thank Mr. (Stan) Kroenke and Coach Fisher, and all of the other St. Louis Rams higher-ups there. I'm so proud to be a St. Louis Ram."
Just two picks away from No. 249 overall, Fisher called owner Kroenke on the phone about selecting Sam. Executive vice president Kevin Demoff was in on the discussion.
"We discussed it privately with Kevin and Mr. Kroenke and felt like it was the right thing to do at the right time," Fisher said.
"We were in the seventh round, so we were looking at the board, and we had him rated to go a little higher than the seventh round," general manager Les Snead said. "As we said when we drafted the last defensive lineman (first-rounder Aaron Donald), we like to feed our beast in the DL. And obviously this guy's production, play speaks for itself."
So the Rams' franchise made history — social and cultural history — once again. The team that drafted the first black football player in the modern NFL (Kenny Washington) a year before Jackie Robinson broke baseball's color line, the Rams have now drafted the first openly-gay football player in NFL history.
"I'm telling you, no one has the (testicles) that St. Louis had," Sam said. "And I'm proud to give everything I've got to St. Louis. So many people are proud of the St. Louis organization for being the one to make history."