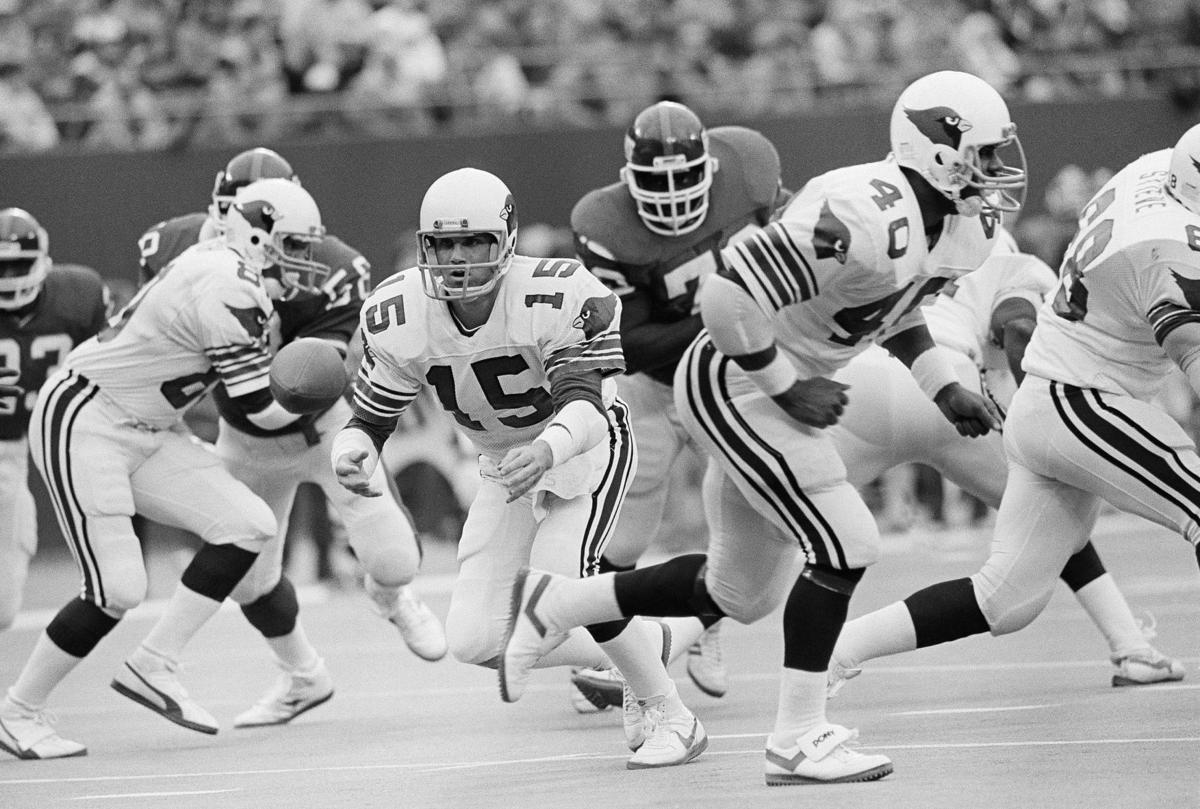 On Monday night, two former St. Louis franchises will meet in the NFL playoffs. On January 15, 1988, Bill Bidwill, the owner of the St. Louis Cardinals football team, announced his plans to move the team to Phoenix from St. Louis. He said he decided to seek the move for "competitive reasons." Here was how his players reacted to the move.
More than anything, the Cardinals players were relieved. Their wait was over. By the time they get to Phoenix, they'll be smiling.
First, they'll take a deep breath.
''Now we can get on with our lives,'' tackle Luis Sharpe said.
The reaction to the news that owner Bill Bidwill planned to make them Phoenix Cardinals was mixed.
Some were sad. ''I promised myself I wouldn't get emotionally involved with this, because it's a business,'' wide receiver Roy Green said. ''But when the announcement was made, I had a hollow feeling. It hurts.''
Some were feeling adventurous. ''If Mr. B says to pack the bags, we have to pack the bags,'' fullback Earl Ferrell said. ''We've become attached to St. Louis, but now we have to cut away and start a new chapter in our lives. We'll be like pioneers out in the Old West.''
Some were fretting over new concerns, such as housing, moving arrangements and plans for offseason workouts. ''It'll be difficult to get the players organized, but we'll get it done,'' head coach Gene Stallings said. ''It will take a lot of effort, a lot of understanding and a lot of cooperation by all of us - players, coaches and front office.''
Quarterback Neil Lomax said he had to tell the truth.
''I'm excited about making the change,'' he said. ''I don't want to sound too derogatory about St. Louis, but moving is going to be a positive thing for this football team. I can't help but show my emotions. I'm thrilled to be going to Phoenix. There's no question it will make us a better football team.
''We'll have better facilities out there, better support, better working conditions, grass fields, the works. It will be first class.
''There were times in St. Louis when we've felt like second-class citizens. We won't have to apologize anymore because we don't play baseball. It's going to be a great honeymoon period for the players.''
Phoenix doesn't have a major-league baseball team. The Cardinals seem to like that. They said they'll enjoy being a feature attraction, the top major-league franchise in a growing city.
''We won't have to be 'football Cardinals' out there,'' Ferrell said. ''We'll just be the Cardinals.''
''It's nice when people get excited about you because you are a football player - you don't always get that in St. Louis,'' defensive tackle Bob Clasby said. ''In St. Louis, if you tell people you play for the football Cardinals, you're not sure whether they'll react positively or negatively.''
Living in the shadow of the baseball Cardinals ''has been a big problem,'' Sharpe said. ''This is a great baseball town, the best baseball town in the country. The fans are spoiled by the baseball team. The baseball Cardinals have had great success. We could never live up to that. To the people, we were no comparison.''
Sun Devil Stadium, on the campus of Arizona State University in Tempe, holds 74,000 for football. The Cardinals, who averaged around 26,000 in their final season at Busch Stadium, won't see many empty seats from now on.
''We'll get a lot of support, sell out the stadium, and that will help the team,'' Sharpe said. ''It's special for any athlete, to perform in front of a large crowd.''
Sharpe, however, felt bad for the Cardinals fans who have lost the team.
''I just want to say one thing - the ones that were loyal to us were the greatest,'' he said. ''I wanted to play hard for those people. They never stopped coming. And I think it's unfortunate, because it looks like we have the nucleus of a pretty good team. I think we can make the playoffs next year, and it's a shame that the fans who stuck with us here won't be there to enjoy it.''
Some Cardinals were surprised that a last-minute deal wasn't cut to keep the franchise in St. Louis.
''A pro football team is a hot commodity,'' Sharpe said. ''In this day and age, to let an NFL team slip away doesn't make any sense at all. It wasn't handled well. The politicians messed up. You just don't go out and get another team. Better keep the one you have.''
''It's just disappointing to me that a big effort wasn't made to keep the team,'' Green said. ''They had three years to act. You think they could have been able to take some action instead of sitting around.''
The Cardinals improved to 7-8 this past season, and are in a position to move up in the Eastern Division standings. But having to move an entire franchise - from the star quarterback down to the last roll of adhesive tape - will be an exhausting, disruptive process.
In their last year in Baltimore, 1983, the Colts went 7-9. In their first season in Indianapolis, 1984, the Colts slumped to 4-12.
''Moving definitely had an effect,'' Colts general manager Jim Irsay said. ''There's just so much that needs to be done, and it's hard to maintain continuity.''
Ferrell said, ''The players will have to stick together, more than ever. We've been through a lot of adversity, so we're equipped to handle it. We need to worry about one thing - being a successful team.''
Stallings isn't sure how he'll go about organizing offseason conditioning - a staple of his program.
''It could hurt us but I won't let it,'' Stallings said. ''I made a concerted effort to get the players to move here, and now we'll have to get them moved to Phoenix.
''We just have to figure out how to work things out. Maybe we'll keep part of the coaches here, to work with the players who don't move right away. Maybe we'll send other coaches to Phoenix to work with the players who are there. A lot needs to be settled. But I know one thing - if a player wants to stay in shape he'll find a way.''
Stallings has his own problems. After taking the Cardinals job in 1986, he made plans to have a four-bedroom house custom built in St. Louis County. But before moving into the dream house, Stallings and his family had to rent a home, move into a hotel, switch to another rental property and then check into a second hotel.
Finally settled into the new home, he'll have to quickly sell it - then live in more hotels and then build another place in Phoenix.
''I know what the player is going through,'' Stallings said. ''None of us know much about Phoenix. This won't be easy. But we'll get it done.''
Big Red moments we'll never forget
8 Big Red moments we'll never forget
Nov. 15, 1964: The mud bowl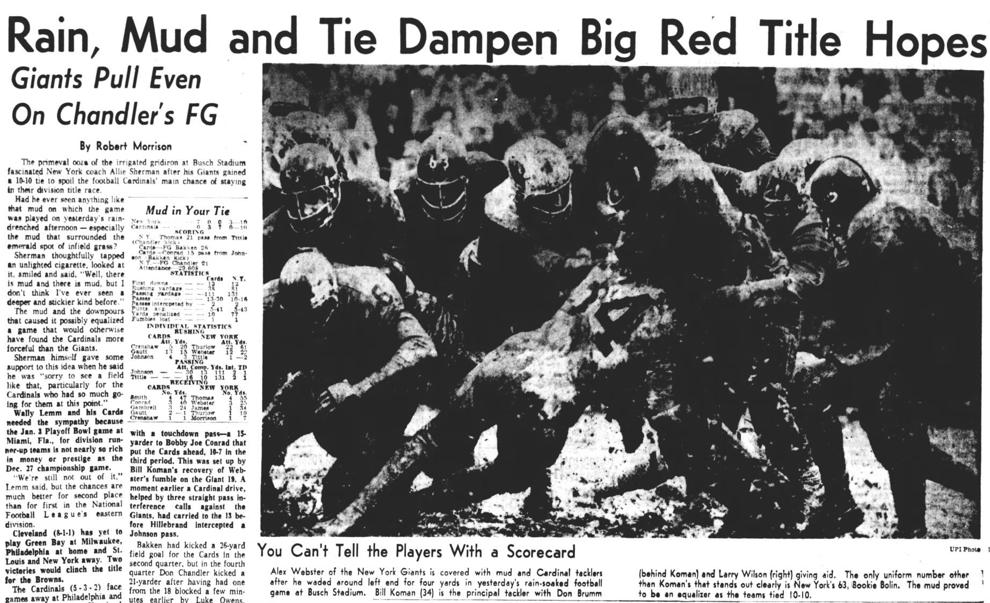 Nov. 7, 1965: The toughness of Larry Wilson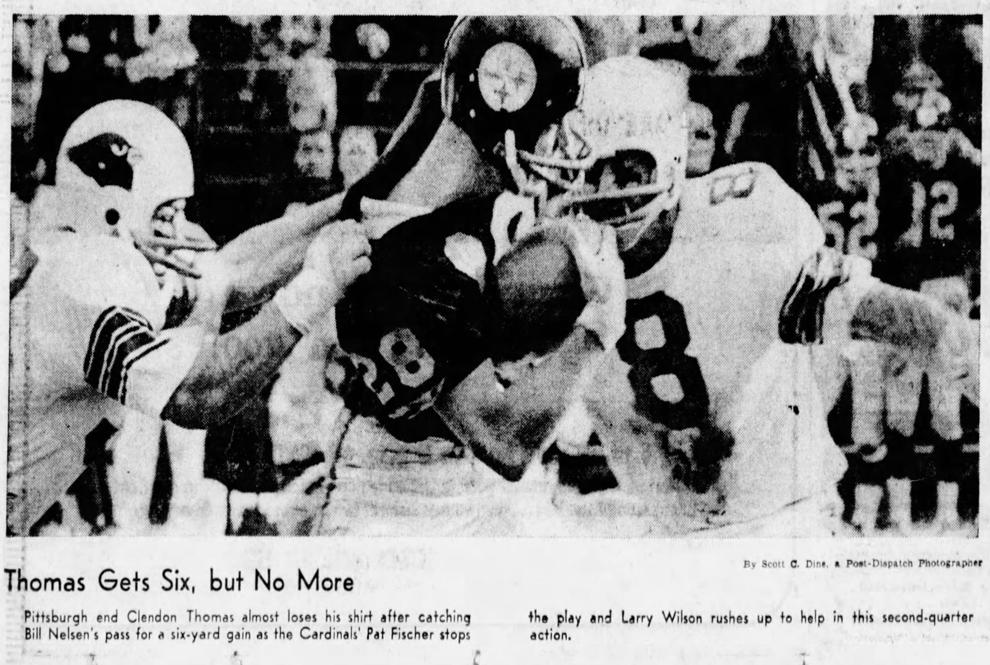 Nov. 16, 1970: Beatdown in Big D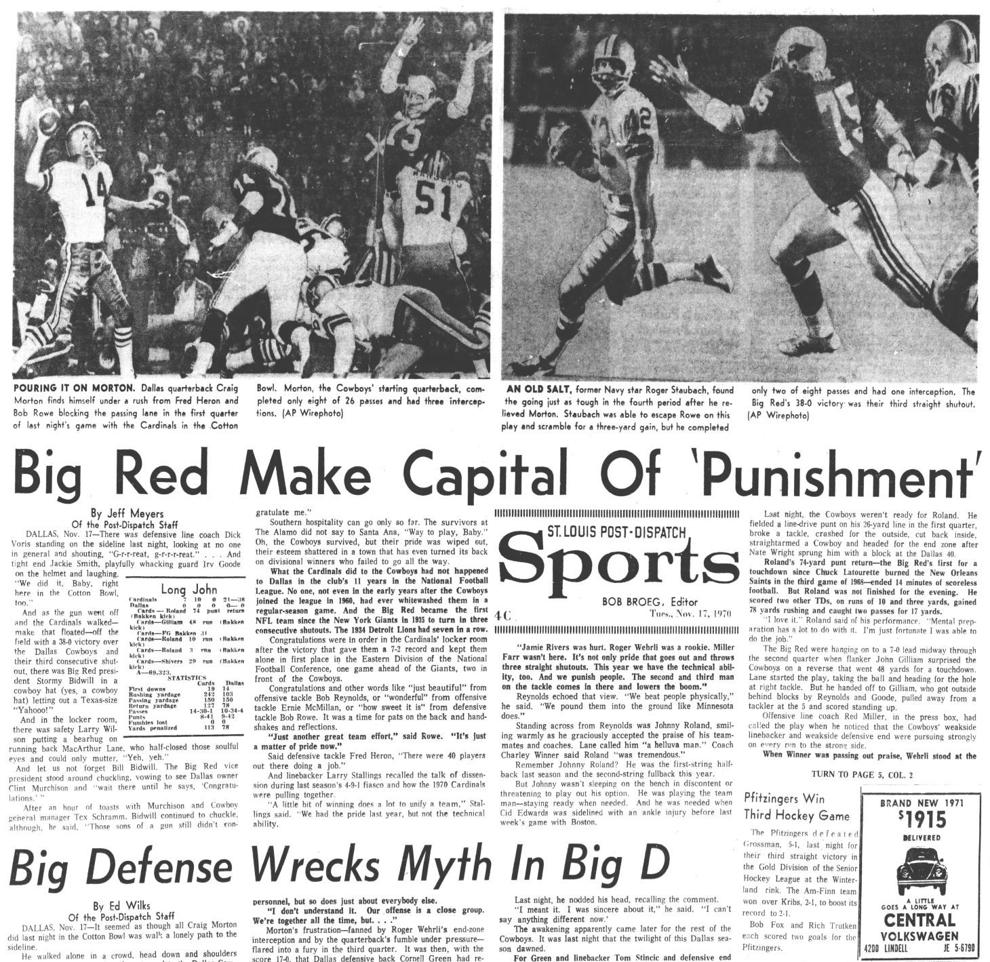 Oct. 13, 1974: Jackie rumbles to the end zone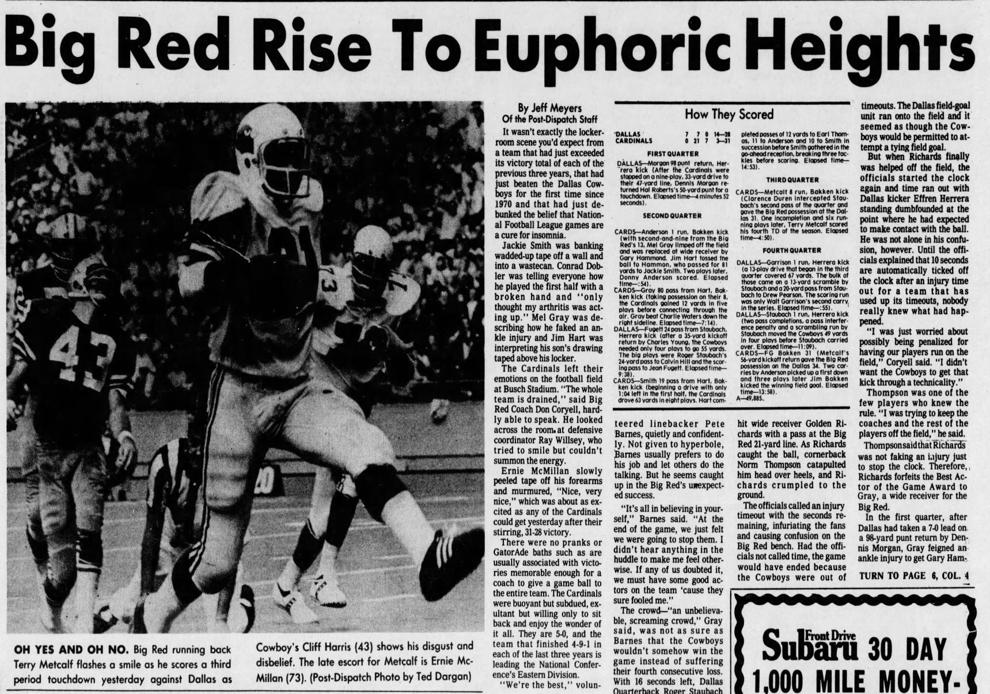 Nov. 16, 1975: The phantom catch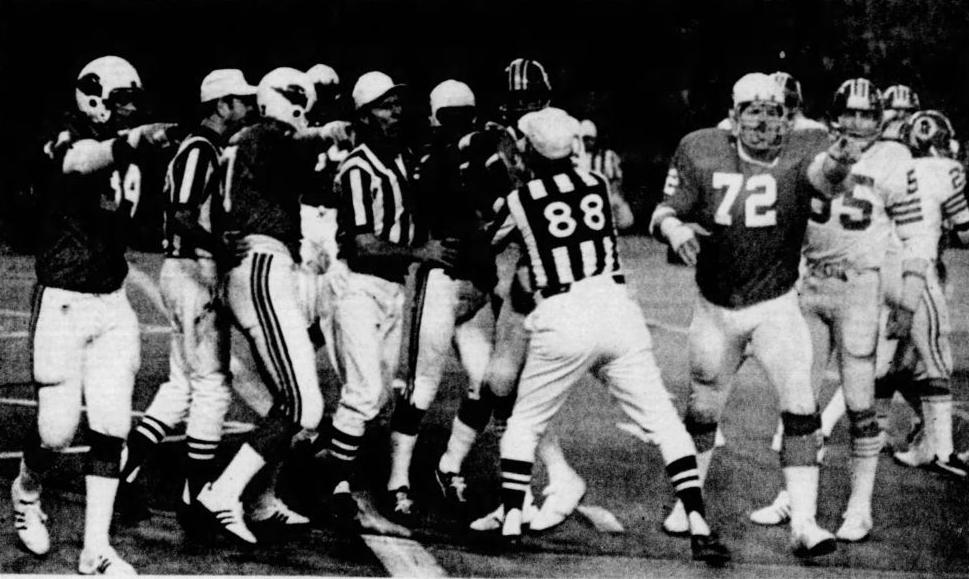 Sept. 2, 1979: Ottis, my man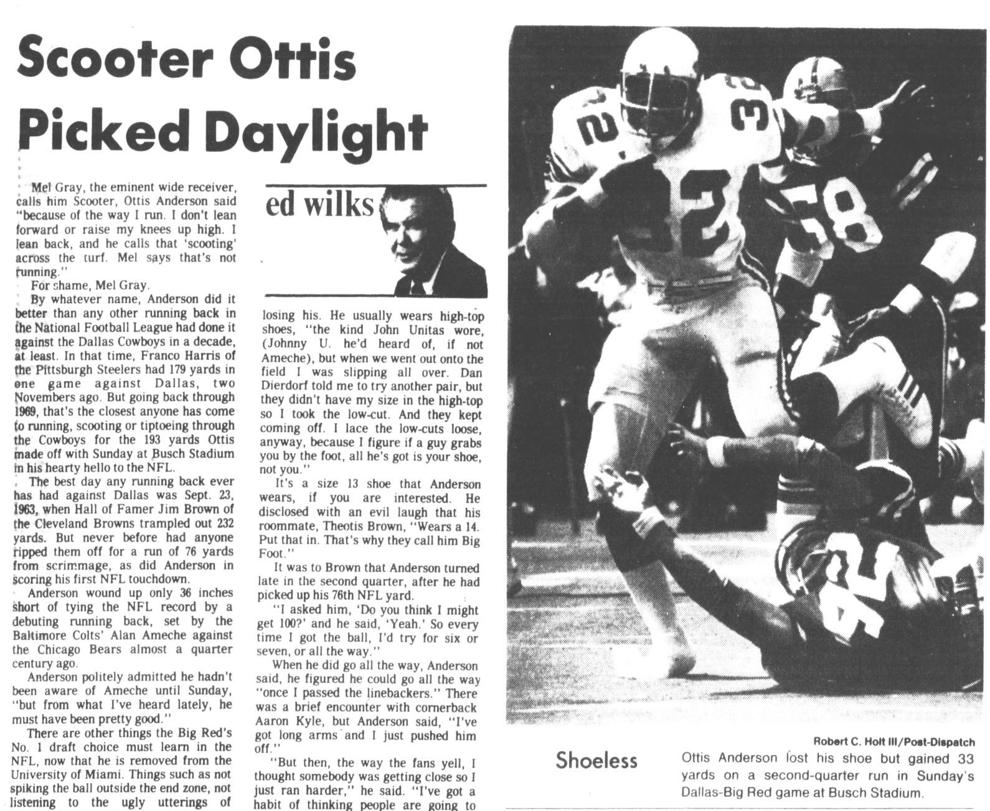 Dec. 26, 1982: Roger and out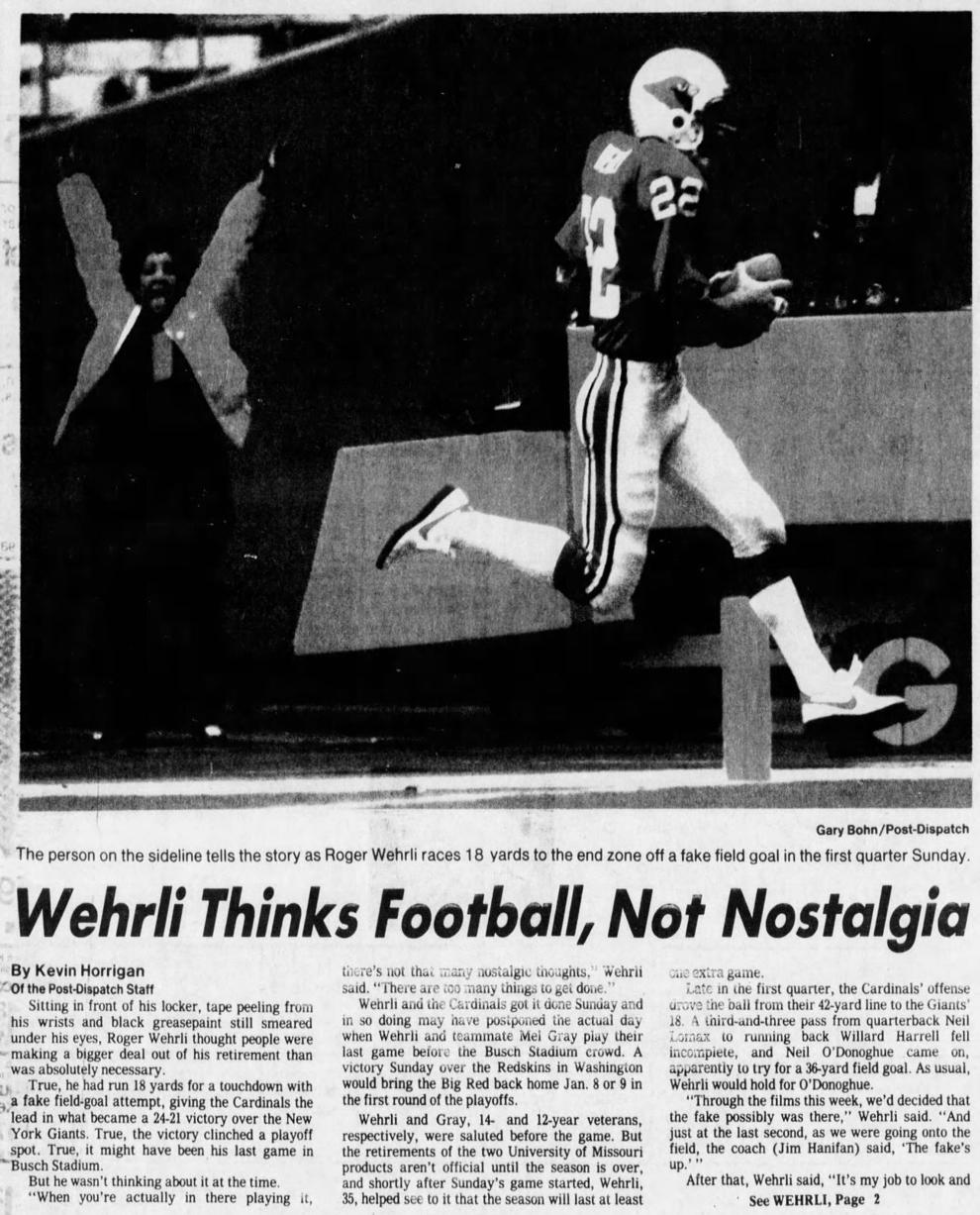 Nov. 8, 1987: The NFL's greatest comeback