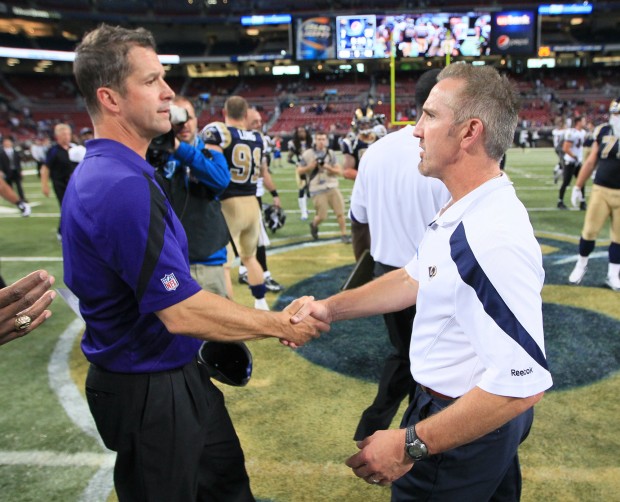 What are friends for, if not to beat up on?
Baltimore Ravens coach John Harbaugh and Rams coach Steve Spagnuolo profess to be good friends. The two worked together on the Eagles' staff for eight seasons. Last week, Spagnuolo said that Harbaugh was like a brother to him and that their wives were good friends.
Friendship seemed to have little to do with a couple of Harbaugh's decisions in the closing minutes of the Ravens' 37-7 victory Sunday.
With less than four minutes remaining and the final margin set, the Rams faced a third-and-4 from their own 26. Cadillac Williams rushed for just 2 yards and coughed up the ball but was ruled down by contact. The Ravens challenged the call and lost.
After the two-minute warning, quarterback Joe Flacco took a long shot downfield to Tandon Doss. Rams cornerback Bradley Fletcher was called for pass interference, giving the Ravens the Ball on the Rams' 41.
Baltimore ran off the final minute of the clock, and Spagnuolo shared a few words and a quick handshake with Harbaugh.
"I told him to say hello to Ingrid, his wife, and he said, 'Give my love to Maria.' I shook his hand and away we went," Spagnuolo said.
But, seriously, coach, is that any way to treat a friend, pounding him into submission?
"It's funny. I'll be very open and honest here. During the game and toward the end I felt that way. Even when I was home with Maria, I said, 'We're not ever talking to him again,'" Spagnuolo said. "But when I came in this morning and got a full night's rest, I don't believe that. I'm not so sure that isn't the exact way you do it.
"Let me tell you something: John Harbaugh is a competitor. I know that, and I've got no problem with it. I did feel one way yesterday. But I calmed down and looked at it."
Quarterback Sam Bradford suffered a sprained toe. An X-ray revealed no broken bones.
"Right now we hope it's not a big deal. He'll get treated," Spagnuolo said. He acknowledged that Bradford had been roughed up and sacked five times. "I'm very concerned" about the pass protection, he said. "That's a focus."
Though Steven Jackson (thigh) and Williams (hamstring) played hurt Sunday, both reported no ill effects Monday. Spagnuolo said he talked to Jackson before Sunday's game and decided the risk of further injury was greatest "if he had to open up and go deep." Thus, he was limited to short-yardage, goal-line and third-down situations. Jackson rushed four times for 23 yards.
"I did not want to put him out there if there was a chance he'd go backwards, so we whittled it down," Spagnuolo said. "Just having him in the huddle, I think, is good for our football team. I just kept my fingers crossed and said some prayers that it wouldn't go backwards."
Going forward, Spagnuolo hopes that Jackson's role will be expanded.
Williams rushed 18 times for 75 yards reported that he felt OK.
"The fact that you've got a couple backs helps," Spagnuolo said. "Steven, certainly once you get him up and healthy, he'll be in there. But it's nice to know if he gets winded or dinged, we can get another guy in there. We're looking forward to that.
Tight end Michael Hoomanawanui suffered a back strain. Spagnuolo said he was listed as day-to-day. Offensive tackle Rodger Saffold took a blow to the chin and will be monitored. Defensive tackle Darell Scott suffered a thumb injury and was scheduled to see a specialist. Safety Darian Stewart injured his finger and had it taped, but the injury did not appear serious Monday.
Wide receiver Danny Amendola will be fitted with a different brace on his injured elbow, but his return seems in doubt for Sunday's game against Washington.
"We'll see what he can do, but I'm not sure it's strong enough yet," Spagnuolo said. "We'll be very careful. With a bye week the following week, we'll try to be smart."