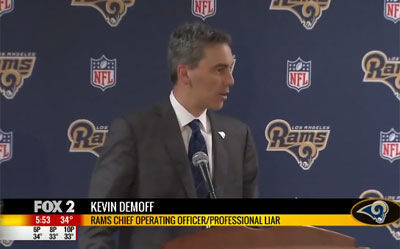 For all intents and purposes, KTVI (Channel 2) sports anchor Charlie Marlow was trying to have some fun at the expense of Rams executive Kevin Demoff. But it resulted in an on-air apology by Marlow late Monday.
During its 5 p.m. telecast, the station ran a sound bite from Demoff's press conference on the firing of coach Jeff Fisher. In the graphic at the bottom of the picture, Demoff was identified as: "Rams Chief Operating Officer/Professional Liar."
Obviously, it was the "Professional Liar" part of the identification which caused the issue. Although there were no apparent complaints from the Rams, some in the station's management were not pleased and Marlow issued an apology during the 11 p.m. telecast. It was Marlow's idea to run the "professional liar" graphic, which was on the air for just a few seconds.
Demoff made several comments to the media in St. Louis in the time leading up to the Rams' relocation to Los Angeles — comments that eventually were found to contradict what was really happening. As a result he has been a frequent target of criticism from local media members and fans since NFL owners approved the team's relocation in January.
Marlow declined comment Tuesday. General manager Spencer Koch and news director Audrey Prywitch did not return phone messages left by the Post-Dispatch.