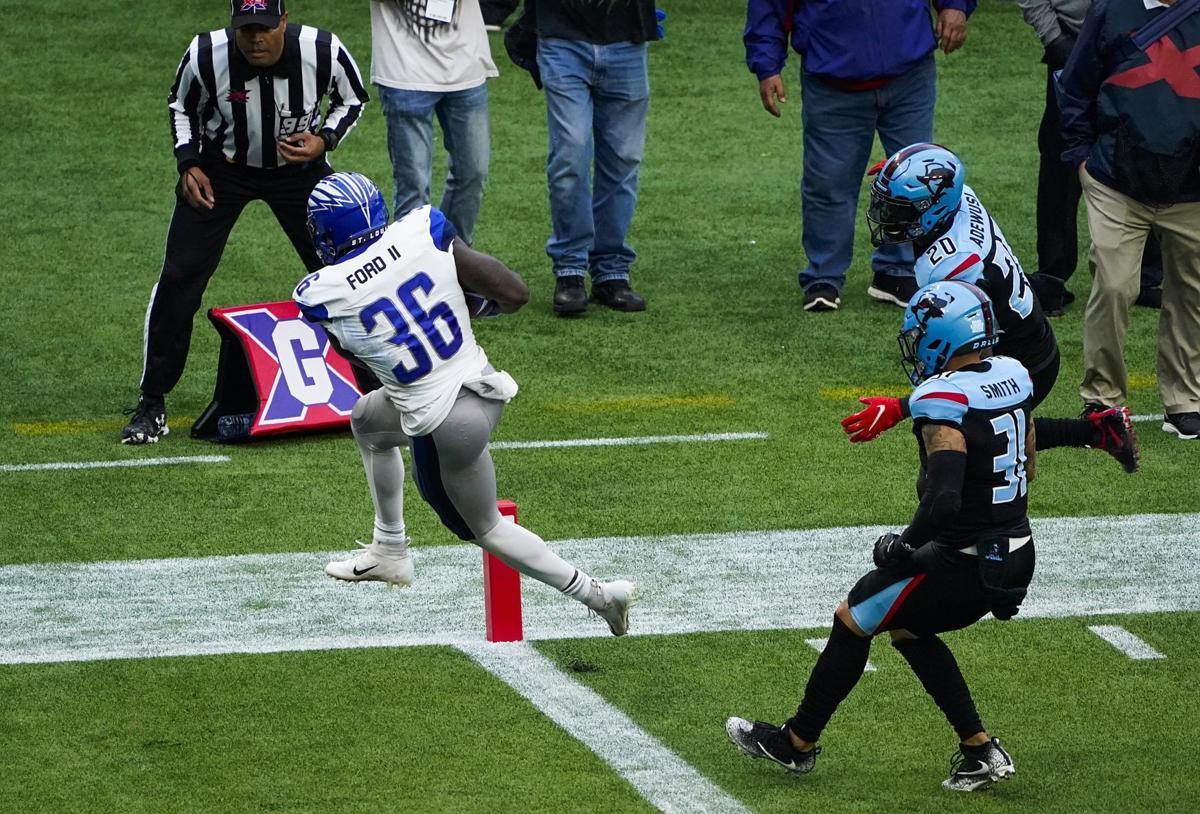 The fledgling XFL is a big hit in St. Louis, at least from a television ratings standpoint for Week 1.
The BattleHawks were winners not only on the field but also in terms of TV viewership Sunday for their inaugural game, as the market drew the top rating in the country for any of the league's four games over the weekend. And St. Louis was second for two of the other three contests, according to figures compiled by Nielsen.
The BattleHawks' contest, a 15-9 victory on the road over Dallas that was televised by ESPN, was seen in 7.4 percent of homes in the St. Louis market with a TV. That not only far surpassed the rating the reigning Stanley Cup champion Blues drew locally in prime time Saturday, 4.8, it was the top-rated sporting event televised in the Gateway City over the weekend.
While the viewership doesn't rival what the NFL's Rams did in the ratings when they were in town for 21 years before bolting to Los Angeles after the 2015 season, it was a strong number for a team that is in a comparatively unknown league, with mostly anonymous players playing in a setting that has quirky rules compared to conventional football.
The robust St. Louis viewership performance for the XFL's opening weekend wasn't limited to the local team. The market had the nation's second-best rating for the Los Angeles-Houston game, shown by Fox on Saturday. Houston led the way (5.7 rating), with STL at 4.1. It also was No. 2 for Fox's Tampa Bay-New York game on Sunday, with Tampa-St. Petersburg at 5.6 and the Gateway City at 4.6. Those games were shown locally on KTVI (Channel 2).
Nationally, the BattleHawks-Dallas game averaged about 2.5 million viewers. That is only slightly below the 2.67 million that ESPN's telecast of the dramatic Duke-North Carolina overtime basketball game Saturday averaged. The game drew a 4.2 rating in the Dallas-Ft. Worth market.
ABC (KDNL, Channel 30) had the league opener, on Saturday afternoon, and that Seattle-DC contest averaged 3.3 million viewers. The St. Louis rating for that one was 3.0, tying for 14th nationally.
It will be interesting to see how local ratings hold up, to find out how much of the initial surge was fueled by the novelty aspect of the game and the fact the market has been thirsty for football. (The other XFL clubs are in NFL markets.)
The BattleHawks' next game, at 5 p.m. Sunday in Houston, is on FS1 — which is less prominent than EPSN. But they return to ESPN the following week for their home opener (2 p.m. on a Sunday against New York).
The following Saturday they have a 4 p.m. home contest against Seattle that will be on KTVI (Channel 2), the BattleHawks' first appearance on an over-the-air station. St. Louis TV ratings traditionally have been significantly higher for sporting events shown on so-called "free TV."