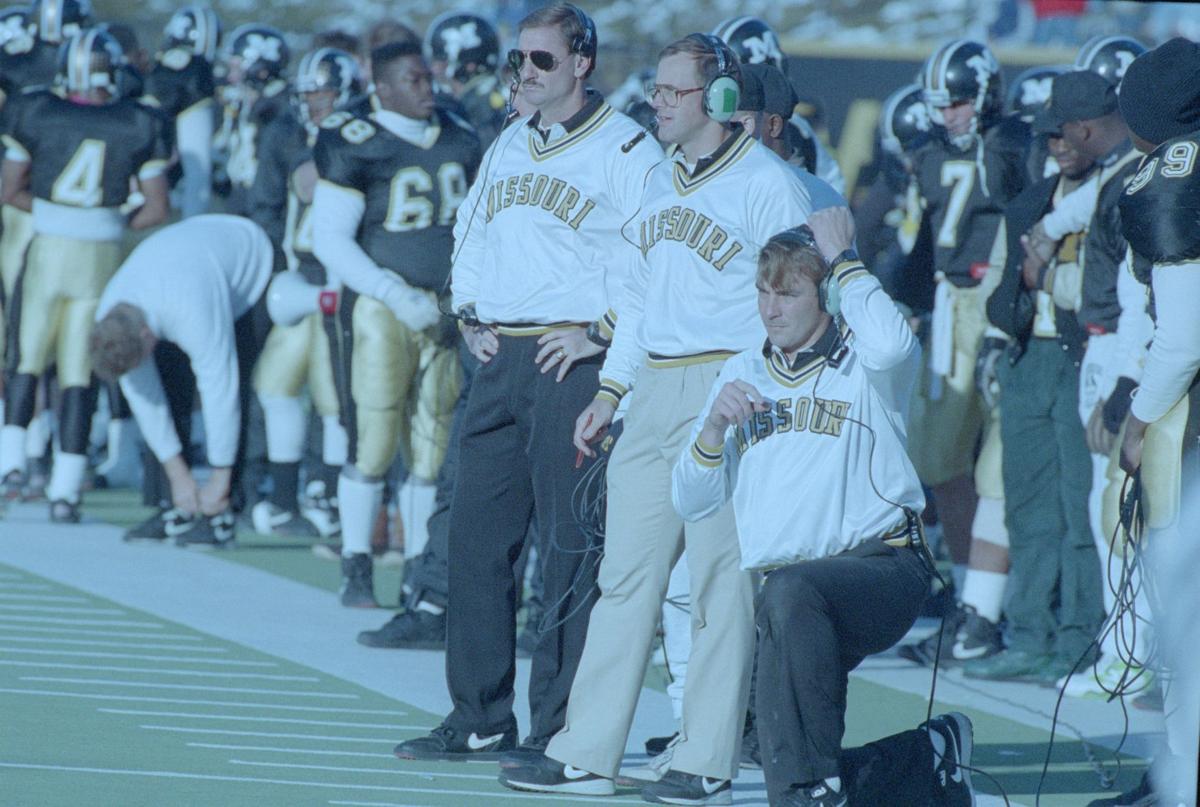 Nearly a quarter of a century after they coached together at the University of Missouri, members of the Bob Stull coaching tree are still laying down roots.
When Dirk Koetter replaced Lovie Smith in Tampa Bay this past offseason, he became the third member from that Stull staff to become an NFL head coach.
Marty Mornhinweg, currently quarterbacks coach for the Baltimore Ravens, was head coach for the Detroit Lions in 2001-02.
As for the third, well, you may have heard of him. Kansas City's Andy Reid is the third-winningest active head coach in the NFL and No. 15 all-time.
Throw in the fact that those Mizzou staffs from 1989-93 also spawned a pair of NFL coordinators.
Ken Flajole, currently linebackers coach in Philadelphia, was defensive coordinator for Steve Spagnuolo's Rams from 2009-11 in St. Louis. And Dave Toub has had a 16-year run as an NFL special teams coordinator and currently holds down that job with Reid in Kansas City.
"We had a good group; a really good group," Stull, now athletics director at Texas-El Paso, says with pride. "We had really a good staff for almost eight years,"
By eight years, he was referring to the three years most of that staff spent at UTEP, followed by five interesting but ultimately ill-fated years at Mizzou.
What Bill Snyder did at Kansas State may be the greatest program turnaround in college football history. But what happened with Stull & Co. at UTEP in the late 1980s was eye-opening.
"They'd won 15 games there in (11) years," Koetter said. "For us to turn that thing around at UTEP. ... Now, we just weren't there very long; we were only there for three years. But I knew then that we had a really good staff."
When Stull's second UTEP team went 7-4 in 1987, it marked the program's first winning season since 1970. When the team went 10-2 in 1988, Missouri hired him to replace Woody Widenhofer. After accepting the Mizzou job, Stull agreed to coach UTEP in the Independence Bowl, losing to a Southern Mississippi team quarterbacked by a fellow named Brett Favre.
Stull never could duplicate the UTEP miracle in Columbia. In five seasons, the Tigers went 15-38-2 and never had a record better than 4-7. In a way, that made the future success of his coaches all the more remarkable.
"We came to Missouri, that was in the glory days of the Big Eight," Koetter said. "Both Oklahoma and Nebraska were on fire, Colorado was coming into its own. We were probably a little ahead of the curve as far as throwing the ball, which in that conference just put our defense at too much of a disadvantage.
"I'm sorry we didn't do better at Mizzou. We were fighting an uphill battle and we couldn't quite turn the corner. You know that Fifth Down game (against Colorado), we were off to a good start that year. That game hurt us a lot. It took a lot out of us. If we would've got that win I think we might have gotten over the hump."
When Stull took over at UTEP in 1986, he stepped into a program that didn't have a huge budget. He asked Keith Gilbertson, a friend in the business and later head coach at Cal-Berkeley, if he knew of any bright young quarterback coaches he could get on the cheap.
"And he said, 'Dirk Koetter,'" Stull recalled.
Koetter was at San Francisco State, which no longer has a football team. It was a three-member coaching staff, which included Reid. You talk about a financially strapped program.
"They used to sell doughnuts at noon to raise money for the football program," Stull said.
He was kidding — we think.
So Koetter joined that first Stull staff at UTEP, but Reid wasn't hired until a year later.
"We had an opening the second year at UTEP for O-line," Koetter said. "I'm begging Bob to bring Andy Reid in. 'Just bring him in and interview him. It can't hurt anything.'"
Who knows what would've happened to Reid's career, or even Koetter's, had Stull not agreed?
"So we brought Andy in for an interview, and Andy was the best coach I'd ever seen," Koetter said. "The most detailed. Bob asked him one question, and I don't think Andy took a breath for 45 minutes."
Apparently, Reid gave a very long, very detailed answer. He was prepared.
"Dirk was so good in the passing game and teaching quarterbacks, quarterback techniques and stuff, which he's noted for," Stull said. "And Andy was a great offensive line coach. Eventually Andy got to coach the quarterbacks and be associate head coach."
The third NFL head coach from the Stull tree, Mornhinweg, also had Bay Area roots and played against Koetter in college — both were QBs. Morhinweg was an assistant coach at UTEP in 1986 and '87, then branched out elsewhere before rejoining the band at Mizzou. He took Reid's place on the Tigers staff when Reid took his first NFL job as an assistant to Mike Holmgren in Green Bay in 1992.
"I left (Missouri), and still feel guilty about that," Reid said. "Because I kind of felt that we were right on the edge of getting it over the top, and I wanted to be a part of that. Bob Stull was a phenomenal head coach. We had some good coaches, and we had some good players. The ball just didn't bounce right."
Many years and many teams later, they're spread out all over the country. But they stay in touch as time and schedules permit, and the bonds formed in El Paso and Columbia remain strong.
"I knew it was just a matter of time that Dirk would get a head-coaching job in the NFL," Stull said. "He's one of the very best quarterback coach/coordinators in the NFL. Everyone knew that. ... and I'm sure he'll do a nice job."
Koetter ran into Flajole a couple of weeks ago when the Buccaneers and Eagles met in the preseason. He'll see Reid and Toub when the Bucs visit the Chiefs Nov. 20.
The organizational skill and eye for detail displayed by Stull in the early days have stuck with his coaching disciples over the years. Reid remains his biggest fan.
"You know Mizzou should hire Bob as their A.D.," Reid said earlier this month at Chiefs training camp in St. Joseph, Mo.
Reid was gently reminded that Missouri had filled the position about a week ago. Yes, even in 2016, there's such a thing as tunnel vision for NFL head coaches.