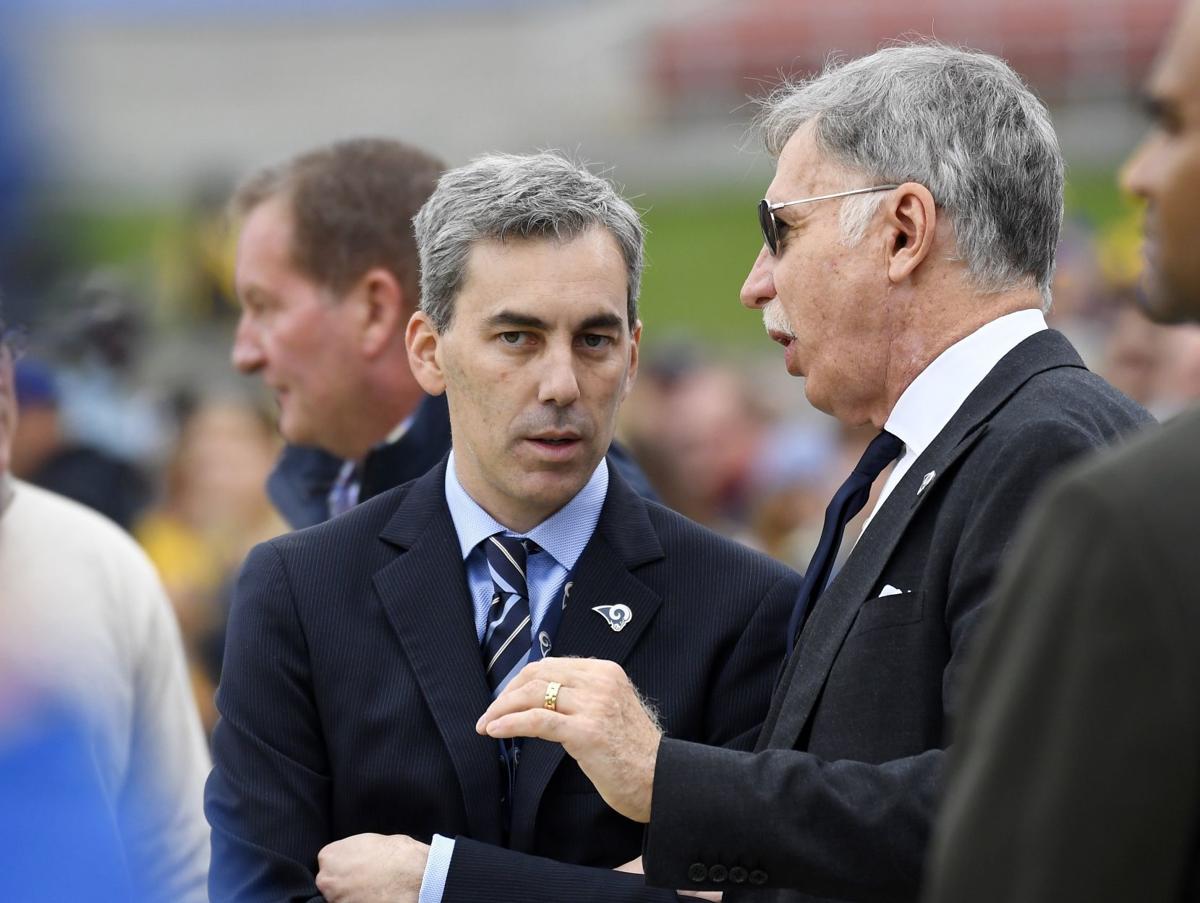 In its lawsuit contesting the Rams' relocation, the St. Louis parties as plaintiffs provide a list of what they claim were false statements or misrepresentations regarding the team's intent to engage in good-faith negotiations and stay in St. Louis.
April 21, 2010
Rams owner Stan Kroenke: "I'm going to attempt to do everything that I can to keep the Rams in St. Louis. … I've always stepped up for pro football in St. Louis. And I'm stepping up one more time. I'm born and raised in Missouri. … People in our state know me. People know I can be trusted. People know I'm an honorable guy."
2011
Rams executive Kevin Demoff: "Our entire focus is on building a winner in and for St. Louis. The lease issue isn't what we are focused on. We are proud of our … commitment to St. Louis and passionate about building a winner right here."
2012
Demoff: "(Kroenke) has been emphatic on this point: He didn't lead the charge to bring the Rams back to St. Louis to lead the charge out of St. Louis. … Our goal is to build a winner in St. Louis, not only in 2012, but in 2022, 2032, and beyond. This city deserves better NFL football and that is what we are focused on every day."
2012
Demoff: "Our goal is to build a winning organization on and off the field in St. Louis, and that continues to be the goal for the next year, three years, 10 years, 20 years. Believe me, nobody would be happier than me to announce a long-term agreement to keep the team in St. Louis. We want this team to be successful and win for our fan base that has been so loyal to us for so long, including some terrible stretches of football.
"We want to build a winner in St. Louis for our great fans who have stuck with us through tough times, and you have my pledge we will do everything we can to be successful in St. Louis. … The last thing we want to do is let our fans down who have been so loyal to us."
Before 2012 season
Demoff: "There is a lot of noise about the stadium situation, but it's just that, noise. Our focus is on improving the football team and bringing our long-suffering fans the joy you deserve. … I can't even fathom letting down our loyal fan base."
After 2012 lease arbitration
Demoff: "I think the one thing that is important for fans to know is that if the arbitration does not solve the issue, it's not all gloom and doom from that point. We still have two years left on the lease before it goes year to year and then you'll get to the point where most cities are when a lease is expiring. Then we just have to sit down and figure out how to get a new lease."
2014 season-ticket holder event
Demoff: The Inglewood, Calif., land purchase was "not a piece of land that's any good for a football stadium."
2014 fan forum
Demoff: There is a "one-in-million chance" the Rams will move.
Feb. 11, 2014
Demoff: "I promise you, Stan is looking at lots of pieces of land around the world right now and none of them are for football stadiums."
Early 2014, after the land purchase
Demoff: "We have yet to decide what we are going to do with the property, but we will look at all options."
Early 2014, after the land purchase
NFL commissioner Roger Goodell: Kroenke has "kept us informed. … We're aware of it. … There are no plans to my knowledge of any stadium development."
Early 2014, after land purchase
Goodell: "I think instead of overreacting we should make sure we do what's necessary to continue to support the team locally as the fans have done in St. Louis. And make sure we can do whatever we can to make sure that the team is successful in the St. Louis market."