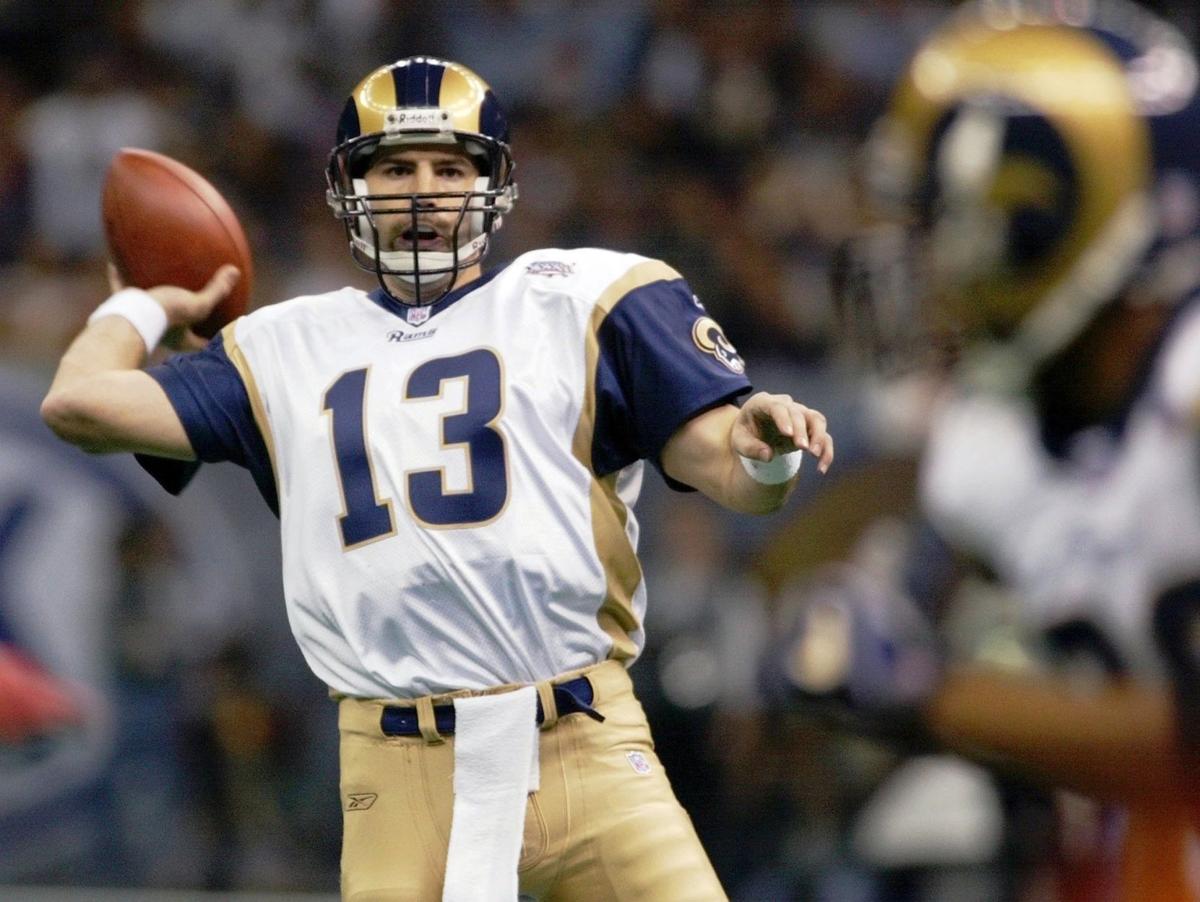 In 50 years of Super Bowls, think of all the fantastic quarterbacks who have lined up under center in football's biggest game.
John Elway, Joe Montana, Peyton Manning, Terry Bradshaw, Drew Brees, Aaron Rodgers, Tom Brady, Steve Young, Ben Roethlisberger, Dan Marino, Troy Aikman, even all the way back to Joe Namath and Bart Starr.
Now, take a look at the Super Bowl record book, under most passing yards in a game, and what do we find? Seventeen seasons removed from his first Super Bowl, and eight years removed from his last, it's Kurt Warner, Kurt Warner and ... Kurt Warner.
That's right, the former Hy-Vee grocery clerk still sweeps the medal stand with the top three passing performances in Super Bowl history.
"His competitive edge," said former Rams general manager Charley Armey. "Some of these guys just had it. Their competitive edge goes up when they get into a competitive situation. And nothing's more competitive than the Super Bowl."
Not that there was anything different about his demeanor on Super Bowl Sunday.
"You could never tell the difference with him," former Rams coach Mike Martz said. "Everything was the same. He was very quiet when we'd warm up. I'd tell him something about something, and he'd just look at you and nod."
Warner threw for 414 yards in Super Bowl XXXIV against Tennessee, which remains the Super Bowl record. He had 377 yards nine years later in Super Bowl XLIII against Pittsburgh. In between were 365 yards in Super Bowl XXXVI against New England.
Those remain the top three passing games in Super Bowl history, with Warner's performances against Tennessee and New England coming as a St. Louis Ram, and the effort against Pittsburgh coming as an Arizona Cardinal.
Warner is aware of those numbers only because he gets teased about them from time to time by Steve Mariucci during their analyst duties on the NFL Network.
And in a current playoff season full of marquee quarterbacks, hardly a game went by when one of them wasn't listed on a graphic for some postseason milestone or another. Warner's name showed up on basically all those lists.
After Matt Ryan's outstanding performance for Atlanta against Green Bay in last Sunday's NFC championship game, it was pointed out that Ryan's passer rating of 139.4 was second-best in league history in a conference title contest. Second to Warner's 145.7 rating against Philadelphia in the 2008 season's NFC title game for Arizona.
So as good as Warner was in the regular season, he was even better in the postseason. His numbers say he's among the very best of playoff quarterbacks in NFL history, something that should get him into the Pro Football Hall of Fame.
That honor could come as soon as Saturday, when Hall of Fame voters select the Class of 2017. Warner is a finalist for the third consecutive year.
"There was definitely a focus that I took into those big games, when we were in one-and-done situations," Warner said. "When it became playoff time, and then Super Bowl time, you have lots of chances, lots of time to prepare."
"The No. 1 thing was his mental preparation," Armey said. "There was no gunslinger with Kurt. Everything was problematic, and everything was as it should be.
"He knew exactly what to expect. He studied it hard, knew what to expect from the defensive players — knew what their range abilities were and stuff, and he delivered the ball on time."
Warner knew how to get locked in before a game, and when it came playoff time, he got even more locked in. By the time his career was winding down as an Arizona Cardinal, wife Brenda knew what to expect.
"My wife would always tell me during the regular season, come about 2 or 3 o'clock in the afternoon on a Saturday, she could tell I was kinda getting into what she calls the zone," Warner said. "And she's like, 'OK, just go. Leave us alone. You're not a very good dad. You don't listen to us. I know you're focused on the game. Just go.'"
Warner wouldn't physically leave. He'd just zone out mentally, go into his own world.
Going into his last playoff run with the Cardinals, Warner remembers asking Brenda Warner for more than just part of a Saturday.
"I said, 'OK, this might be the last shot I get so can I have four weeks?'" Warner recalled. "'Just let me go into the zone for four weeks, and then after that we'll go on vacation and Dad will be back.'
"That's kind of how it is at playoff time. I'm always thinking about it. I'm always focused on the game plan."
Which meant he was never quite "all there" while at home. But the family grew to understand it was just Dad trying to do his job.
He got a lot of help from his teammates and coaches, of course. But that postseason focus helped Warner account for three of the only 20 instances of 300-yard passing games in Super Bowl history. There were zero such games until Pittsburgh's Bradshaw threw for 318 yards in Super Bowl XIII in the 1978 season.
Warner is the only quarterback in Super Bowl history with three 300-yard games. Bradshaw (318, 309), Denver's Elway (336, 304), San Francisco's Montana (357, 331), and New England's Brady (354, 328) each have two 300-yard Super Bowl games.
Nine other QBs have had one 300-yard passing game in a Super Bowl: Philadelphia's Donovan McNabb (357), Washington's Doug Williams (340), Indianapolis' Manning (333), San Francisco's Young (325), Carolina's Jake Delhomme (323), Miami's Marino (318), Green Bay's Rodgers (304), San Francisco's Colin Kaepernick (302), and Cincinnati's Ken Anderson (300).
For Warner, the Super Bowl magic started with the 23-16 victory over Jeff Fisher's Tennessee Titans in 1999.
"We didn't go into the game with the thought of throwing the ball like that," said Martz, then the offensive coordinator for head coach Dick Vermeil's squad. "That wasn't even remotely the plan."
But the Titans built their game plan around stopping running back Marshall Faulk and the running game. They played an extra man in the box. They used safeties on run blitzes.
"They were gonna take (Faulk) out of the game, make us drop back and throw it," Martz said. "They didn't think our protection would hold up. Well, obviously it did, and Kurt just made some unbelievable plays under pressure to win."
Including, of course, the game-winning 73-yard touchdown pass to Isaac Bruce to snap a 16-all tie. On a day when Faulk managed only 17 yards rushing, and the team totaled just 29, Warner threw for the record 414 yards despite playing the second half with a couple of fractured ribs.
It wouldn't be the last of Warner's big-game performances.
"I was on teams that counted on me to play well," Warner said. "I was on teams that threw the ball first, and everything else was secondary. So that was another thing. I knew that my team depended on me to play well in those moments to have a chance to win."
He handled those moments in record-setting fashion.
Tackling the news and updates you need to keep up with the latest from the St. Louis Battlehawks and the NFL.