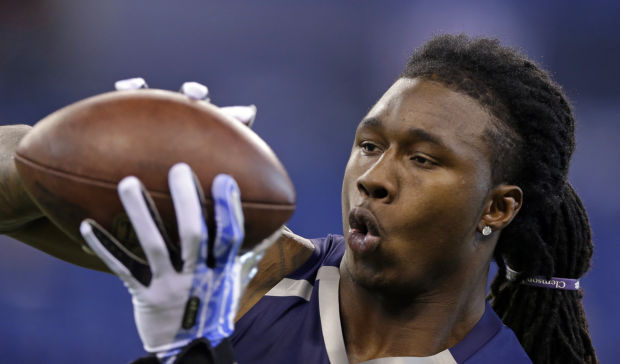 INDIANAPOLIS • Much of Sammy Watkins' pre-combine training was designed to improve his speed. Not that the Clemson wide receiver was a slowpoke – far from it. But there's no such thing as having too much speed.
Before the NFL scouting combine, Watkins talked about running the fastest 40 time in Indy at wide receiver, or at least among the top three. During his combine interview session Saturday, he went bolder.
"I'm looking to run something crazy," Watkins said. "Hopefully break the combine record. Who knows?"
Watkins didn't reach "crazy" on Sunday, which was workout day for quarterbacks, wide receivers and running backs. His official time of 4.43 seconds tied for seventh among a speedy wide receiver class. And that's plenty fast for someone who weighs 211 pounds on a 6-foot-1 frame.
"It's more than fast enough," said Russ Lande, former scout for the Rams and Cleveland, and currently college scouting director for the CFL's Montreal Alouettes. "And on film he's even faster. He's explosive on film."
So Watkins didn't set any records, but he did solidify his status as the top wideout in this year's draft and a sure top-10 pick. Venerable Gil Brandt, the personnel legend of days gone by in Dallas, tweeted not only that Watkins "was head/shoulders above every other WR," but added that Watkins was among seven players worthy of consideration for the No. 1 overall pick in the draft.
If not No. 1, how about No. 2 overall? Should the Rams consider taking Watkins there?
"I seriously would," Lande said. "I mean, would it be ideal if they could trade down a few spots and get him? Yeah. But this guy is a game-changing player to me, one of the best to come along in a while.
"He has tremendous hands. Natural hands. He plucks the ball away from his body. He can twist, he can adjust to the ball. He makes great catches seem routine."
One of Watkins' best attributes, Lande says, is his ability to get yards after the catch because he gets low and runs like a running back.
"I think if you look at the Rams, one of their biggest issues is they don't have playmakers," Lande continued. "But this guy and (Tavon) Austin? Holy smokes if you get them rolling."
Watkins ended his three seasons at Clemson as the school's career record-holder in receptions (240) and receiving yards (3,391). His 27 receiving touchdowns tied the school record. Watkins also returned 60 kickoffs, including one for a TD, and carried 52 times for 339 yards and another TD.
Watkins, still only 20, feels he can bring that versatility, and that success, to the NFL.
"I think I can do just about anything on the field, from running back to wide receiver. Slot," Watkins said. "I can make plays all over the field. What I love doing is dominating defenses.
"I think that's what I bring to the game. I think that's going to turn over to the NFL. When I come into the NFL I think I can be that dominant receiver."
But Watkins is savvy enough to realize things won't come as easily in the pros as they did in college.
"It's a more physical sport up there," Watkins said. "You are not going to be able to run free and play around like I did in college. Guys are going to be out there on me, sticking on me, getting their hands on me."
So besides working on his speed leading up to the combine, Watkins also tried to polish his route-running. That's always a concern, no matter how talented the receiver, when going to the NFL because of the proliferation of spread offenses in college. Among other things, Watkins wants to get in and out of his breaks more quickly on routes.
"I think I've gotten better over the course of training," Watkins said. "The routes I have to really focus on are my curl routes and comebacks."
For the Rams, it could boil down to deciding what's the best way to help quarterback Sam Bradford. Take a dynamic playmaker in Watkins. Or put a block of granite in front of him by selecting one of the top three offensive tackles.
When asked if the Rams will consider taking another wide receiver in this year's draft, general manager Les Snead replied: "I'll say this: Any time in the draft, if you can add a really special player, that helps your team."
But this wide receiver class is pretty deep, so the Rams may feel they can pick up one later if there's a more appealing option than Watkins at No. 2 overall.
"Heck, the 15th (rated) receiver could be a starter in this league," Snead said. "From that group you get a lot of different flavors, too. You get the large people, and you get the smaller, faster (receivers). They're competitive."
But with the combine over for the pass-catchers, Watkins clearly is king of the hill. Just as the Rams sent a delegation to South Carolina to do some vetting on Gamecocks defensive end Jadeveon Clowney, there have been rumblings that they did the same with Watkins at Clemson.
"I don't think you can ever say no (at wide receiver), because if that player can help you, then pick him," Snead said. "Competition is not a bad thing either, and having as many weapons as possible is not a bad thing, either."