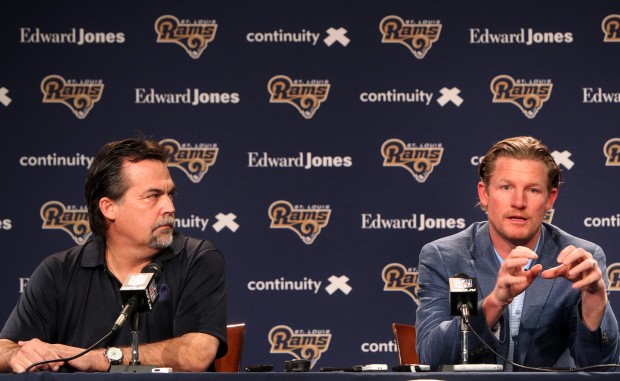 INDIANAPOLIS • Jeff Fisher has spent a lot of time lately with Houston general manager Rick Smith because they're members of the NFL's competition committee.
Pretty convenient since the Texans have the No. 1 overall pick in the draft, and the Rams sit at No. 2. So who are the Texans taking?
"I spent the last three days in the same meeting room with Rick Smith," Fisher said Friday, referring to competition committee meetings held here in conjunction with the NFL Scouting Combine. "I am going to spend another week with him in a couple weeks. Then I'm going to give myself another good solid week to find out what they are gonna do."
Catch him at the right moment?
"Weak moment, yeah," Fisher joked. "He's not talking to me."
As Rams general manager Les Snead puts it, Houston controls the draft. Do the Texans take a quarterback? Do they take South Carolina defensive end Jadeveon Clowney and pair him with J.J. Watt? Do they trade down to pick up extra draft picks?
None of the other dominoes start falling until Houston makes its pick.
"That's the interesting thing about being (No.) 2," Snead said. "I have mentioned I'm an only child, and selfish and greedy, so I wish I was in the driver's seat. Then I wouldn't have to sit and react."
Instead, the Rams are riding shotgun waiting to see where Houston takes this draft.
"Shotgun is worse," Snead joked. "Maybe it's better not even being in the car."
Two years ago at the combine, when the Rams also had the No. 2 overall pick, things were more clearly defined.
"This is gonna be a little bit different than the last one," Snead said. "When we went out to Indy (in 2012), it seemed like everyone knew who pick 1 was gonna be and probably what pick 2 was gonna be."
In other words, Stanford's Andrew Luck at No. 1 overall by Indianapolis. And Baylor's Robert Griffin III at No. 2, assuming the Rams could find a trade partner. With the knowledge that the Colts almost certainly were going to take Luck at No. 1, the Rams could start working on a trade immediately. Little more than two weeks after leaving the combine, the Rams agreed to a trade with Washington for RGIII.
It doesn't look like things will develop that rapidly this time.
"I'm not sure we're gonna leave Indy and know who pick (No.) 1's gonna be,'' Snead said. "If you all know — let me know."
Smith of the Texans provided no clues at his combine media session. For example, when asked how the top three QBs in this draft compared to the top ones in recent drafts, Smith replied: "I don't really talk publicly. I don't think it does any real good for me to let anybody know how I feel about (them)."
So there. But when push comes to shove, the Texans probably take a quarterback though it remains uncertain if that QB will be Texas A&M's Johnny Manziel, Louisville's Teddy Bridgewater, or Central Florida's Blake Bortles.
The Texans are under some local pressure to select Manziel, who tore up the SEC for two years and is a Texas native. But don't underestimate Bortles. Ultimately, new Houston coach Bill O'Brien will make the decision.
As head coach at Penn State last season, O'Brien saw Bortles first-hand when Central Florida defeated the Nittany Lions. In addition, one of O'Brien's mentors was current Central Florida coach George O'Leary. That relationship could factor into the decision because O'Leary knows Bortles better than anyone.
If the Texans indeed take a quarterback at No. 1 overall, that could leave quarterback-needy Jacksonville (at No. 3) and Cleveland (No. 4) fighting to trade up to the Rams to get the next QB. At No. 3 or No. 4, after a trade-down, the Rams could conceivably have their pick of Clowney, Clemson wide receiver Sammy Watkins, or any of the top three offensive tackles — Texas A&M's Jake Matthews, Auburn's Greg Robinson, and Michigan's Taylor Leewan.
(Clowney, by the way, confirmed a Friday report that a Rams delegation was recently in South Carolina gathering information on him.)
So if not endless, the possibilities are at least numerous for the Rams right now.
"Honestly, I have no idea what we're going to do," Fisher said. "You have to be prepared to adjust, so it makes no sense to throw smokescreens and stuff like that. We can pick there (at No. 2), we can trade down or we can trade up. Those are our options. We have got to evaluate the personnel and go out and get it right."
Trading up obviously is the least likely of those options. Besides, as Fisher noted, Smith isn't talking.