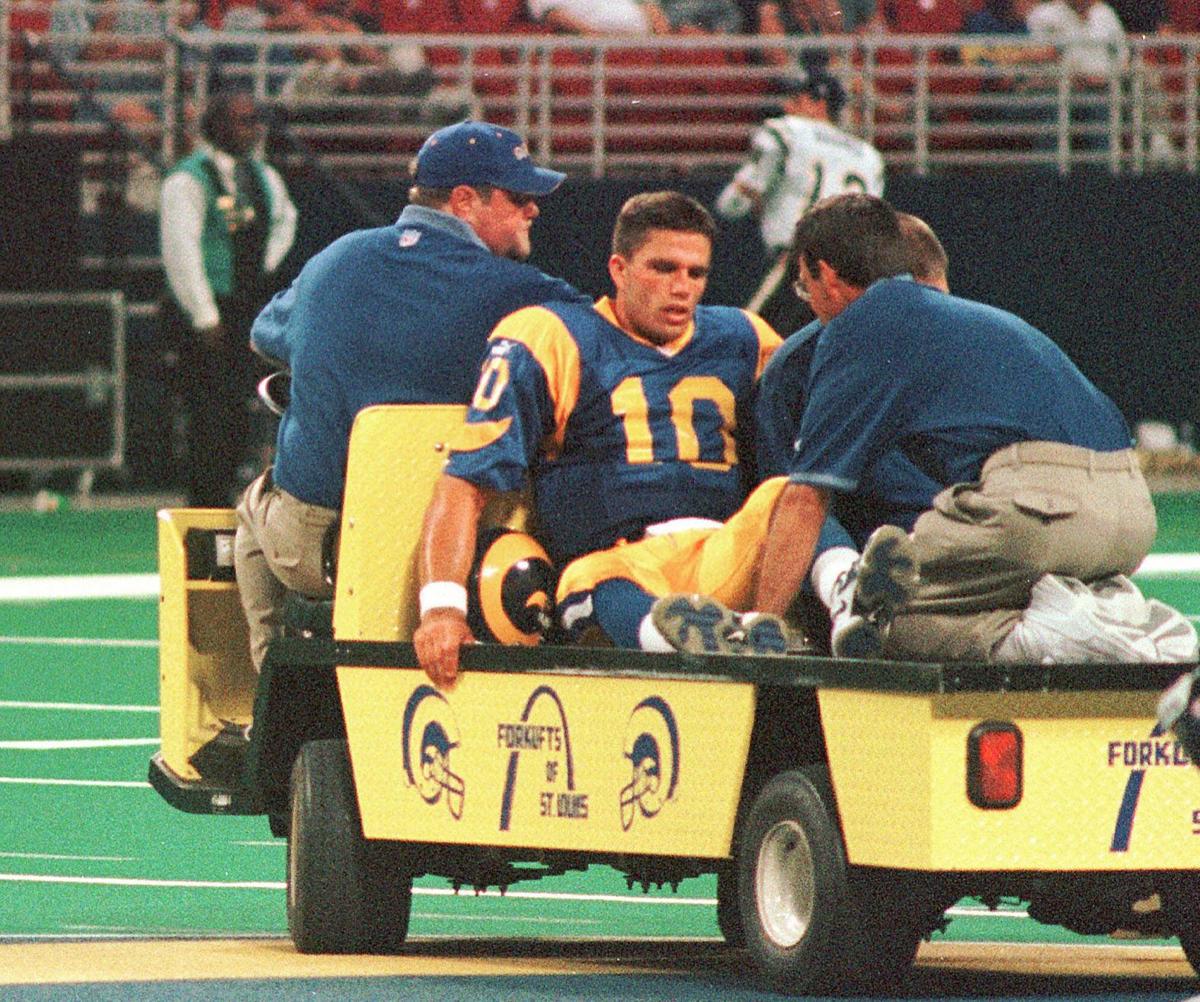 Editors note: On Aug. 28, 1999, Rams quarterback Trent Green suffered a season-ending knee injury in a preseason game. Columnist Bernie Miklasz took a look at Green's understudy, a little-known player named Kurt Warner.
Fallen Rams quarterback Trent Green had "nightmare flashes" as he tried to sleep late Saturday night. On Sunday afternoon, coach Dick Vermeil broke down and wept as he talked about Green's devastating season-ending knee injury.
"It hurts," DV said. Life with the Rams is painful. Anything that can go wrong usually does. Perhaps the curse started with the drowning death of owner Carroll Rosenbloom in 1979. More contemporary Rams historians suggest that the 1987 trade of Hall of Fame running back Eric Dickerson is to blame for the reversal of fortunes.
My friend Jim Fadler, one of the smartest Rams fans around, suggests that the team's only escape from the doom is to hire Dickerson and make him Vice President of Karma. Only Dickerson can chase the demons out of Rams Park.
For now, all the Rams can do is turn the offense over to Kurt Warner. He was the John Unitas of the Arena League, passing for 10,164 yards and 183 touchdowns in three seasons (1995-97) for the Iowa Barnstormers. Playing for Amsterdam in 1998, Warner was the Joe Montana of NFL Europe, leading the foreign legion in yards passing, completions and TDs.
Unfortunately, the Rams do not have the Grand Rapids Rampage or the Barcelona Dragons on the 1999 schedule.
And it's regrettable that Vermeil didn't give Warner a couple of starts at the end of a meaningless 1998 season, when the Rams had a no-risk chance to inspect his talent and potential. Now they aren't sure what they have in Warner, who has played in one regular-season NFL game.
Still, Warner may surprise us. He's 28 and has played a lot of football. He's mastered many playbooks. And at every stop, he's made plays. He's handled personal and professional adversity with admirable poise. He's served an apprenticeship. His teammates respect him.
And given the fluctuating performance levels of NFL quarterbacks, who can possibly predict what's to come with Warner? At this time last year, did anyone believe Trent Green would be an NFL star, making more than $4 million a year? Green was summoned out of obscurity, and exceeded expectations.
"There are definitely some parallels," Green said. "We each had a different road to get to where we are now. It's going to be a big challenge for Kurt. I think he's ready for it, and I think he can handle it. He's prepared well, mentally and physically. It's just a matter of having the support of his teammates and the support of the fans. Give him a chance. When I finally got my start, that's all I was looking for. Just give me a chance. Fortunately I was able to produce, and I think Kurt will also."
You can't judge QBs on their backgrounds. Unitas was playing semipro football with the Bloomfield (Pa.) Rams when the Colts signed him in 1956. Montana was a third-round draft choice. Dave Krieg, who started for more than a dozen NFL seasons, played at Milton College, which no longer exists. Jim Hart, the best quarterback in St. Louis NFL history, was an undrafted free agent out of Southern Illinois-Carbondale. Seattle Seahawks coach Mike Holmgren, an astute judge of QBs, has tabbed someone named Jon Kitna as his next great quarterback.
Obviously, the Rams were going to put the best spin on the situation, but by late Sunday their dark mood had lifted. Part of that comes from their quiet faith in Warner.
"Warner has never gotten an opportunity," Vermeil said. "He's earned this. We will play good football with him at quarterback."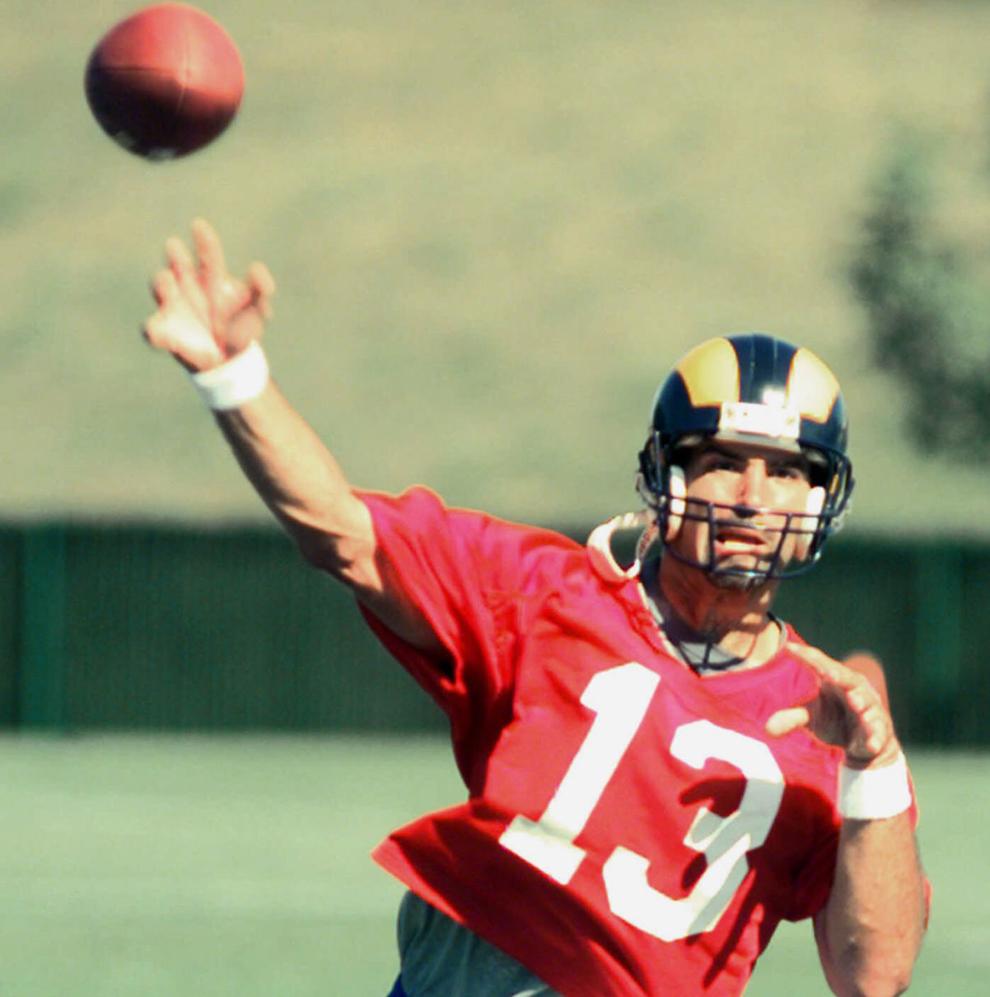 Remember, Warner doesn't need to be a hero. He's surrounded by wonderful talent; all he needs to do is a competent job of getting the ball to Isaac Bruce, Marshall Faulk and Torry Holt. And they'll do the rest. Everyone loves an underdog, and Warner qualifies. It's time to rally around the Barnstormer.
The all-time St. Louis Rams
Looking back at Isaac Bruce and the greatest players of the Greatest Show on Turf
Strong safety: Toby Wright (1995-98)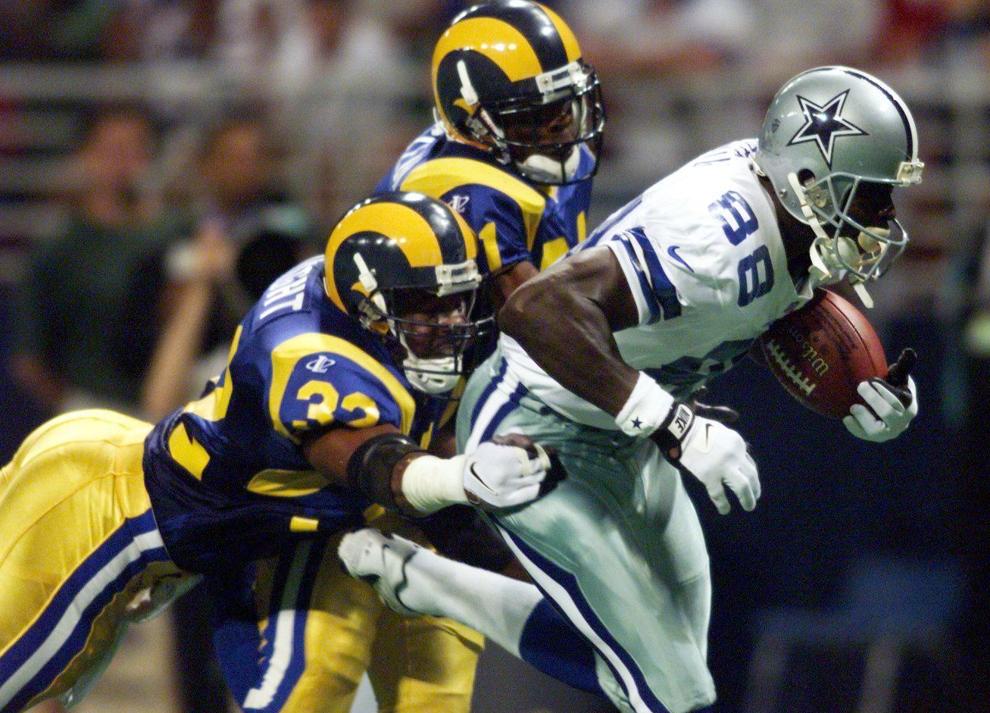 He ran into opponents so hard his own shoulders couldn't take it. Some of his collisions with Atlanta's Craig "Ironhead" Heyward make people cringe to this day. In 42 starts, he picked off seven passes, forced three fumbles and totaled two sacks along with 216 tackles. Painful tackles. He once compared his game to Picasso, the painter: "He'd paint with his emotions. That's how I play the game."
Free safety: Keith Lyle (1995-00)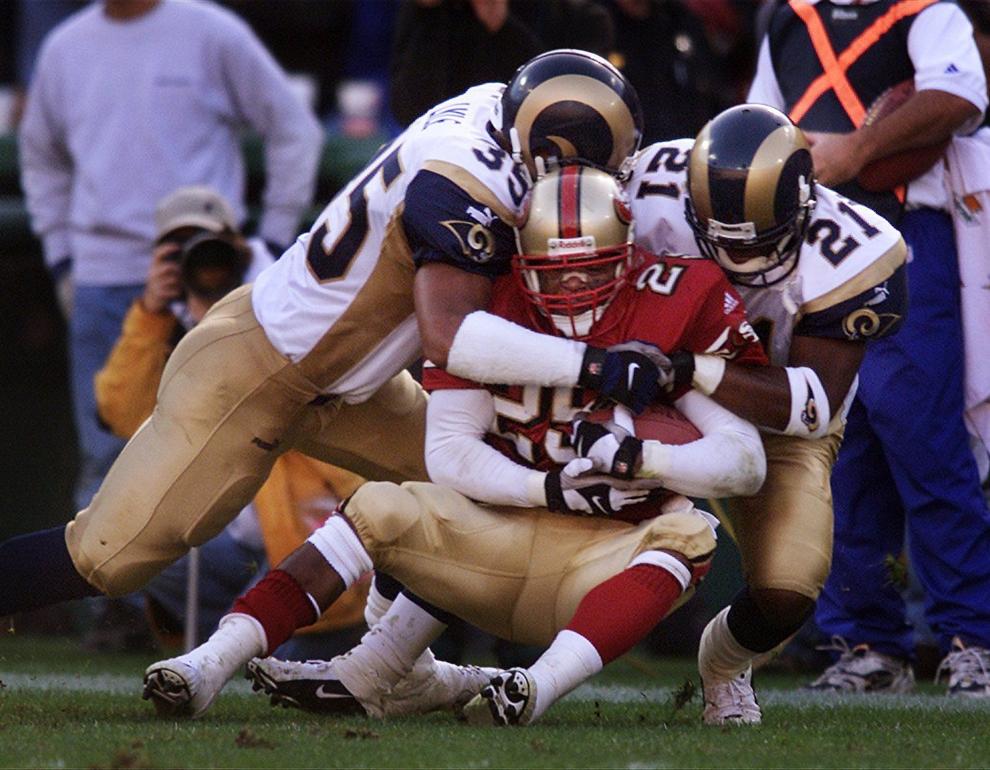 If you were an NFL quarterback throwing passes between 1996 and 1997, Lyle was your worst nightmare. He had 17 interceptions through those two seasons, tying for the league-high with nine in '96. He picked off 26 passes as a St. Louis Ram. He also forced six fumbles and compiled 354 tackles. If that wasn't enough, he could hold for field goal attempts, too.
Cornerback: Todd Lyght (1995-00)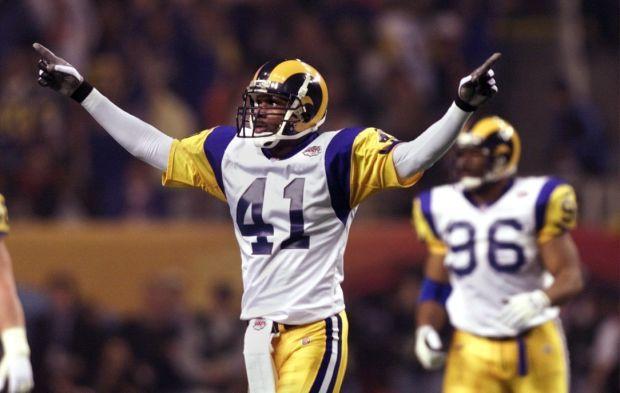 The one-time Pro-Bowler did more than pick off Tampa Bay quarterback Shaun King in the NFC Championship. Lyght, a converted Los Angeles Ram, started 92 games, grabbed 24 interceptions (three of which he returned for scores), forced six fumbles, totaled six sacks and made 369 tackles.
Cornerback: Aeneas Williams (2001-04)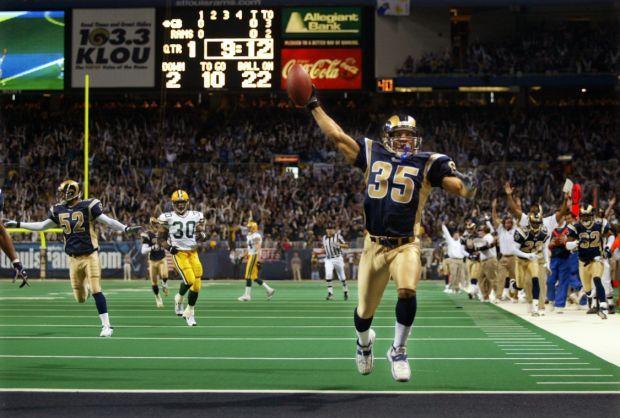 He was a six-time Pro-Bowler and two-time All-Pro when he became a Ram. But he wasn't done yet. He played corner and safety, but his 2001 season at corner jumps out. The Hall of Famer grabbed four interceptions — three of which came in the playoffs, two of which he returned for scores — and recovered four fumbles. He earned another Pro-Bowl, All-Pro combo, then returned to the Pro Bowl in 2003.
Strong-side linebacker: James Laurinaitis (2009-15)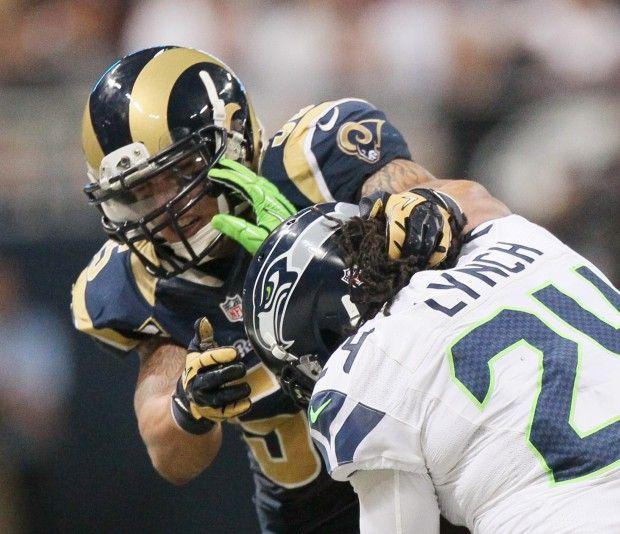 No. 55 started every single game since he arrived as a second-round draft pick in 2009. He moved to Los Angeles as the franchise's all-time tackle leader (852). He's compiled 100-plus tackles for seven straight seasons, along with 16.5 sacks, 34 passes defended, 10 interceptions, eight forced fumbles and two fumble recoveries. "James Laurinaitis is the epitome of 'tackler,'" Rams defensive coordinator Gregg Williams once said.
Weak-side linebacker: Alec Ogletree (2013-15)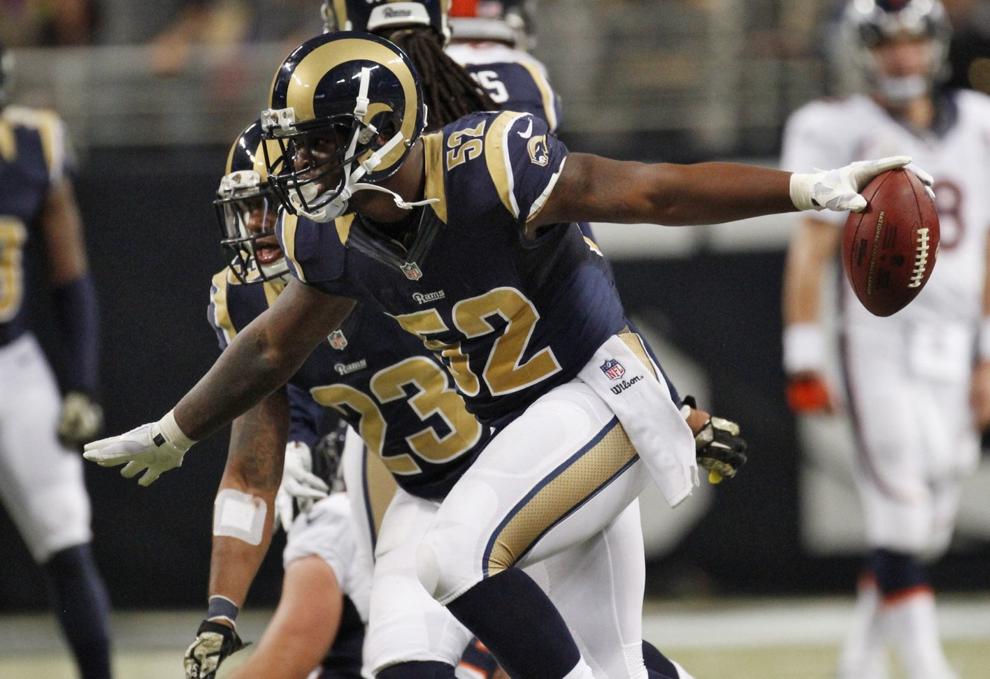 Before ankle surgery stopped his hot start to 2015 (42 tackles, two sacks) after just four games, people were predicting Pro Bowl. And why not? Ogletree led the Rams in tackles his first two seasons, and had clearly taken another step. His best records are yet to come, but one cool one is already in the bag: his 98-yard pick-six as a rookie was the longest return by a rookie linebacker in NFL history.
Middle linebacker: London Fletcher (1998-2001)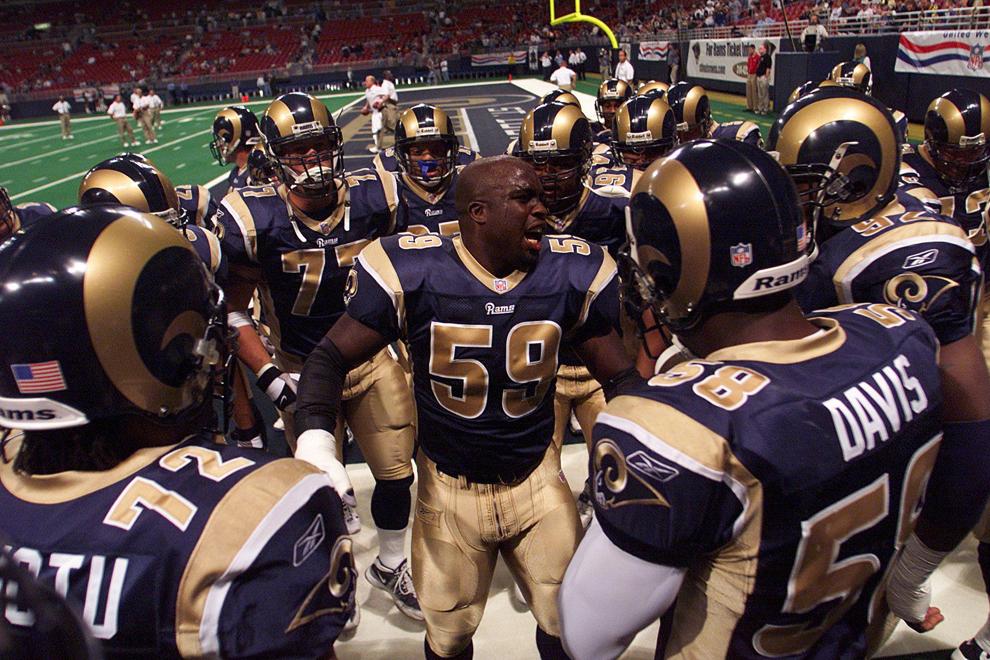 The veteran of 16 years spent his first four as a hard-hitting, snarly Ram who enjoyed stirring the pot for a Super-Bowl winner. He was everything you would want in the middle of your defense. During his three seasons as a starter, he totaled 261 tackles, 13 sacks, six interceptions and five forced fumbles. Fletcher flew around. He once had 21 tackles in one game.
Defensive tackle: Ryan Pickett (2001-05)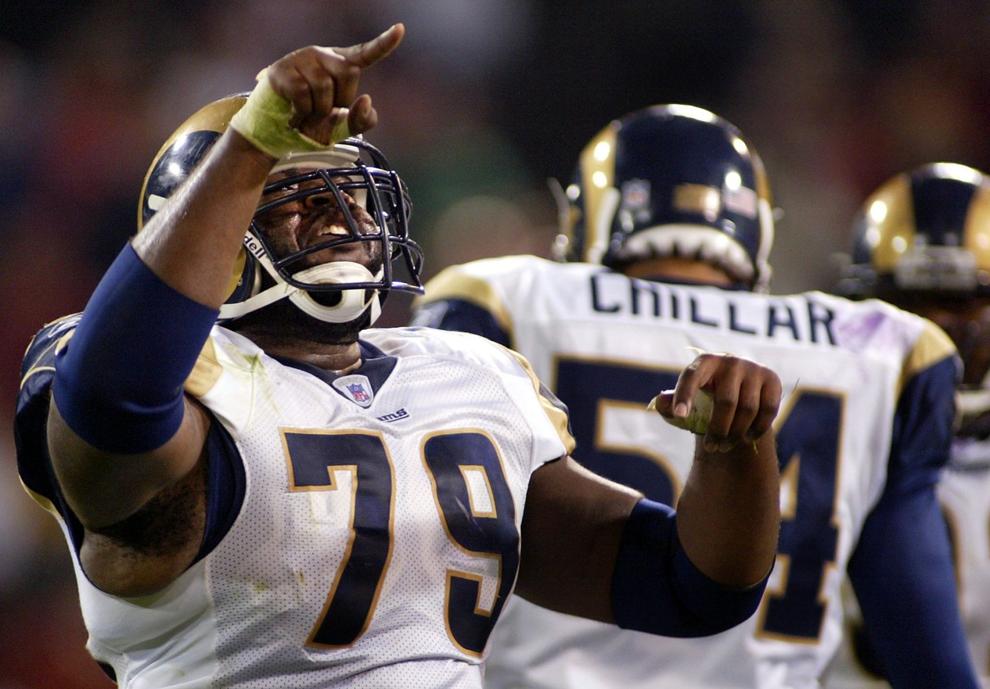 Talk about production. The stats from Pickett's five years in St. Louis, only four of which he started full-time: 173 tackles, 12 passes defended, six sacks. He averaged 96 tackles a season from 2002 through 2005. Yet, for some reason, the Rams didn't try to re-sign Pickett. "I thought I would play all my years there in St. Louis," he said once. "They didn't think I was worth keeping."
Defensive tackle: Aaron Donald (2014-15)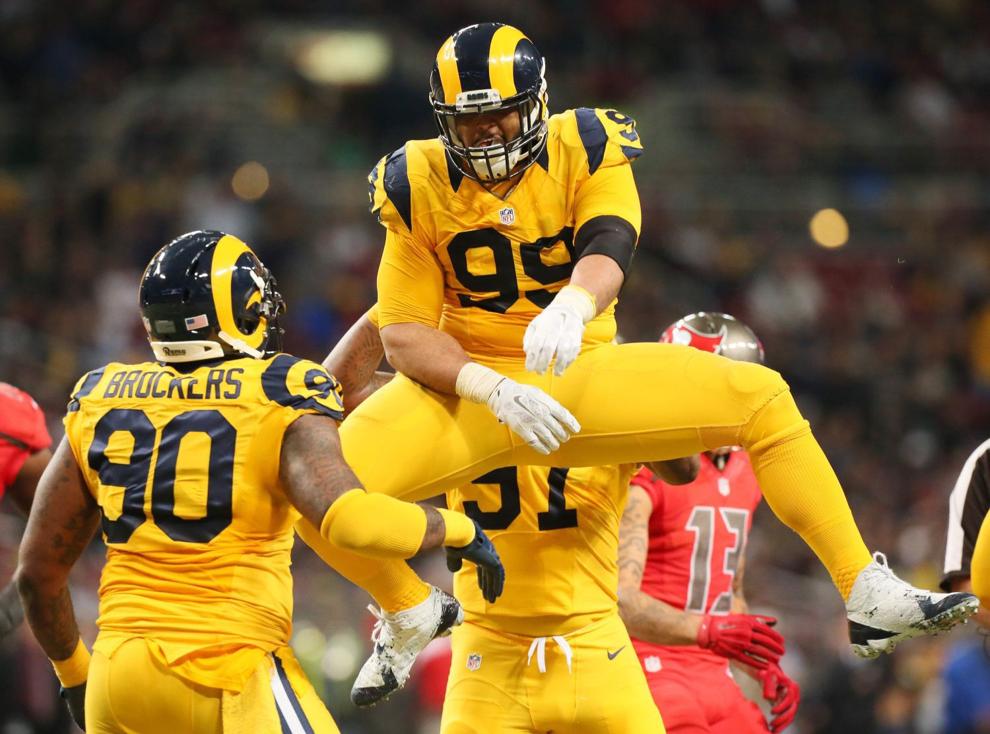 That the soft-spoken phenomenon appears here after just two seasons speaks to his stellar start. After breaking a Rams' rookie record with nine sacks in 2014, the 2014 defensive rookie of the year totaled 11 sacks, 22 tackles for loss, 49 quarterback pressures and 29 quarterback hits in 2015. He became the first Rams rookie picked for the Pro Bowl since Jerome Bettis in 1993. 
Defensive end: Leonard Little (1998-2009)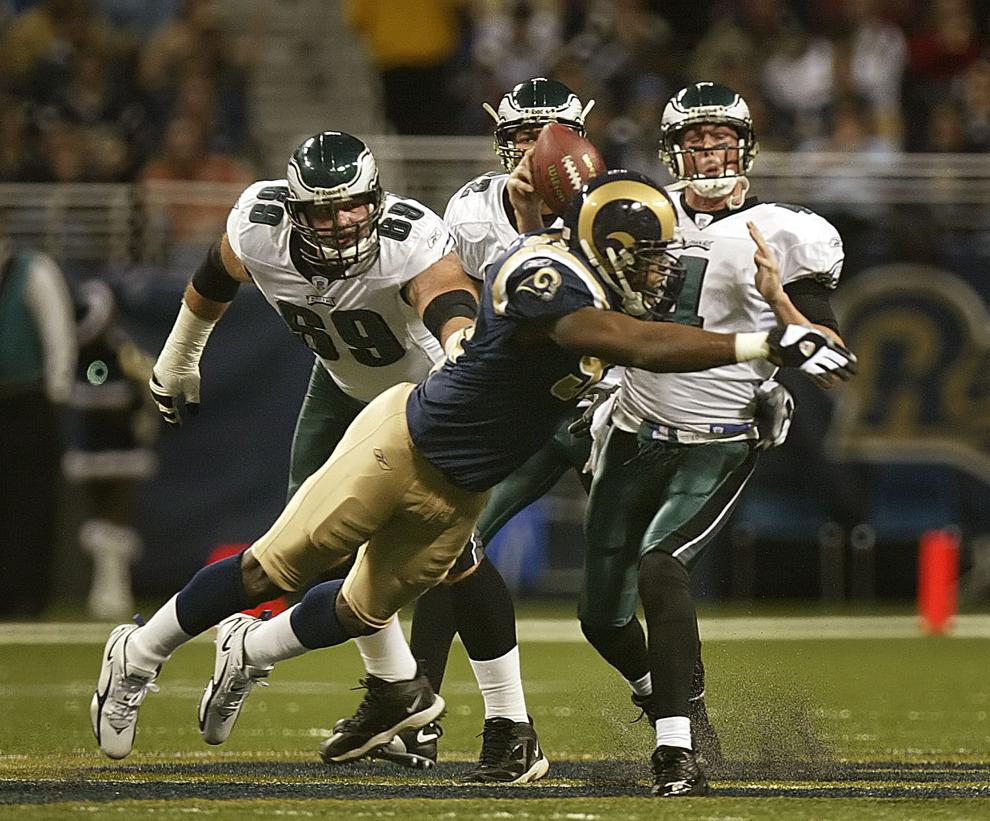 The St. Louis Rams' best pure pass rusher racked up 87.5 sacks and forced 31 fumbles. The third-round pick in the 1998 draft led the Rams in sacks in six seasons and managed to score two touchdowns during his 147 games. A Pro-Bowler and All-Pro in 2003, his legacy will always be impacted by the drunken-driving fatality he was responsible for as a rookie.
Defensive end: Robert Quinn (2011-15)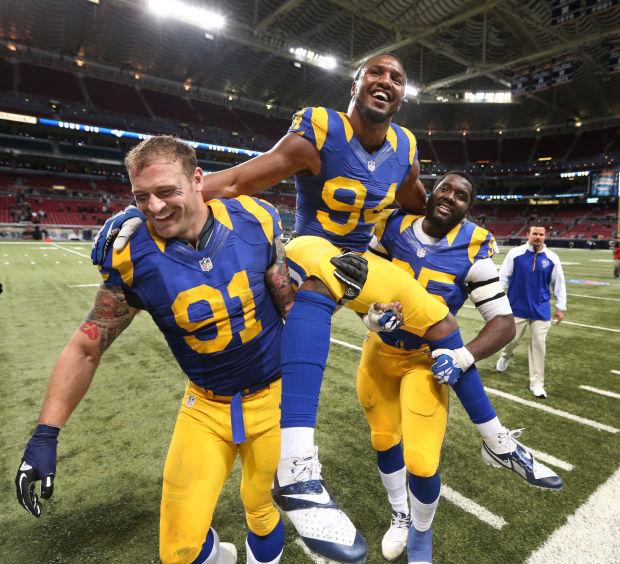 You can get away with calling yourself "Black Lightning" when you set the franchise's single-season record for sacks. Quinn's 19 in 2013 beat Kevin Carter's 17 in 1999. Despite the back injury that cut his 2015 season short, Quinn already has 50 sacks in 54 starts through his first five seasons. The two-time Pro-Bowler was an All-Pro selection in 2013, the same year Pro Football Writers of America named him defensive player of the year.
Honorable mention: Defense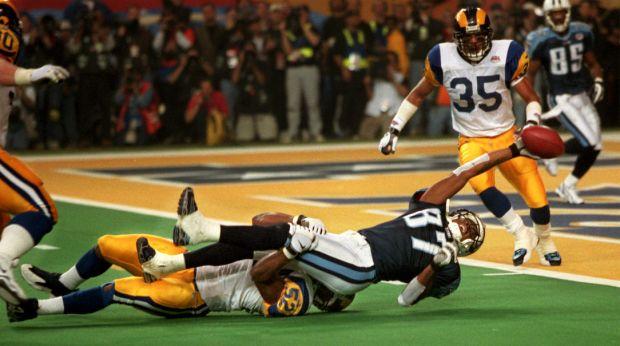 • End: Kevin Carter, Grant Wistrom, Chris Long
• Tackle: D'Marco Farr, Michael Brockers
• Linebacker: Mike Jones, Will Witherspoon, Roman Phifer
• Cornerback: Dexter McCleon, Dré Bly, Janoris Jenkins, Trumaine Johnson
• Strong safety: Corey Chavous, T.J. McDonald, Adam Archuleta
• Free safety: Oshiomogho Atogwe
Center: Andy McCollum (1999-2007)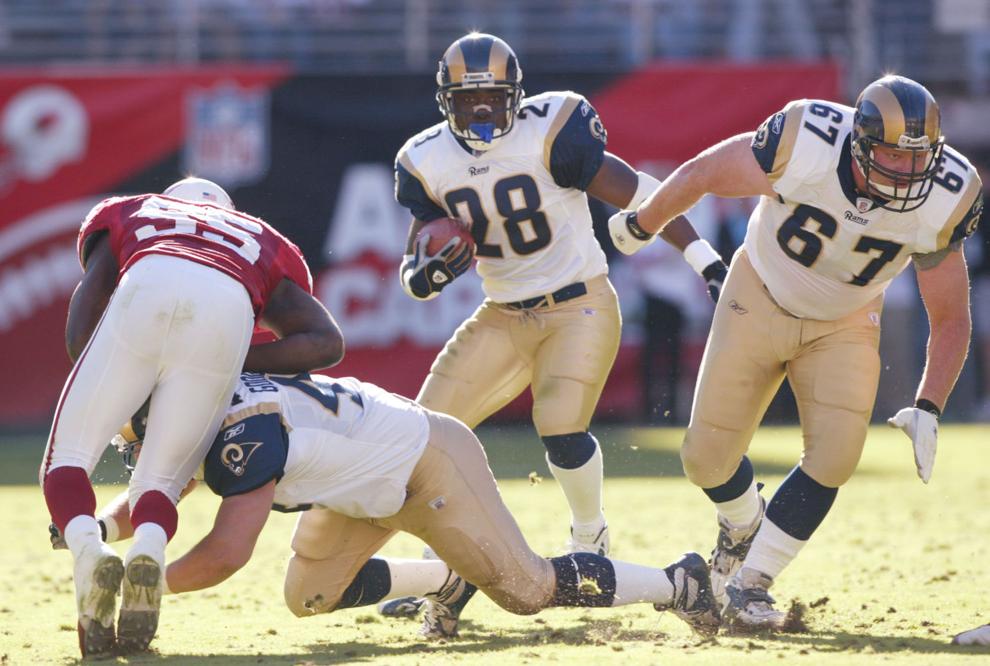 This half of Mike Martz's "Doughnut Brothers" started 109 games, including six full seasons in a row between 2000-05. He logged nine of his 14 years in the league with the Rams, a pretty good run for an undrafted free agent. He pushed around opponents, overcame injuries and mentored younger players. "Andy's a warrior," Brett Romberg once said, after he beat out McCollum for the starting center job before the 2007 season.
Right guard: Adam Timmerman (1999-2006)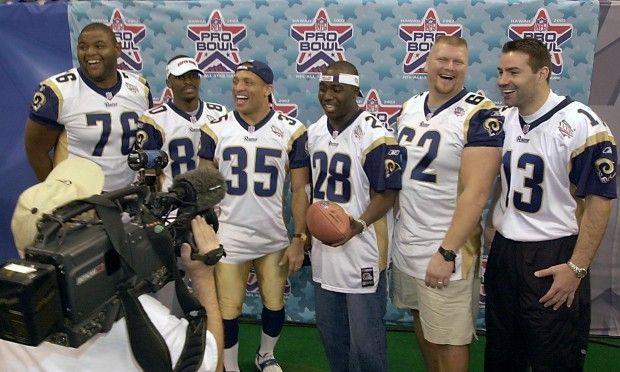 The other half of the "Doughnut Brothers", a name Martz issued to Timmerman and McCollum because the pals lamented the lack of pastry shops near training camp headquarters, started 124 games for the Rams. Six times, he started every game of the season. In 2001, the former seventh-round draft pick made the Pro Bowl.
Right tackle: Fred Miller (1996-99)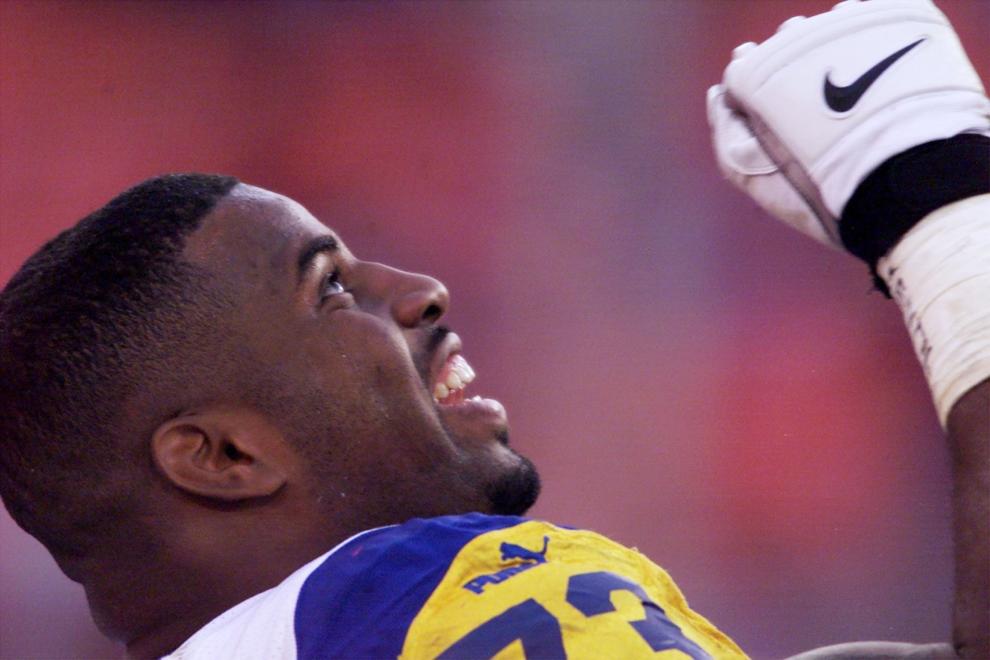 The 6-foot-7, 320-pounder the Rams selected in the fifth round of the 1996 draft turned into a powerful, mauling starter by the time the Rams won their Super Bowl. He started every game in '98 and '99 before he moved on to the Titans, then the Bears. The prototypical right tackle made no Pro Bowls, but he did a fine job for a famous offense.
Left guard: Tom Nutten (1998-2005)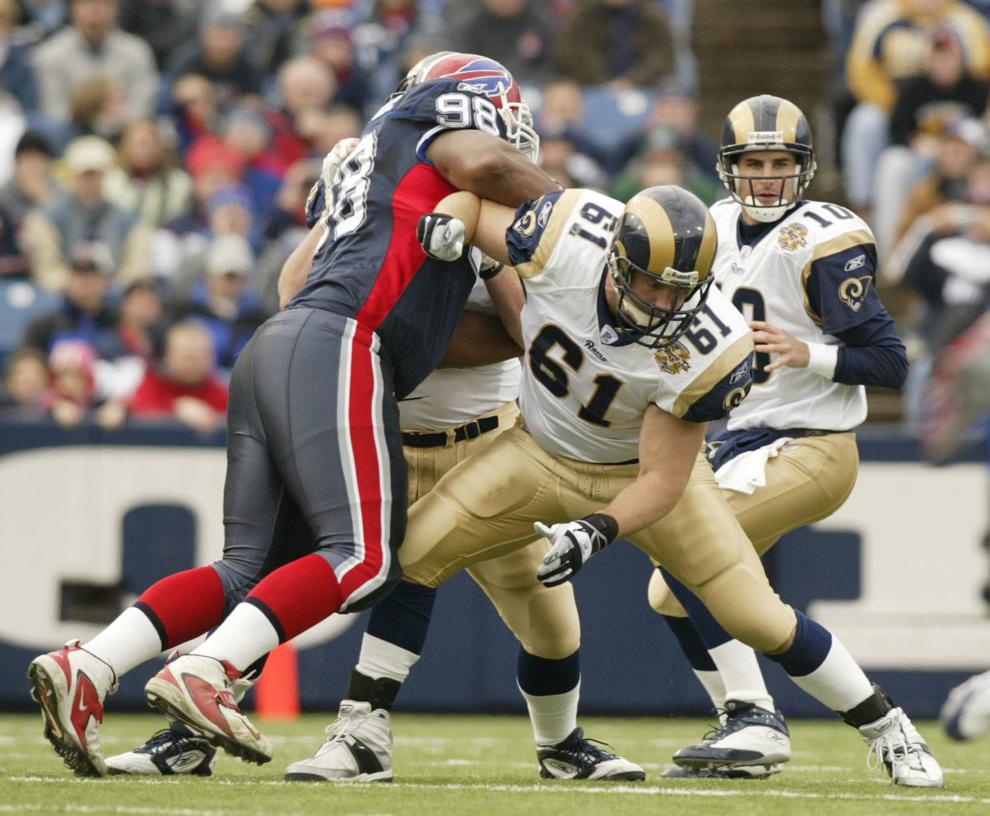 The pass-blocking specialist who grew up in Germany made 69 starts as a Ram. His best work was shutting down Tampa Bay's Warren Sapp in the Rams' 11-6 win in the 1999 NFC Championship game. "I think I was a decent athlete, certainly average of strength and size," the 6-foot-5, 280-pounder once said. "But I relied a lot on my technique ... Technique will get you from a good player to a great player."
Left tackle: Orlando Pace (1997-2008)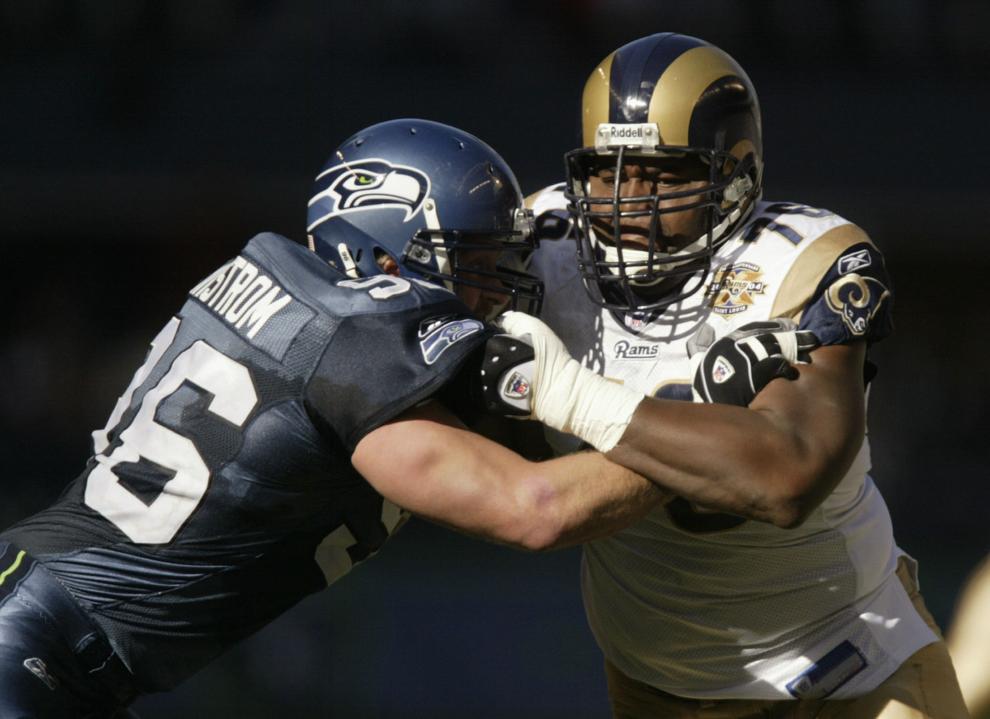 If only all No. 1 draft picks turned out like this. He started 154 games and anchored an offense that finished among the league's top-five in passing yards for eight consecutive seasons, from 1999-2006. The Rams finished in the league's top-10 for total offense seven times during his career. The Hall of Famer was a seven-time Pro-Bowler and a three-time All-Pro.
Tight end: Ernie Conwell (1996-2002)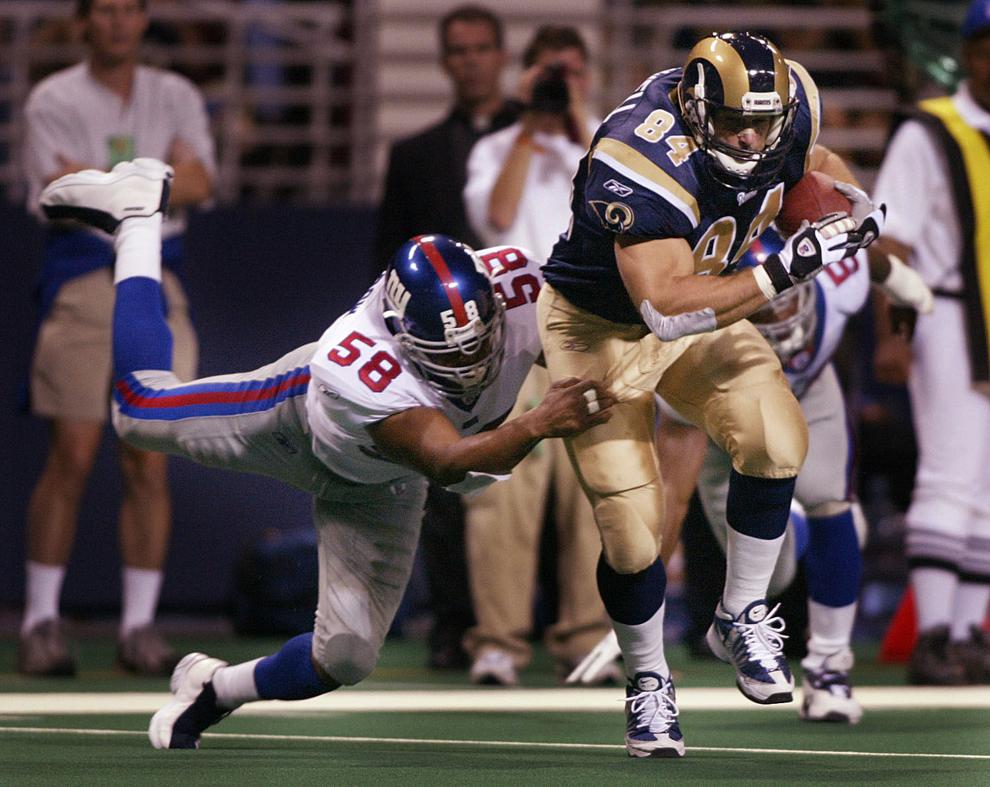 The second-round draft pick in 1996 became the Rams' best player at this position, but that's not saying too much. The Rams never got much going in the tight-end department. Conwell, a 255-pound tank, was one of the team's fastest, strongest players until a severe knee injury in 1998 slowed him down. Still, he caught 146 passes for 1,574 yards and 10 touchdowns.
Wide receiver: Ricky Proehl (1998-2002)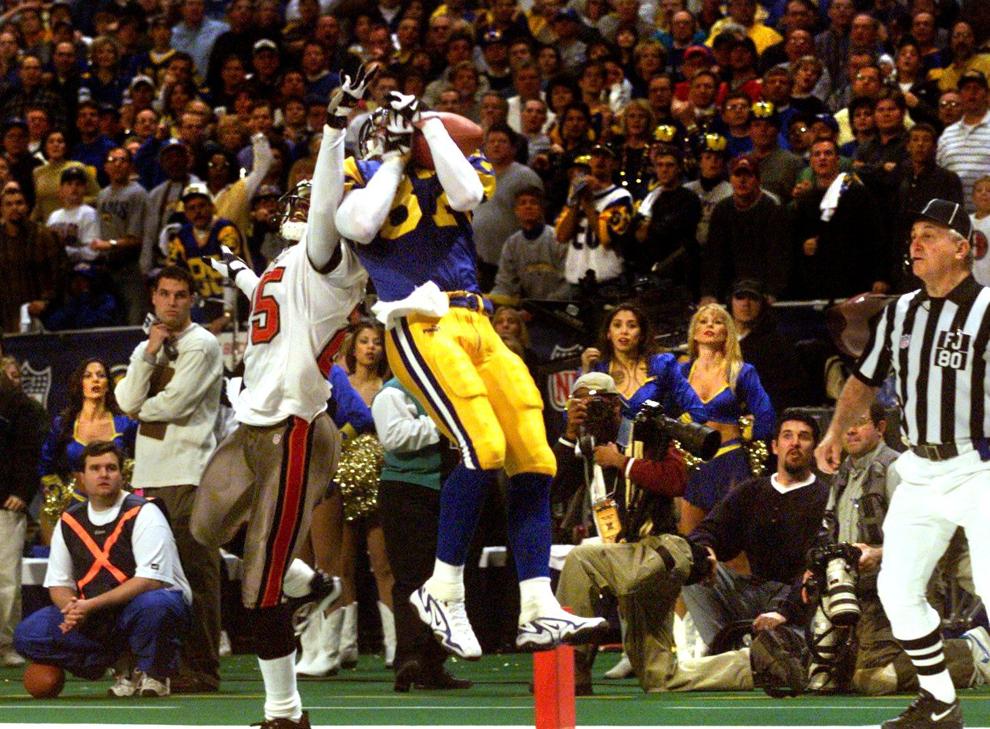 Without his touchdown grab that helped beat Tampa Bay in the 1999 NFC Championship, there might not have been a Super Bowl win to celebrate. And while it was spoiled by Adam Vinatieri's game-winning field goal, his Super-Bowl-tying touchdown against the Patriots will never be forgotten. Proehl's totals as a Ram: 207 catches, 2,590 yards, 16 touchdowns. And he never fumbled.
Wide receiver: Torry Holt (1999-2008)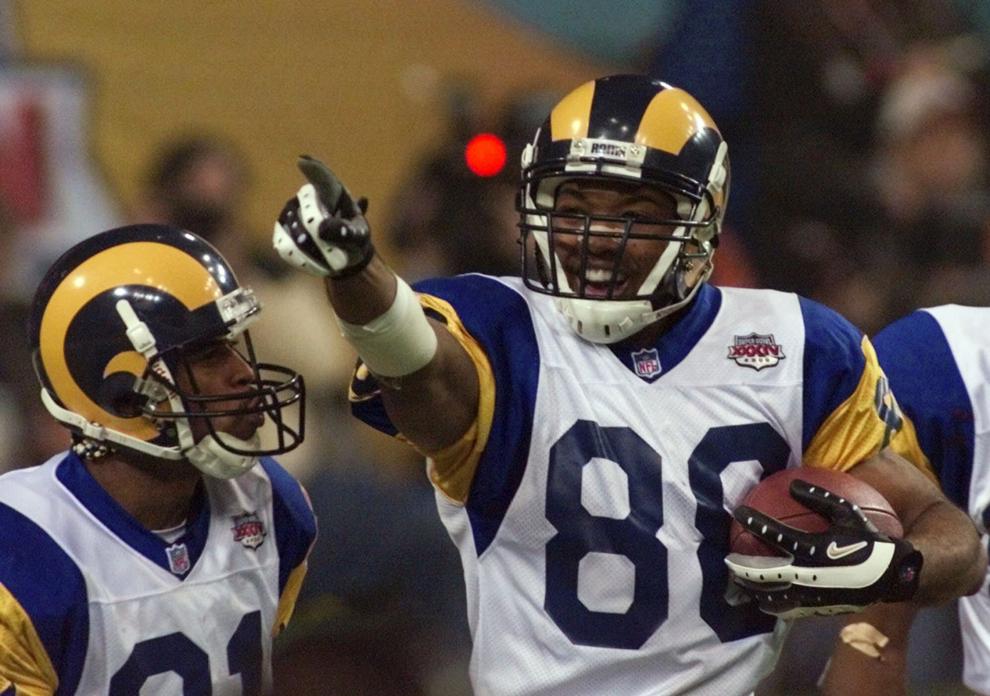 When your nickname is Big Game, you better deliver. He did, totaling 869 catches, 12,660 yards and 74 touchdowns as a Ram. The Hall of Fame semifinalist sits behind only Bruce in terms of franchise career records for receptions, receiving yards and receiving touchdowns. His average of 80.1 receiving yards per game ranks first. Don't forget seven Pro Bowls, and the All-Pro season in 2003. "I loved everything about being a Ram," Holt said when he retired.
Wide receiver Isaac Bruce (1995-2007)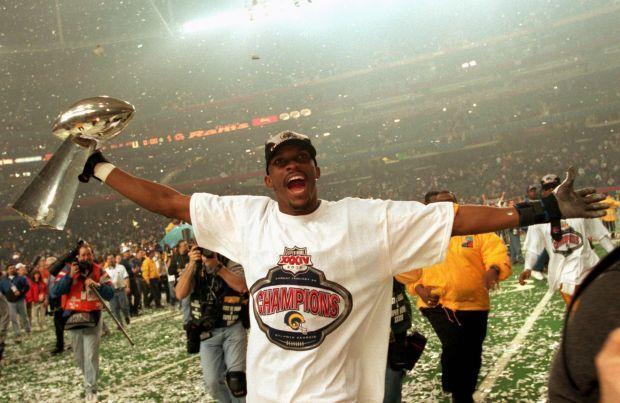 Bruuuuuuce. He arrived a Los Angeles Ram, then became a St. Louis legend. His numbers in St. Louis: 921 receptions, 13,837 receiving yards, 81 touchdowns (the most thrilling the 73-yard dash that beat the Titans in Atlanta). The newest member of the Pro Football Hall of Fame holds career franchise records in receptions, receiving yards and receiving touchdowns. No Rams receiver has scored more than his 510 points. Oh, No. 80 went to four Pro Bowls, too, and now the Hall of Fame.
Running back: Marshall Faulk (1999-2005)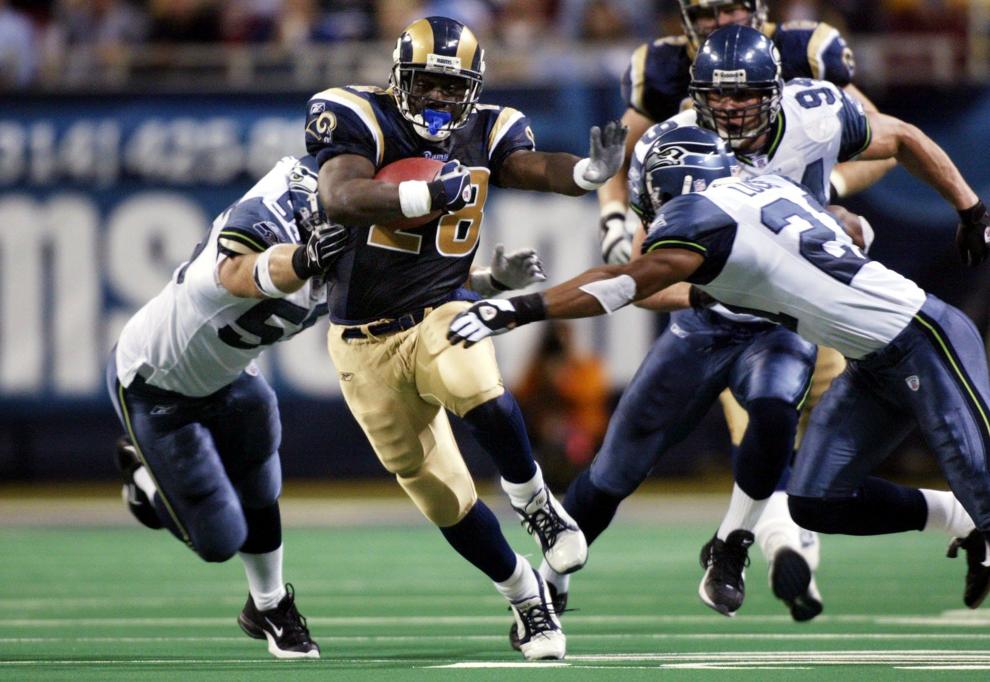 The New Orleans kid who once sold popcorn in the Superdome shattered records, won a Super Bowl and cemented a Hall of Fame legacy here. His rushes and receptions produced 11,030 yards and 85 touchdowns. No. 28 became a four-time Pro-Bowler, a three-time All-Pro and the league MVP (2000) as a Ram. He holds franchise career records for rushing touchdowns and points scored by a running back.
Quarterback: Kurt Warner (1998-2003)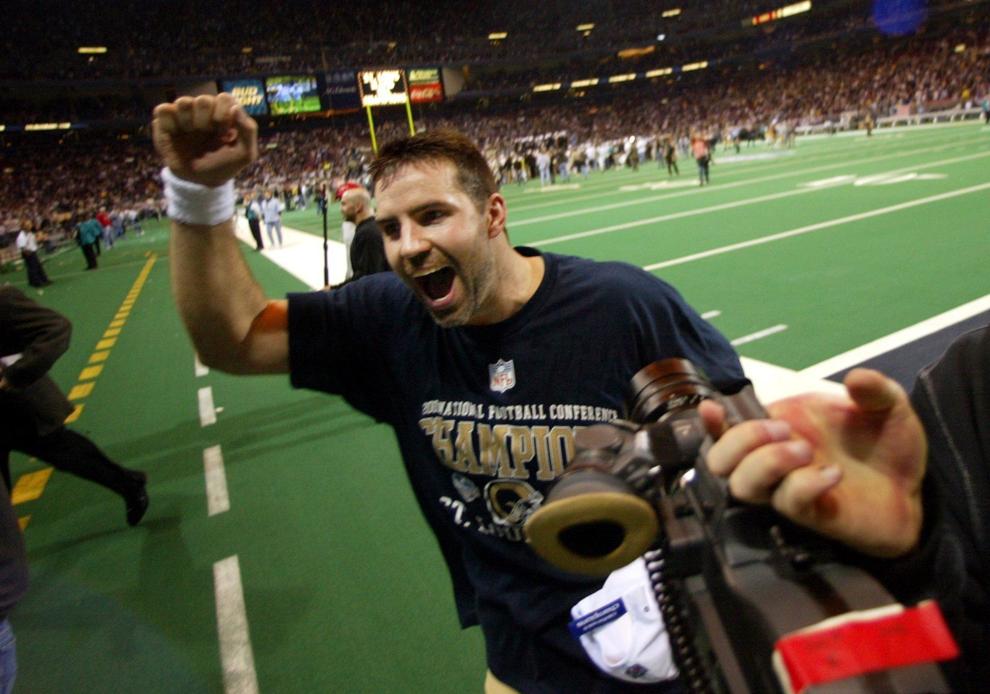 One of the game's best stories went from stocking grocery shelves, to backing up Trent Green, to starring in two Super Bowls as a St. Louis Ram. The Hall of Famer was a three-time Pro Bowler and two-time All-Pro here. He holds franchise records for career passer rating and career completion percentage. No one since has since claimed both league and Super Bowl MVP in the same season.
Honorable mention: Offense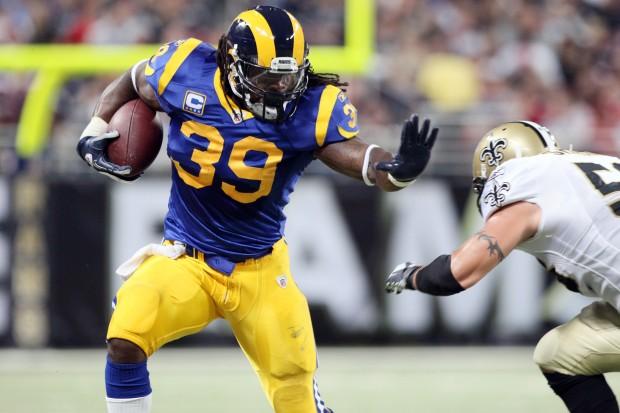 • Quarterbacks: Marc Bulger, Trent Green
• Running backs: Steven Jackson, Todd Gurley, FB James "The Hammer" Hodgins, FB Cory Harkey
• Left tackle: Wayne Gandy
• Left guard: Rodger Saffold
• Center: Mike Gruttadauria
• Right guard: Richie Incognito
• Right tackle: Ryan Tucker
• Tight end: Lance Kendricks
• Wide receiver: Az Hakim
Best of the Special Teams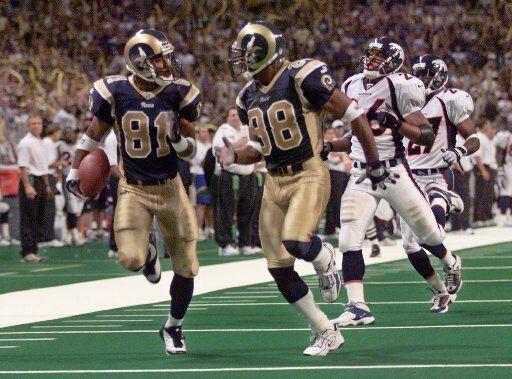 • Punt returner: Az Hakim
• Kickoff returner: Tony Horne
• Long snapper: Chris Massey
---
Punt returner: Tavon Austin
Kickoff returner: Benny Cunningham
Punter: Sean Landeta, Donnie Jones
Long snapper: Jake McQuaide, Jeff Robinson
Best of the Coaches, GMs, Owners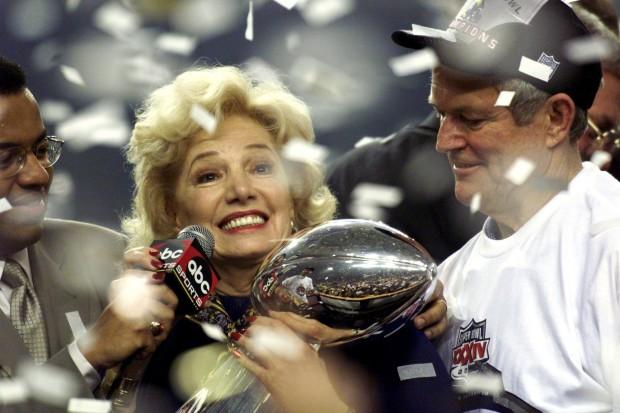 • Head coach: Dick Vermeil
• Offensive coordinator: Mike Martz
• Defensive coordinator: Lovie Smith
• General manager: Charley Armey
• Owners: Georgia Frontiere