On Oct. 10, 1999, the St. Louis Rams ended a 14-game losing streak to the San Francisco 49ers with a 42-20 victory. The rest of the NFL was put on notice. The Greatest Show on Turf was for real. Here's how Jim Thomas covered that game. 
The report was filed shortly after 3 p.m. Sunday to the Missing Persons Bureau. By now, the search party will be out in full force ... looking for the Same Old Rams.
You know, those gridiron sadsacks who lost over and over and over again to the San Francisco 49ers. Seventeen straight times before Sunday's rousing 42-20 Rams victory. Where are the Same Old Rams?
"They're long gone," said cornerback Todd Lyght, who had been 0 for 16 against San Fran before Sunday.
Repeating: Where are the Same Old Rams?
"You know what? I don't even want to hear that phrase," said defensive end Kevin Carter, who had been 0 for 8. "Because after a while, the Same Old Rams are going to be the ones in the playoffs."
One last time: Where are the Same Old Rams?
"It's kind of a flip of the circumstances," said wide receiver Isaac Bruce, who had been 0 for 8. "Because we'd always be losing and get upset and want to fight. And that's kind of what the 49ers did. But most of the guys on that defense, they have a lot of class."
In this upside-down, topsy-turvy NFL season, the Rams finally turned the 49ers' on their heads.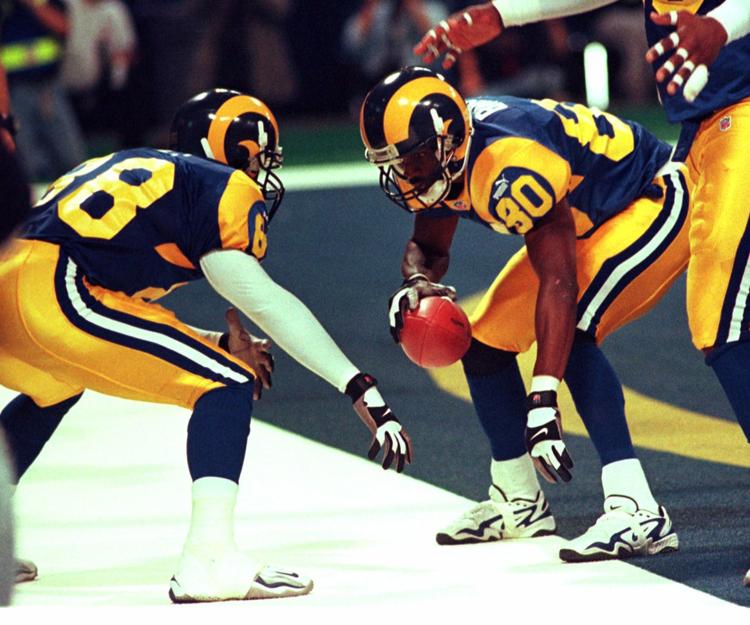 So many times in the recent history of this series, the 49ers had the Rams pinned to the mat before most fans were in their seats. This time, it was the Rams who hit the 49ers with the early knockout punch, jumping to a 21-3 lead after one quarter.
This time, it was the Rams making it a mercy killing, with backup quarterback Paul Justin kneeling twice in the shadow of the 49ers' end zone to kill out the clock in the final seconds.
"We've just got a squad right now," safety Keith Lyle said. "There were so many people ready to say: 'I told you so. The Rams aren't going to win.' But we're not about that this year."
What they're about is Kurt Warner, the Warner Bros. receiving corps, an underrated defense and markedly improved special teams.
Warner continued his amazing run, throwing for 323 yards and five touchdowns Sunday. Fast fact: Rams quarterbacks threw 12 TD passes in the entire 1998 season; Warner has 14 in four games.
"You know what he told me walking off the field?" coach Dick Vermeil said. "He said, 'You haven't seen the best of me yet, Coach.' "
And, uh, how exactly does Warner do better than 20 for 23?
"I have no clue. You have to pinch me," Vermeil said.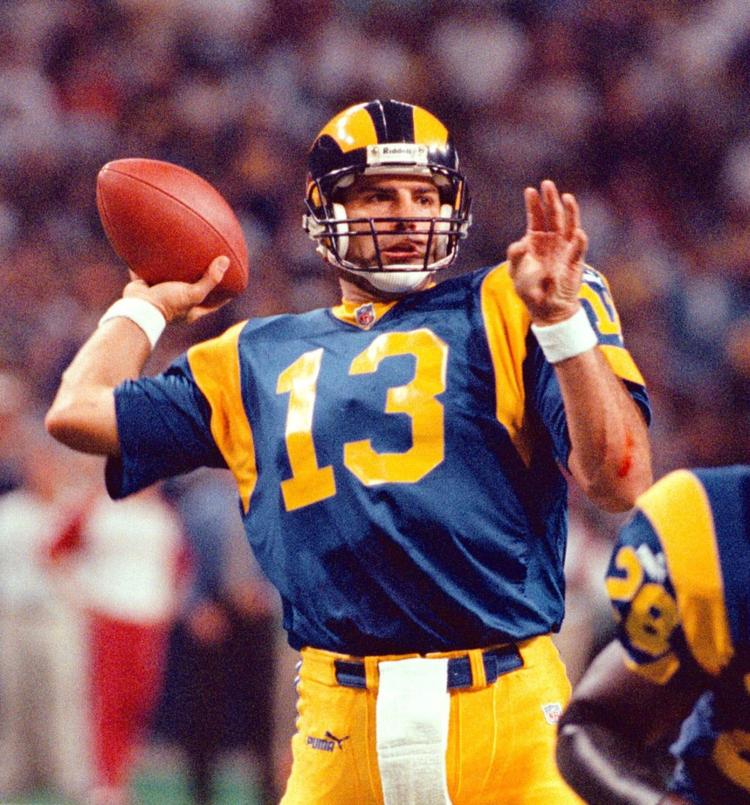 Bruce, meanwhile, turned the 49ers' defense into the 'Frisco Melt, toasting their secondary with a franchise record-tying four touchdown receptions.
"Isaac Bruce, if he isn't the best receiver in the National Football League, he's right with the group," Vermeil said.
Bruce repeatedly got behind the undersized 49ers corners, particularly St. Louis native Darnell Walker, catching TD passes of 13, 5, 45, and 42 yards.
"Ike's so special," Warner said. "He does such a great job of getting open."
The defense kept the lid on the Steve Young-less San Francisco offense, yielding only a touchdown and two field goals. (One 49ers TD came when 49ers defensive tackle Junior Bryant fell on a Warner fumble in the end zone.)
And just when it looked like the 49ers were going to make a game off it, trailing only 28-20 late in the third quarter, Tony Horne returned a kickoff for a 97-yard Rams TD. Jeff Hodgins and Jeff Zgonina opened up the seam with wedge blocks on the play.
So it's mid October, and the 4-0 Rams are the only remaining unbeaten team in the NFL. They are two games up on the 49ers in the NFC West.
"Maybe we are for real," center Mike Gruttadauria said.
Perhaps. But try as he might, Todd Lyght was having trouble dealing with this new reality. A good half-hour after the game, Lyght had a glazed over look in his eyes. He was jubilant in victory, but a tiny part of him still couldn't believe it.
As a Rams rookie in 1991, Lyght watched in dismay as the crowd in Anaheim Stadium - his home stadium at the time - chanted "Beat LA!" en route to a 33-10 San Francisco drubbing of the Rams on Monday Night football.
That's what Lyght remembers about Rams-49ers. He had personally witnessed 16 games in the Rams' 17-game losing streak to San Francisco.
But now, that long gridiron nightmare is over. For one game at least, the Wicked Witch of the West is dead. Click your Pumas together Todd, and repeat: "There's no place like home. There's no place like home."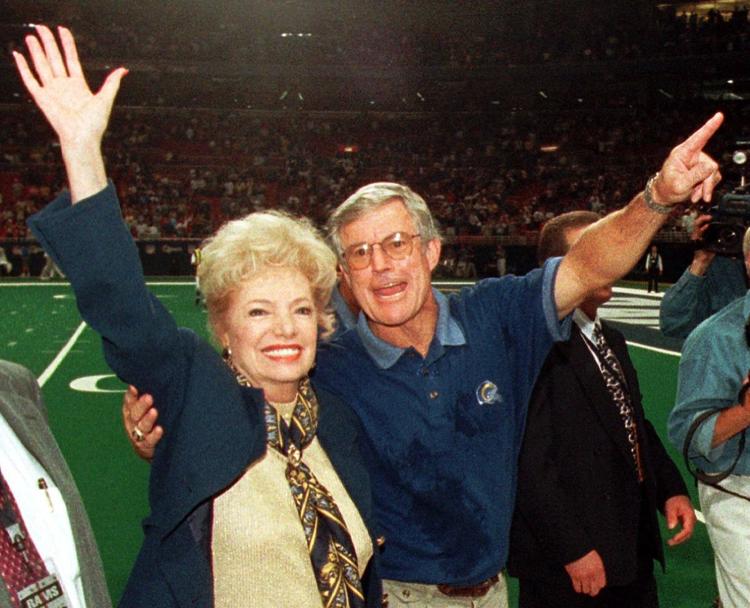 "I looked up into the stands and saw all those 65,000 screaming fanatic, St. Louis Rams fans, and they were just loving it," Lyght said. "I think they were enjoying it moreso than I.
"It was a beautiful win today. This is the sweetest victory of my professional career by far. The more we win, the sweeter it's going to get."
He wasn't alone in that feeling.
"This was a big game," Bruce said. "There's going to be a lot of young guys here, the rookies, who now believe that they can beat the 49ers. They're used to be a lot of players here that didn't believe we could beat them. And I have to admit, I was one of them earlier in my career."
So the psychological barrier that was "San Francisco" finally has been broken, crashed, torn asunder.
"You throw the ball, you catch the ball, you tackle, you do all this stuff," defensive tackle D'Marco Farr said. "But all these losses to the 'Niners, it became mental. I got to where I saw anything that resembled 'SF,' I almost wanted to throw up.
"But now, we have an anti-'Niner pill. I'm starting to feel better. It's one win, but it feels great to finally get that off our back."
Post-Dispatch sportswriters Jim Thomas and Ben Frederickson present their all-time St. Louis pro football team (first published on STLtoday.co…
On Jan. 31, 2000, more than 100,000 people lined the downtown streets to celebrate the Super Bowl championship of the St. Louis Rams.