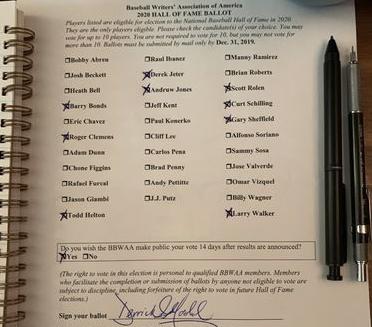 Derrick Goold opened Monday's session by saying: "Let's begin the chat the same we have at this time of year for the past few years. I don't show my whole Hall of Fame ballot (above) until there's a chance to do it here, in the chat, so you can see it first -- and ask questions about it."
This is the first year Goold has voted for Barry Bonds and Roger Clemens, and he was immediately questioned about it. His reply:
GOOLD: I realize that by doing so there will be a large group of people mad at me -- the Never Roiders -- and there will another group of people frustrated that I just voted for them now. I've spelled out my process in the chat and in print, and I have wanted to stay true to those standards. In this case they are:
• A ballot is like an article; my signature on it is in my byline. I should rely on the same level of information for my ballot that I would for an article.
• If the Hall put transgressions on the plaques, I'd vote for them.
• If the Hall went to a yes/no ballot (and thus there was a 10-player limit) I would have voted for them before, but I needed to use the sportsmanship clause as a scalpel to reduce my ballot to 10.
Those were my standards. You can disagree with them, argue with them, or suggest that I didn't stick to them. I did try.
---
If the ballot is difficult to read, here are Goold's nine selections, listed alphabetically:
Barry Bonds, Roger Clemens, Todd Helton, Derek Jeter, Andruw Jones, Scott Rolen, Curt Schilling, Gary Sheffield, Larry Walker.
Be the first to know
Get local news delivered to your inbox!