Luther Burden III was destined for greatness.
His father, Luther Burden Jr., was a standout at Beaumont High who went on to average more than 16 points per game in his career at St. Louis U. between 1982 and 1985.
As a freshman at Cardinal Ritter, Burden was selected to participate in Team USA's basketball youth development program. It's generally the first stop on the road to prominence for high-level hoopers. Burden was on the path to becoming the next big basketball star out of St. Louis.
But something happened on his way to the NBA.
Burden started at wide receiver his freshman year in 2018 and showed why he was nicknamed "Touchdown Luther" as a kid. He caught 48 passes for 1,191 yards and scored 14 total touchdowns as the Lions went 14-1 and finished as the Class 3 runner-up to Trinity.
College scouts came to watch the other high-powered prospects on Ritter's team that season and found themselves enraptured by the freshman.
Burden was quickly buried under an avalanche of scholarship offers to play football.
"He was already big at that point for his age. That athleticism from being a basketball player stood out," 247sports Midwest recruiting analyst Allen Trieu said. "He did things after the catch, he went up to get the ball. It was clear he'd be a high-level recruit at that point."
If there was a question about what Burden could do on the field it was how he would respond to being the top option when fellow standout receiver Jameson Williams, then a senior, graduated. Williams recently transferred to Alabama after signing with Ohio State.
Any doubt melted away the first game of his sophomore season in 2019 when Burden caught seven passes for 122 yards and scored three touchdowns as Ritter won at Nazareth Academy, then Illinois's defending Class 7A champion.
Burden has continued to dominate on the field regardless of the competition. It's why he's the Post-Dispatch All-Metro football offensive player of the year.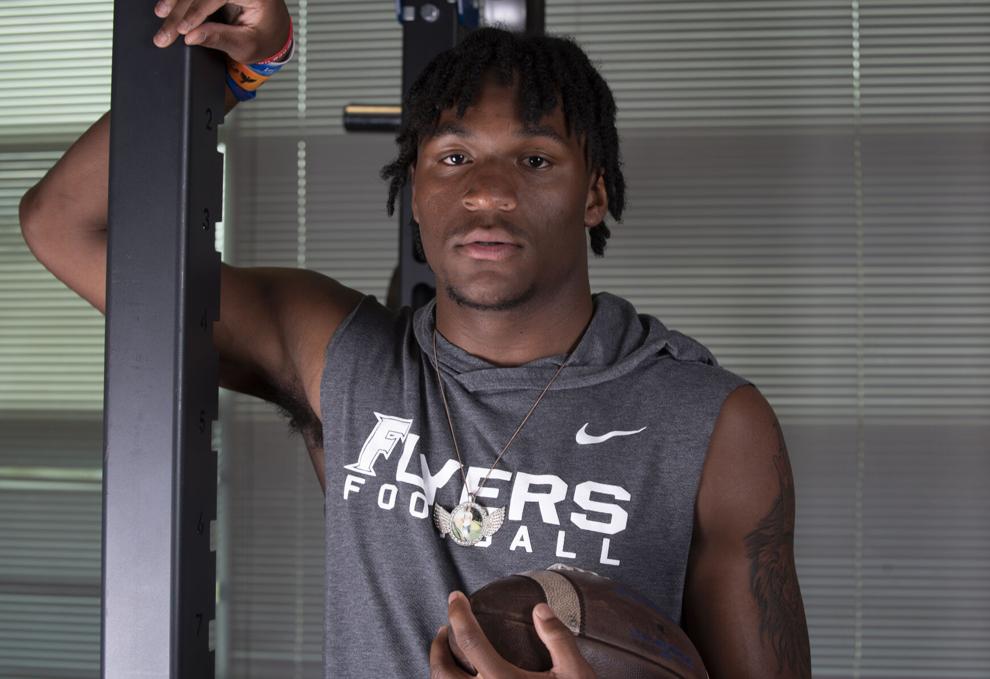 In a year that was unlike any in our lifetimes, the 6-foot-2 and 195-pound Burden had a junior season unlike any player, maybe ever. After playing eight games in a pandemic-shortened fall season with Ritter, Burden transferred to East St. Louis in late January. He played in five games this spring with the Flyers after the Illinois High School Association pushed the football season back due to the coronavirus pandemic.
The IHSA did not keep track of how many athletes played a fall football season out of state and then transferred in and played a spring season. Trieu said he heard anecdotes of one or two but nothing he could confirm — and if there were others they certainly weren't the caliber of Burden.
A consensus five-star recruit, Burden, 17, is ranked by 247sports as the No. 10 overall prospect in the nation in his class and No. 1 in Illinois. Rivals ranks Burden as the No. 7 overall recruit in the country and the top prospect at his position.
His junior season only reaffirmed his lofty status. In the fall at Ritter he caught 31 passes for 895 yards and scored 13 touchdowns as the Lions advanced to the Class 3 semifinals, where they were beaten by eventual state champion Blair Oaks.
In his career at Ritter, Burden played 30 games, caught 124 passes for 2,941 yards and scored 39 total touchdowns. Those numbers could be even bigger. He played just seven games his sophomore season when Ritter's program was dissolved after it was reported the coaching staff intentionally used an ineligible player.
This spring at East Side, Burden caught 32 passes for 737 yards and scored eight touchdowns as the Flyers defended their Southwestern Conference championship by holding off Edwardsville 50-47 in the league's title game. In that game Burden caught seven passes for 183 yards and scored twice.
"It was fun," Burden said of his spring season. "The competition got better, but I look at every opponent as the same."
Burden has burned his share of defensive backs but does not want to get burned in his recruiting. In October he picked through his more than 40 scholarship offers and verbally committed to Oklahoma. Because of COVID-19 and the NCAA recruiting dead period, no recruits have been able to take official visits. It's one of the myriad reasons the transfer portal is loaded.
Burden plans on maximizing his opportunities by using up all of his allotted official visits.
"I'm taking all five visits to explore," Burden said.
He said he talked with his old teammate Williams the day he signed with Alabama. He's also watched as other local standout receivers Teriyon "Mookie" Cooper and Jordan Johnson have started at one place only to jump to another. The movement of these elite players has Burden's wheels turning.
"It's making me think about stuff," Burden said. "I want to be in the best position for me."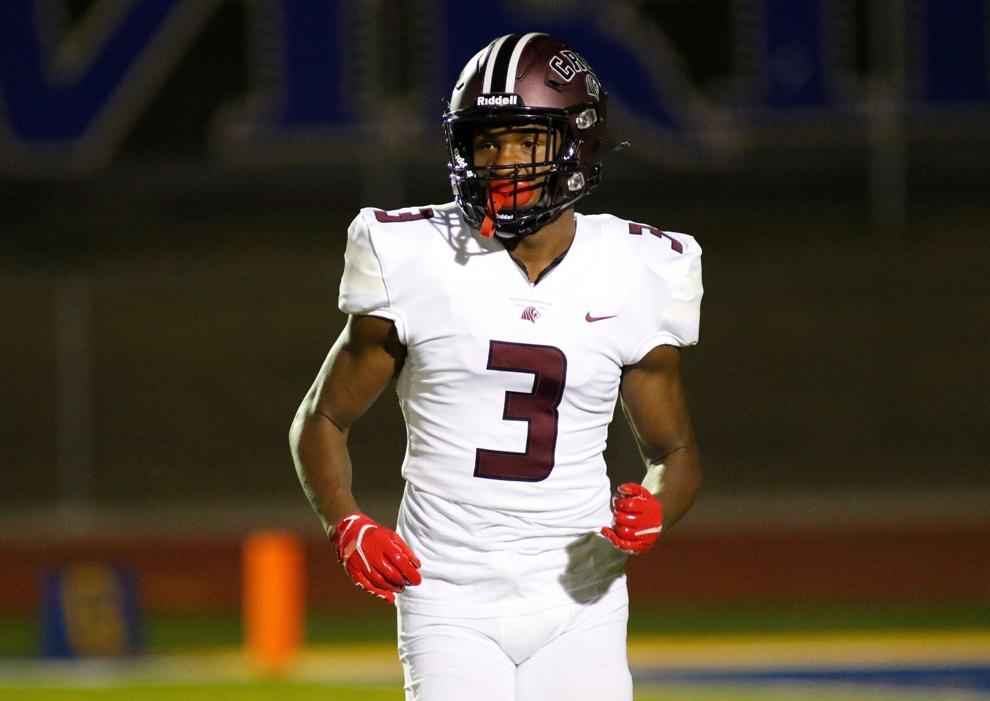 Burden is going to spend the remainder of spring and the summer working on his craft in preparation for a senior season at East St. Louis. He said the transition from Ritter to East Side has been eye-opening and exciting. At Ritter he was coached by Brennan Spain, who was in his first year as a head coach after spending the previous five years as an assistant under longtime East St. Louis coach Darren Sunkett.
Almost immediately, Burden realized things are different when you're a Flyer.
"I knew it the first day I came over here," Burden said. "(Sunkett) has put me in different positions. He's opened my game up. It's preparing me well."
One of the sacrifices Burden made by transferring was basketball. He was a crucial piece of Ritter's Class 3 championship team in 2020 when he averaged 18 points per game in the postseason. In March the Lions won the Class 5 championship, seven weeks after Burden transferred.
Burden said his move has ended his time as a basketball player. There are no plans, at least at this time, for him to play for the Flyers in the winter.
"At first it was hard, but it was time to put the shoes up," Burden said. "I loved basketball, but football is the route and I'm going to take it."