BEL-NOR — Like a typical first grader, Natalie Potts wasn't sure how to tell her parents.
Now a sophomore at Incarnate Word Academy, Potts dreaded facing Sharon and Eric.
But the truth had to be told.
"I was scared," Potts recalled.
Potts finally spit out the words. The 6-year-old simply hated her competitive dance classes.
Even back then, it was all basketball for Potts, who was taller than most kids her age.
"I wasn't really a girly girl," she said. "I hated putting on makeup, all that stuff. Plus, I couldn't dance — not at all."
So Potts told her parents of her wishes — and waited for a response.
"I was surprised, but they weren't mad," she said. "I thought they'd be unhappy or call me a quitter. They just said, 'You can drop dance — but you better stick with basketball.' "
And the results have been amazing.
Potts, who now stands 6-foot-2, has developed into one of the top underclassmen in the Midwest. Thanks in part to a recently completed stellar campaign, she is drawing attention from NCAA Division I coaches across the country.
There will be more national interest to follow as Potts continues to refine her already strong game.
"She's got a great upside," Incarnate Word coach Dan Rolfes said. "I'm not sure we know how good she could end up being."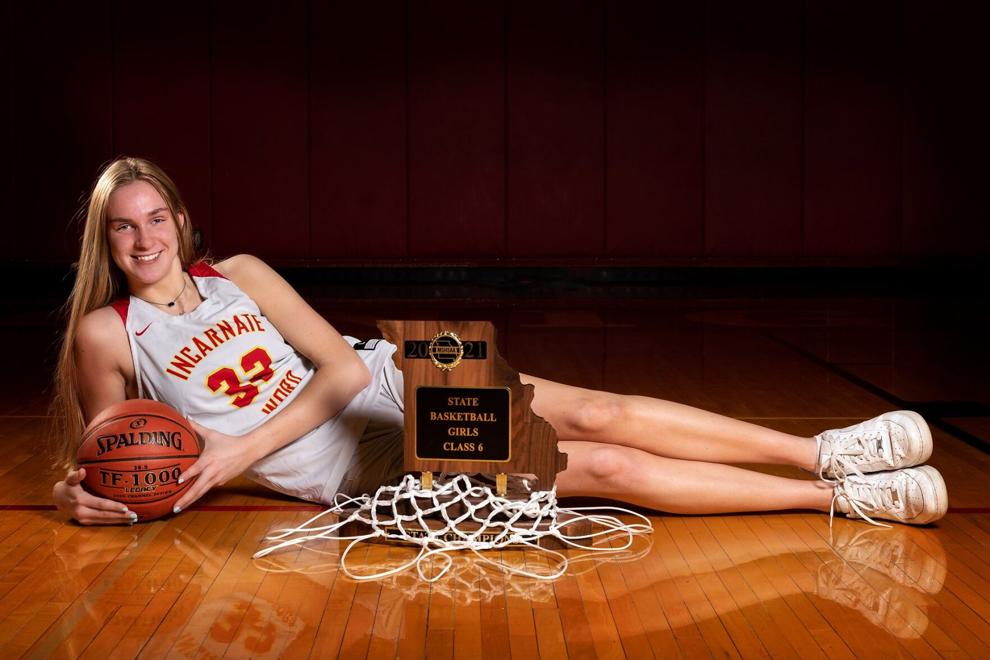 The Post-Dispatch All-Metro girls basketball player of the year, Potts spent the last four months dancing all over the opposition.
She averaged 20.7 points and 9.3 rebounds in helping the Red Knights to a 29-0 season and their record 11th state championship.
IWA beat Webster Groves 58-37 on March 20 in the Class 6 title game at JQH Arena on the campus of Missouri State University in Springfield.
Potts played a key role in a dominating season that saw IWA win its 29 games by an average of 30 points per contest. Only five teams — Kickapoo, Westminster, Vashon, Cardinal Ritter and Rock Bridge — came within single digits.
Counting back to the 2020 season, which was not completed due to COVID-19 complications the Red Knights have won 39 successive games.
And Potts is one of the main reasons for the streak.
"No losses, a state title, we feel like we accomplished a lot," Potts said. "You never want to sound like you expect to win. But we really thought there was a good chance we could go unbeaten."
Potts turned in one highlight-reel performance after another. She tallied 40 points on 19-of-21 shooting in an 83-31 win over Ladue on Feb. 3. She recorded 16 double-doubles for the season.
She saved her best for last with a 24-point effort in a 77-40 semifinal win over Staley. A week earlier, the Red Knights crushed Francis Howell Central 81-34 in a long-anticipated matchup. They roared out to a 17-2 lead in the first five minutes and never looked back.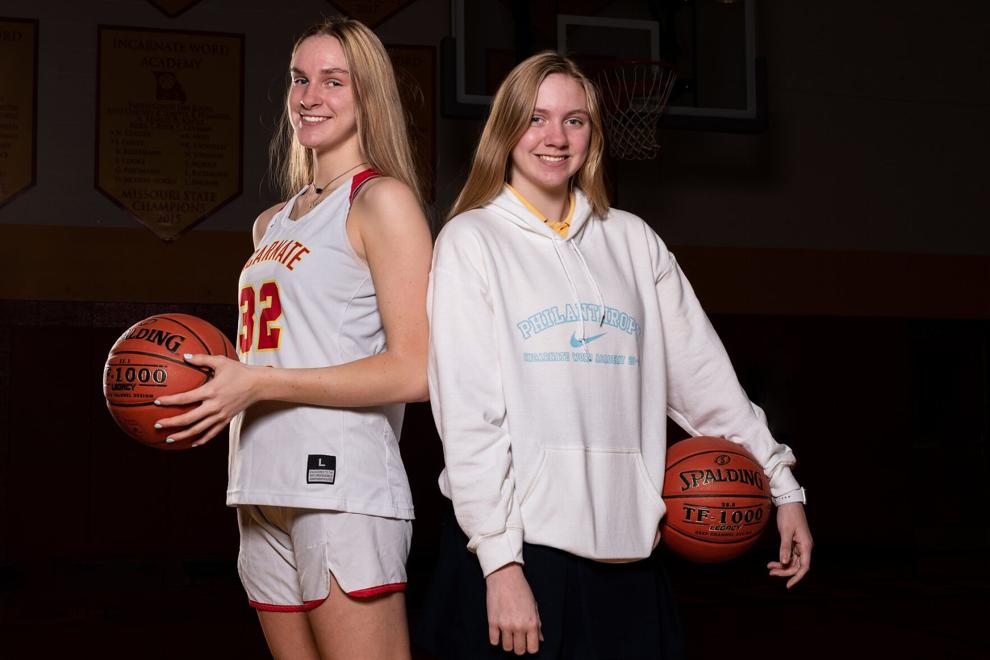 Potts can smile while looking back on her early dancing days. She and twin sister, Sarah, took up both dancing and basketball in kindergarten. About the same time, they headed in different directions.
Now, Sarah Potts is a strong competitive dancer. She recently helped IWA to a sixth-place finish in the virtual state tournament.
Natalie has done all right, too.
"I think she made the right choice," joked Sharon, who stands 6-foot-3.
Sharon can look back and laugh at Natalie's former competitive dancing career. Mom had a feeling Natalie wasn't going to be doing it for long.
"At her first recital, she looked like a fish out of water," Sharon said. "She was a bean pole."
Potts kicked-up her performance big-time this year on the basketball court. The turnaround began during the summer. With extra time during the pandemic, she took up long-distance running, galloping as many as five miles a day. She also dove head-first into a series of instructional videos.
"She was pretty good before," said IWA sophomore teammate Brooke Coffey, who has played alongside Potts since first grade. "But this season, she was amazing. Totally different in a lot of parts of her game."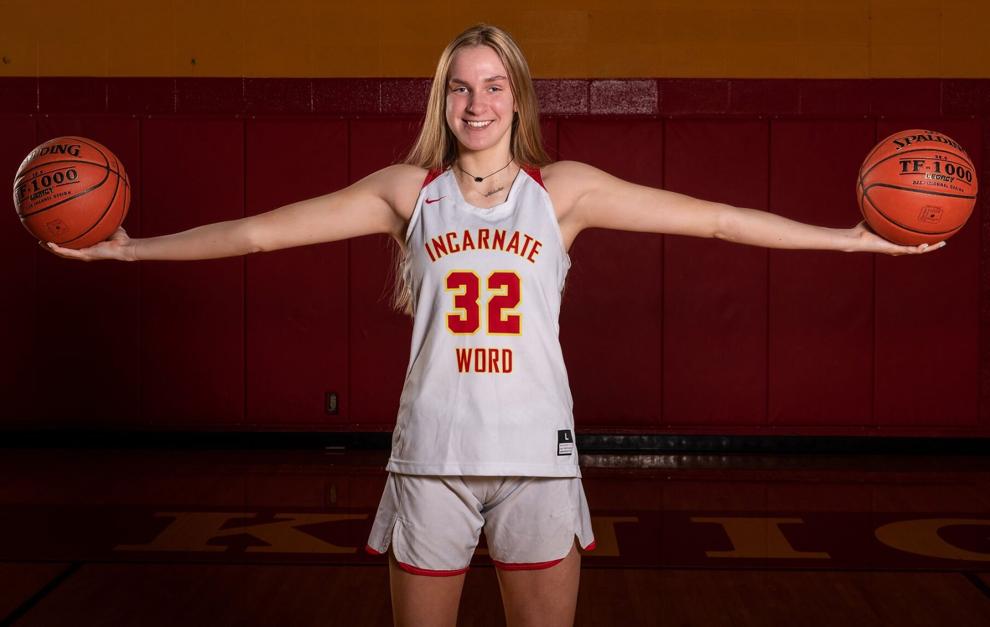 Rolfes said Potts' metamorphosis was fun to observe.
"As freshman, we kind of threw her to the wolves," Rolfes said. "Just because of her size, she was going to play regardless. When I saw her play some (in club games), she was a completely different player with a ton of confidence."
Potts, who lives in O'Fallon, got stronger and became faster. Her ability to glide up and down the court with relative ease made her a legitimate threat at both ends. She also developed a 3-point game. She made of 15 of 49 triples in the recently completed season after hitting just four of 10 as a freshman.
"Last summer was a big summer for me," Potts said. "The quarantine made me do things on my own. Then it all started coming together."
A straight-A student, Potts got her last B in the eighth grade. She has continued to sizzle in both the classroom and on the court.
"A lot of my life is basketball," Potts said. "But I've still got to keep my grades up."
Potts has already received a half dozen scholarship offers, including one from St. Louis University.
For now, she plans on trying to improve her already strong game on the upcoming AAU and club circuit.
Then next winter, the Red Knights will set their sights on an eighth state title in the last nine years the event has been played. All of 11 players from the school's second state title team to go unbeaten will return, with Potts leading the way.
"This year was a great feeling," Potts said. "It makes us want to do it all over again."
ALL-METRO GIRLS BASKETBALL FIRST TEAM
2021 All-Metro girls basketball first team
Natalie Potts, sophomore, Incarnate Word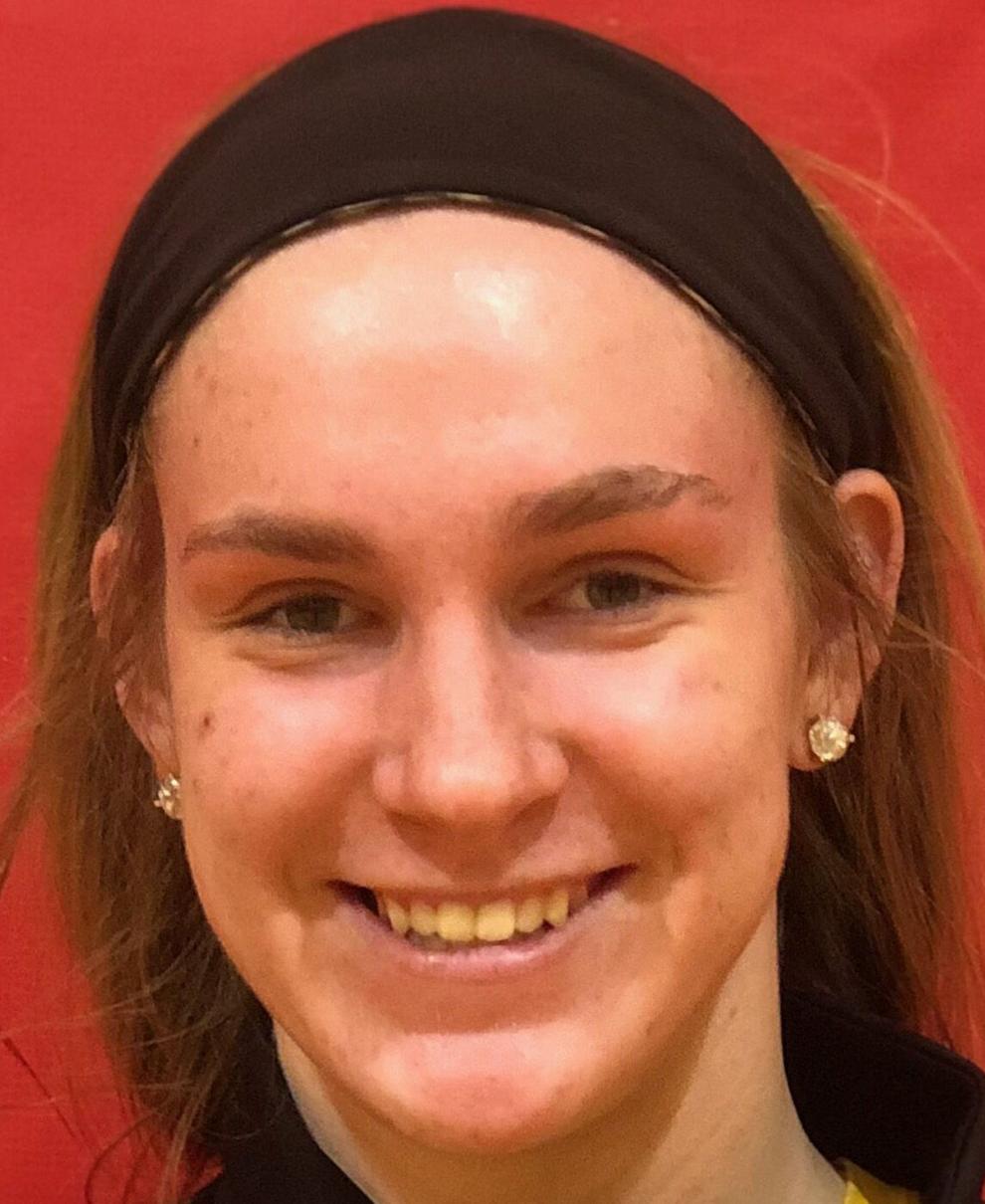 All-Metro player of the year paced the unbeaten Class 6 state champions with team-leading averages of 20.7 points and 9.3 rebounds per game. Developed into a difference maker at both ends of the court. Scored a career-high 40 points Feb. 3 on 19 of 21 shooting in an 88-31 win over Ladue. Recorded 16 double doubles and scored at least nine points in every game. Had 10 points and 11 rebounds in a 58-37 win over Webster Groves in the Class 6 state championship.
Kelsey Blakemore, senior, Whitfield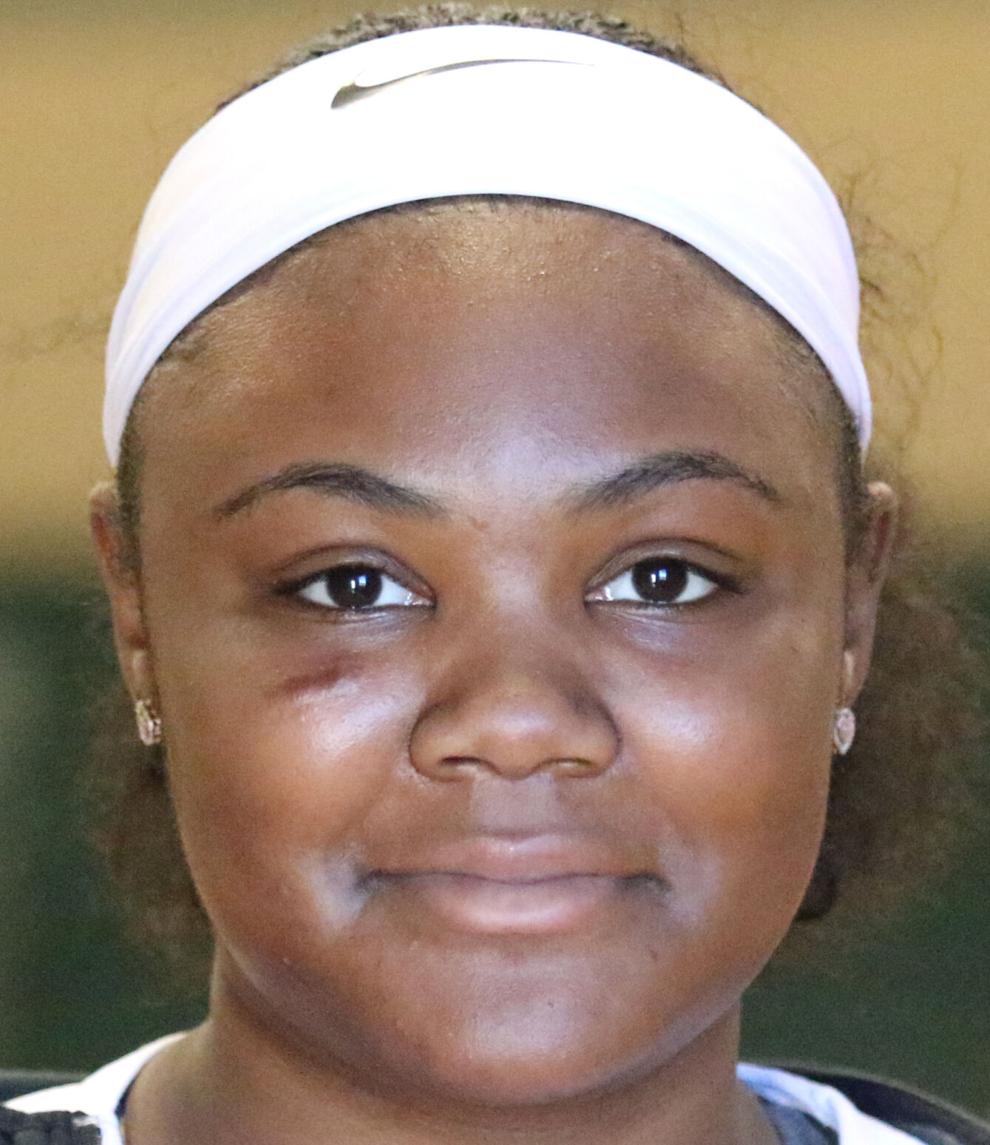 The glue that helped the Warriors to their first state title in the third final four appearance of her four-year career. Blakemore averaged a team-best 15.2 points per game and served as the calming influence on a squad of underclassmen. Whitfield's leader in steals (70) and assists (85). Scored a career-high 32 points in a 55-48 win over Westminster on Feb. 5. Reeled off 14 successive games of 12 points or more late in the season.
Marshaun Bostic, senior, Vashon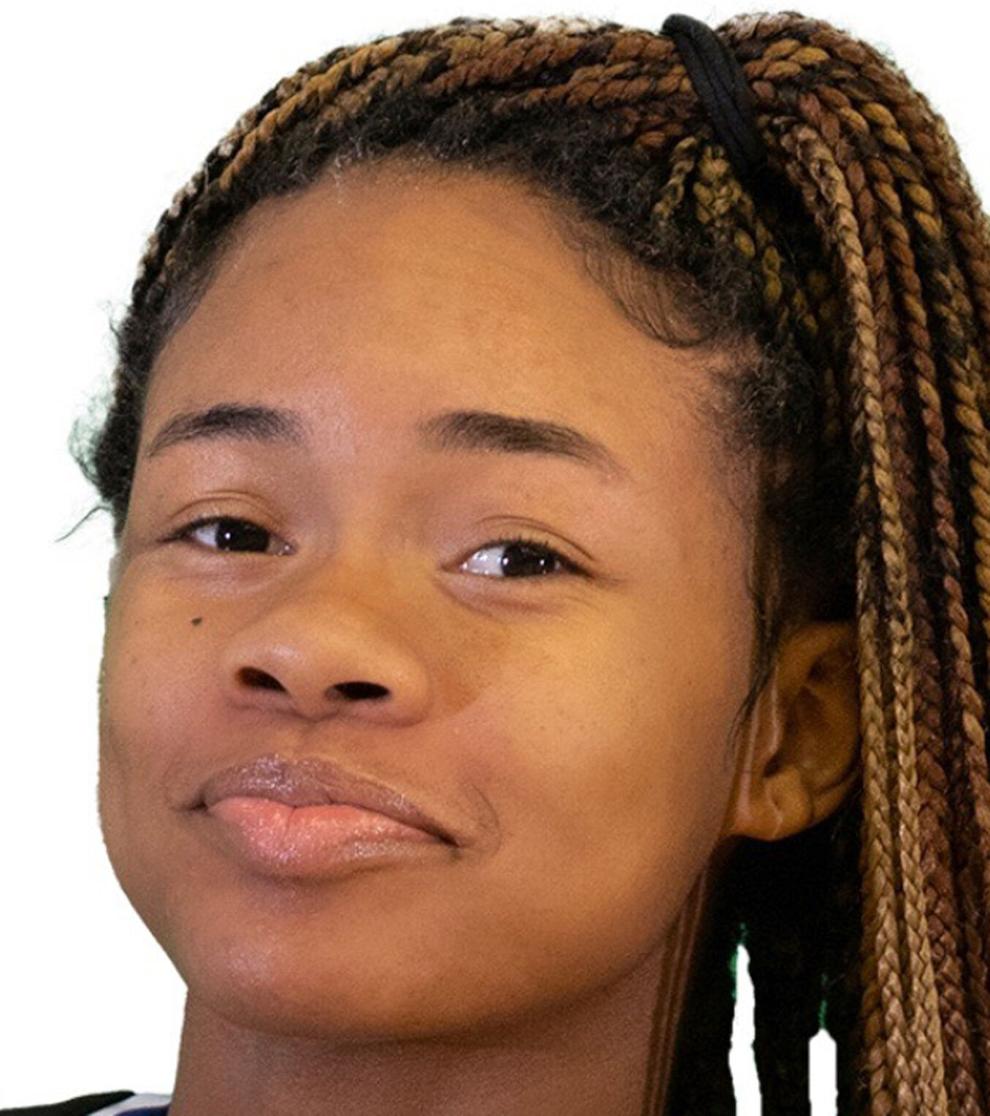 Signed to play for Auburn University. Bostic helped Wolverines finish a program-best third place in the Class 4 state tournament in her only season with the program. Averaged 11.5 points per game and handed out team-best 62 assists. Her ability to drive to the basket enabled Vashon to spread out scoring wealth as four players averaged double figures. Scored 1,352 points in four-year career, with 1,161 of those coming previous three seasons at Gateway STEM, which did not field a team this season.
Sydney Harris, junior, Edwardsville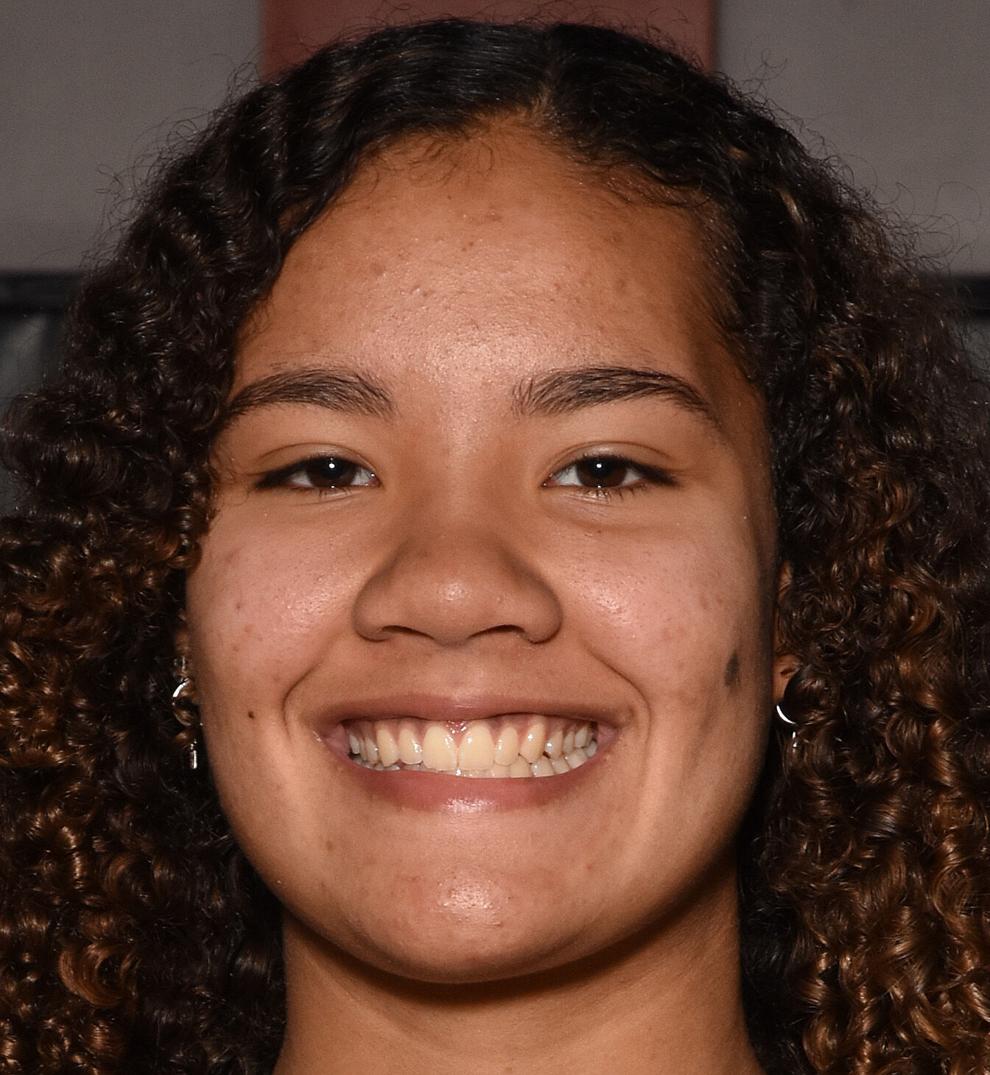 Helped the Tigers to a 15-1 record and the Southwestern Conference tournament championship in a season shortened by COVID-19. The 6-footer scored at a clip of 19.8 points per game and hit 48 percent from the field. Had three games of 25 points or more, including a 33-point effort in a 67-62 overtime win Feb. 25 over SWC rival. Also paced the Tigers with 7.7 rebounds per contest. Hit 72 of 79 free throws for an area-best 91.1 percent.
Saniah Tyler, junior, Incarnate Word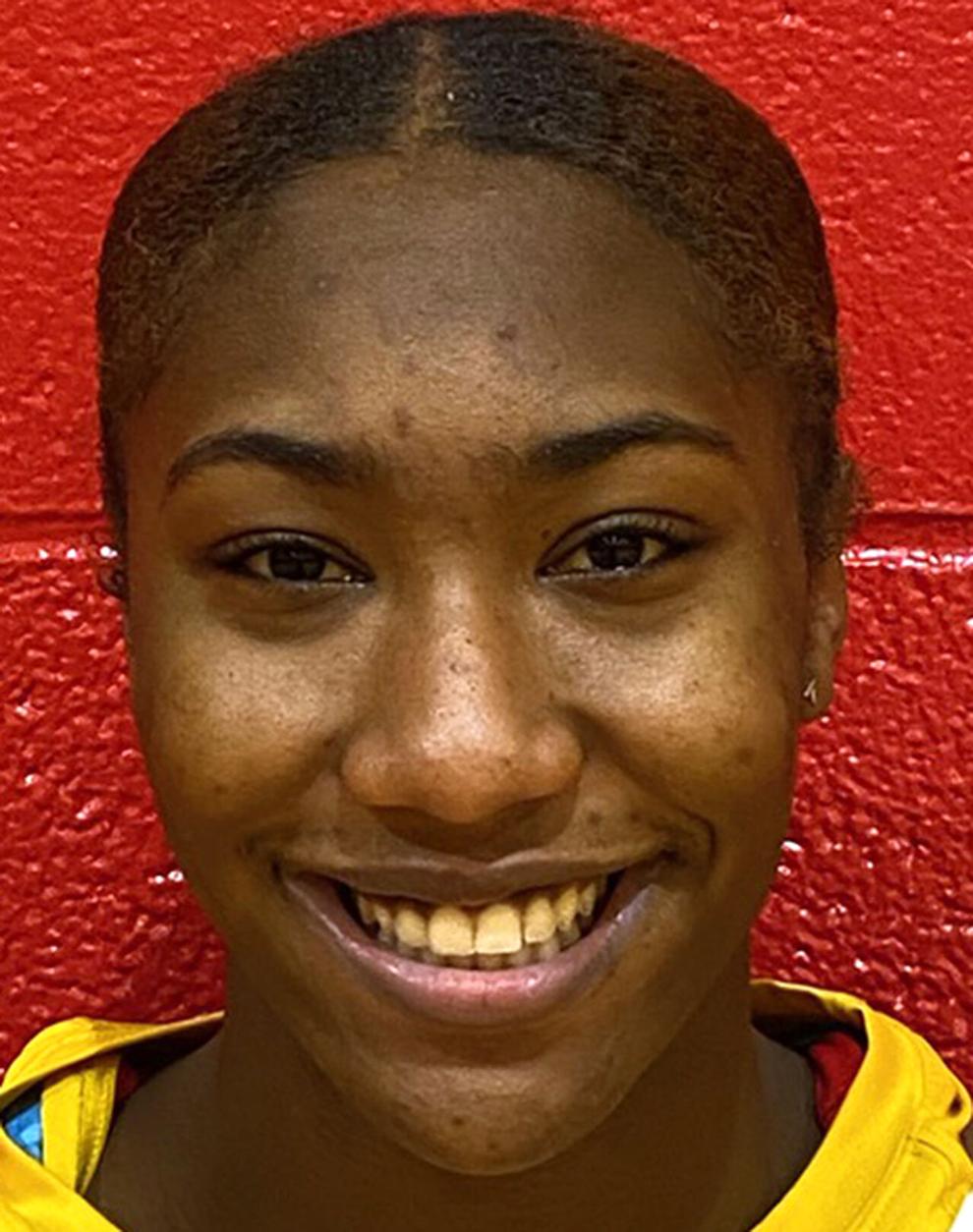 Guided the Red Knights to a state record 11th championship from the point guard position. Tyler averaged 12.7 points per game and led the team with an area-best 154 assists during a dominant 29-0 season. Displayed the ability to take on the scoring load when necessary. Tallied a career-best 31 points in a 75-72 win over Vashon on Jan. 26, the Red Knights' closest game of the season. IWA averaged 70 points per game and won by an average of 30 points per contest.
ALL-METRO GIRLS BASKETBALL SECOND TEAM
2021 All-Metro girls basketball second team
Amelia Bell, senior, O'Fallon
Signed with Mississippi College. Played a key role in the Panthers winning 13 of 15 games, including a regular-season split with Edwardsville. Tallied 15.7 points per game and also grabbed 8.9 rebounds. The 6-footer hit 77 of 92 free throws (83.7 percent).
Jessie Blaine, senior, St. Dominic
Signed with Auburn University for softball. Averaged 19.5 points and 11.4 rebounds in her only season with the Crusaders and helped them win a district title. Blaine was a terror on the boards with 14 games of 10 rebounds or more, including 25 in a 50-38 district semifinal win March 2 over Fort Zumwalt East.
Isabelle Delarue, senior, Francis Howell North
Named the Gateway Athletic Conference Central Division player of the year by averaging a double double of 19.9 points and 11.9 rebounds. Helped the Knights to an 18-8 record, their best since posting the same mark 20 seasons ago. The 6-footer is signed with Missouri State University, which reached the NCAA Division I Sweet 16.
Mackenzie Duff, senior, Nerinx Hall
A soccer standout bound for Clemson, Duff set the Markers program record for most points in a career with 1,536. She averaged 21.6 points per game and had at least 14 points in all 24 contests, including a career-high 31 on Jan. 5 against Westminster. Also recorded a team-best 40 steals.
Reagan Rapert, senior, Union
Helped the Wildcats to a third-place finish at the Class 5 state tournament by averaging 23.7 points per game. Saved her best for last, scoring 31 points in a 53-43 win over William Chrisman in the third-place contest. Led the area by averaging 6.5 assists per game. Signed with Wofford University. Scored 1,009 points in two seasons at Union.
ALL-METRO GIRLS BASKETBALL THIRD TEAM
2021 All-Metro girls basketball third team
Brooke Highmark, junior, Westminster
Hit 73 3-pointers and averaged 18.5 points for the Wildcats, who reached the Class 5 quarterfinals before losing at eventual state champion Boonville. Has committed to Belmont University of the Ohio Valley Conference.
Jaliyah Green, senior, Holt
Southeast Missouri signee tallied 16.7 points and 6.3 rebounds, both teams highs, for Holt, which finished 22-3 and won a district title. Had a team-best 64 steals.
Mallory Ronshausen, senior, Cor Jesu
Signed with UMSL. Closed her high school career in style with 20 or more points in 10 of her last 12 games, helping the Chargers reach the Class 6 quarterfinals. Averaged 19.6 points and made 82 3-pointers.
Tori Standefer, senior, Civic Memorial
Helped Eagles to a 16-1 record in a season shortened by COVID-19 and a Mississippi Valley Conference title, with their only loss to large-school toughie Edwardsville. Scored at a 15.2 clip. Performed well in big games, including 22 points against both Mater Dei and Edwardsville.
Kennedi Watkins, senior, Marquette
Deadly combination of quickness and power, Watkins averaged 17.1 points and had 93 assists for the Mustangs, who won a district title. Was chosen Suburban Conference Yellow Pool player of the year. Signed with Southeast Missouri.