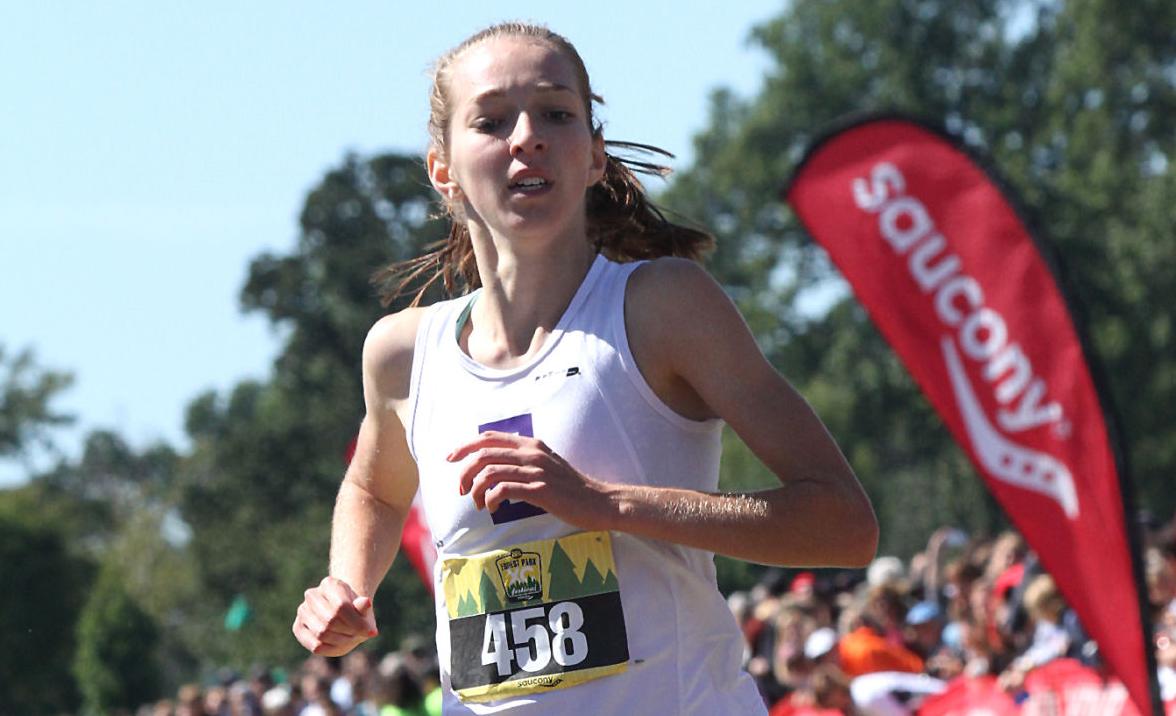 Hannah Long of Eureka been selected runner of the year enough times that she can suggest story angles and different ideas on how to featurize her amazing career.
That happens when you win the Missouri Class 4 state meet three consecutive years and post the second-fastest time in state meet history (17:38.29) last month at Oak Hills Golf Center in Jefferson City.
And this season alone, Long won all of her races, including the Southern Stampede in Joplin (16:51), the Forest Park XC Festival and Suburban West Conference meet. She set new course records in winning the district meet at Parkway Central (17:19) and the sectional in Farmington (17:12).
It's difficult to expound on the impact Long has had on cross country in Missouri. But it's safe to say she will be revered for many years to come. Especially now that she is the 2014 Post-Dispatch girls cross country runner of the year — for the fourth consecutive year.
"When I think about it (high school) it did go by so fast, super fast," Long said. "I've definitely accomplished a lot of things and I have my last high school (cross country) race this weekend (Foot Locker National Championship) and that's it. I have track, but as far as cross country, I'll be done. It will be a bittersweet moment, I think, when I'm on the starting line, but I'll try and focus on what I have to do instead of it being my last race."
This will be Long's third appearance in the cross country national championship race that matches the top 10 runners from the four regions of the United States in San Diego's Balboa Park every second Saturday in December.
Long finished 10th as a sophomore and 23rd as junior. She was sixth in the Midwest qualifying race last month and expects to better her finish of a year ago.
"I don't really have a number goal or place I have to finish in," Long said. "I just want to have fun with it. I want to compete, but I'm just going to go with the flow instead of worrying about things outside of the race or where I need to finish."
"I'm not sure what I will think," Long said. "Sad, relief. I guess it depends on how I do, but I do know I'm excited for the future. I can't wait to get to Stanford and challenge myself there."
Long's coach at Eureka, Kally Fischer knows how she will feel.
"It's going to be tough," Fischer said. "Looking back, it's been a surreal experience to watch her grow. We knew she was going to be great as a freshman, but we developed her slowly. We wanted to keep her healthy. But to just see her flourish mentally and physically to what she had become. For me, it's more than her being an elite runner. She's a wonderful young lady and we have a great relationship."
On Stanford, Long lights up.
"One of the big things, and they say never go somewhere because of coaches," Long said, "But I love the coaches. And I really fit well with the team. I want to run after college and even though the academics are going to be a challenge for me, Stanford provides the best resources to succeed in and after college."
Plus, even though she is unsure of a major, she will have a Stanford degree, which can open many doors.
Long turned down Virginia and Georgetown to sign with the Cardinal.
"It will also be exciting to train with faster runners," Long said. "That's going to help and just competing at the Division I level will help me improve. I do get excited when I think about the future, but I also want to enjoy the rest of high school and have a good track season. And I know it will be hard when it's time to leave."
Besides saying goodbye to her family, Long will miss Fischer.
"We've bonded really well and she is an important person in my life. All the girls on the team at Eureka, through all the years. How we got along and all feel part of the Eureka tradition and just how much fun we had together. It was super fun, but we all worked to get the job done, too. I'll miss those fun times."