Anna Lawler puts everything she has into everything she does.
While Lawler, who is the Post-Dispatch All-Metro girls soccer player of the year for the second time in three seasons, continues to show she is one of the top technical players around, things could have been much different.
STLhighschoolsports.com rankings - 6/15/2018 Large schoolsLast Week1. Summit (19-2-3)22. Eureka (20-6-1)43. Belleville West (17-6-3)NR4. St. J…
At a very young age, Lawler — who is headed to play soccer for defending Big 12 champ Oklahoma State — faced an athletic crossroads. As a youth, she was forced to give up either soccer or her beloved gymnastics.
"I chose gymnastics at the time, actually," Lawler said. "My mom told me I was going to play soccer, though. That's when I pretty much quit gymnastics. Soccer has definitely been my sport since I was 8. When I had to quit, I was upset. I have grown up since then and it was something I liked. I had to let one go, but I definitely think my parents made the right choice."
While the choice was lucky for Lawler, it proved even luckier for anyone who is a fan of skillful soccer.
As Summit coach Chris Kappler puts it, Lawler's technical merit is beyond measure.
"The poise and confidence she exudes on the field is amazing," Kappler said. "She looks effortless and that's how good and great players play sometimes. They make things look easy but, deep down, it (takes) a lot more effort than it looks."
As far as offense is concerned, Lawler's six goals, two of which were game-winners, and six assists were valuable.
They just didn't carry the value Lawler's play carried in terms of the team's defense.
She anchored a defense that finished with 10 consecutive shutouts right through a 1-0 victory over Incarnate Word in the Class 3 state championship game. It gave Summit its first state title in girls soccer.
"It took the whole defense for us to do what we did," said Kappler, whose final game as Summit's coach was the championship. "It's hard to say we'd be as good as we were without her. I'm at a loss for words with Anna because she'll go down as the most decorated player to ever play at Summit. She's right up there with elite players to ever play high school soccer in the state, even though she's not a prolific goal scorer.
"The only thing she didn't have was the title and now she's got one."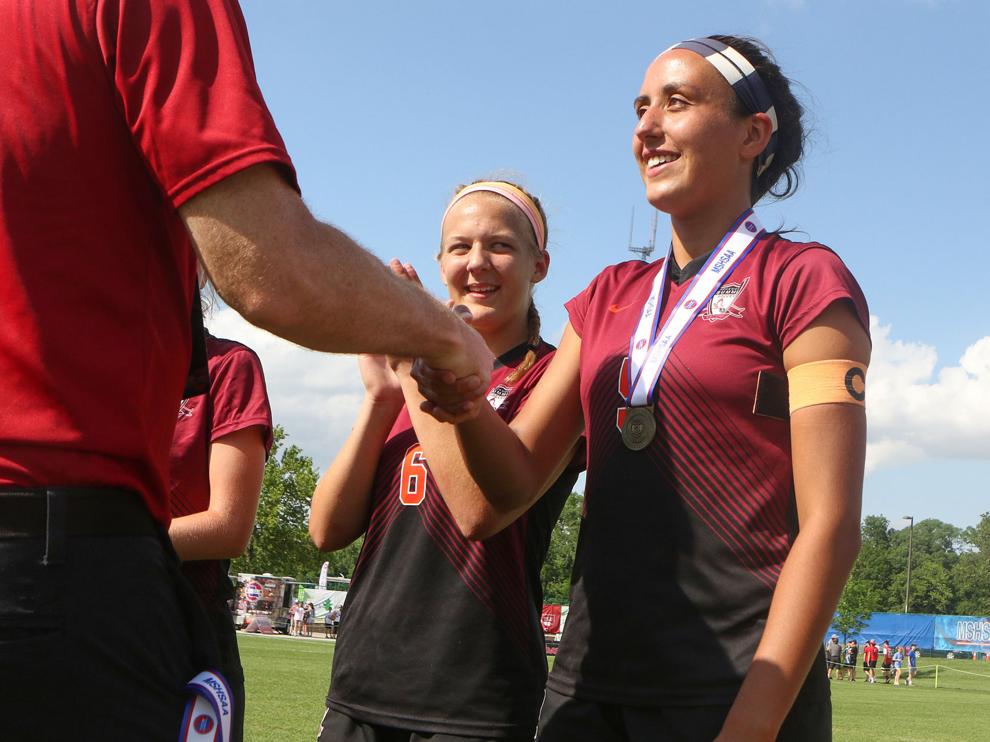 Lawler said gaining that final piece to the puzzle in her high school career was indeed special.
Though it was her third try in four seasons, leaving Summit as a champion is truly special to Lawler. While her move before the season from center midfielder to center back helped solidify the defense, Lawler said the credit isn't hers alone.
"It being my last year and also being Kap's last year, it was special to end it like this, with the title after having been there before," Lawler said. "We all had a hand in this. There were a lot of girls who (played away from their natural position). We all pitched in to make sure this got done."
Lawler said her position change not only paid dividends for the Falcons.
In the long run, it may well benefit her at Oklahoma State.
"I played a lot of center mid for my club and in high school when I was younger," Lawler said. "Moving to center back does increase (versatility). I'll just have to be ready to do what they want me to do when I get there."
Lawler said while competing at state for the third time in four years has been special, it's been more than just winning that has made the whole ride worth it to her.
Being a part of the Summit community and the girls soccer team in general is a memory she will cherish.
"I want to continue to encourage girls to play high school soccer," Lawler said. "I think it I something that is so special, especially when you're at the right school like I was — the right environment, the right community. It is so special. In any sport, really, getting to play for your high school is something cool."
ALL-METRO FIRST TEAM
ALL-METRO SECOND TEAM
ALL-METRO THIRD TEAM