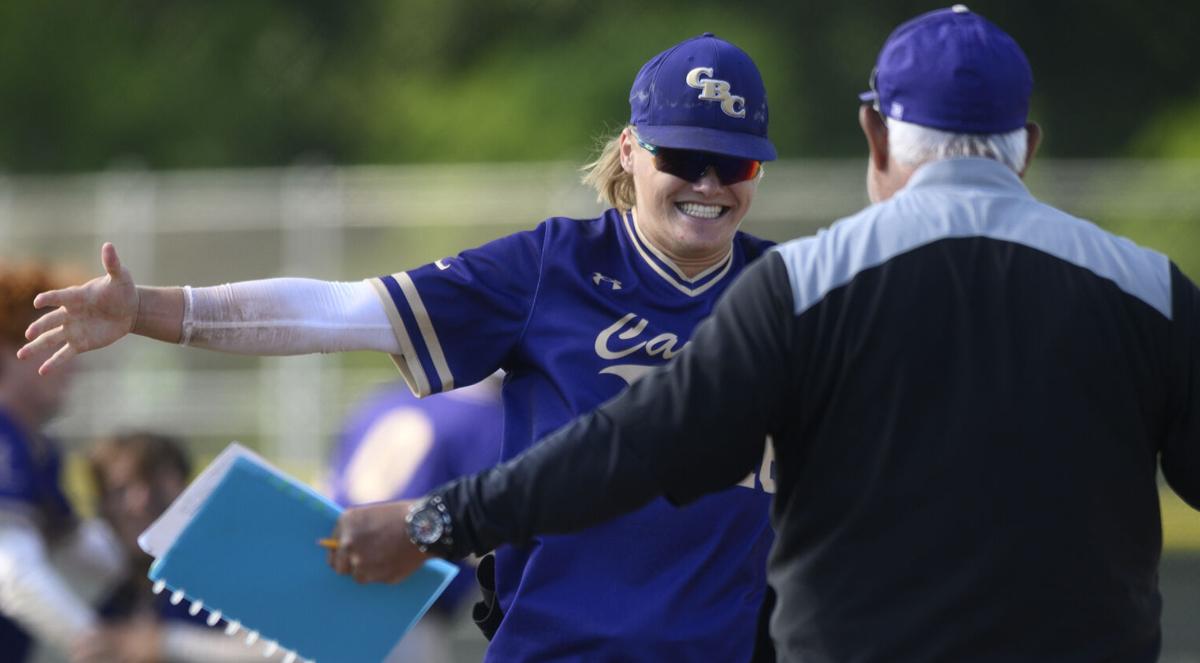 SAPPINGTON — Staring at a bases-loaded situation in the final inning, sophomore Ryan Stevens strode to the batter's box with confidence.
After disagreeing with a borderline call for strike two, he departed the batter's box in disgust.
CBC coach Mason Horne met him halfway down the third base line for a chat.
"I had one more visit, and I just had to be the adult and calm him down," Horne said.
Stevens found calmness, then found an 0-2 pitch to his liking and provided the game-winning, two-RBI single in the seventh inning to propel CBC to a 3-2 comeback victory over Lindbergh 3-2 in a Class 6 baseball quarterfinal at Lindbergh.
CBC (23-10), which advanced to the state semifinal round for the first time since winning the Class 5 championship in 2015, will face Liberty-Kansas City (30-9) at 4 p.m. Friday at U.S. Baseball Park in Ozark.
Trailing 2-1 in the seventh, sophomore Brysen Nepute laced a line drive to center field that caused Lindbergh center fielder Zane Roos to take a step in before realizing the ball was hit better than expected. Roos made a dive, but the ball dropped inches beyond him, and Nepute stood on second base with a leadoff double.
The excellent Lindbergh lefties Dane Bjorn and Ethan Smith had surrendered only three hits to that point, all by Nepute.
"It was such a big game and the adrenaline was pumping," Nepute said. "I just wanted to play hard and get on base for the seniors because they might never get to play on this field again."
A deep flyout to the left field warning track by junior Jack Schroeder moved Nepute to third, and an infield dribbler by Ayden Robinson-Wayne and a walk to pinch hitter Joey Bertel loaded the bases with one out.
Three times with Nepute at third, Lindbergh catcher Shea McGahan blocked pitches in the dirt to keep him from scoring. It was part of an excellent defensive performance by McGahan that included gunning down two potential base stealers in earlier innings.
"I can't say enough about Shea behind the plate and how many times he saved runs," Lindbergh coach Darin Scott said.
Stevens found himself in a similar seventh inning, bases loaded at-bat in the Cadets district championship game against De Smet. With the infield drawn in, Stevens bounced into a 5-2-3 double play sending the game into extra innings.
On Saturday, he knew exactly what his approach would be.
"The infield was in, and I was trying to hit the ball hard up the middle," Stevens said. "I know I'm a good hitter with two strikes and I was just trying to get the barrel to the ball."
He did exactly that, barreling a single up the middle to put the Cadets ahead 3-2. The clutch hit turned junior Michael Walsh from a pitcher trying to keep the game close to the closer.
Walsh had relieved starting pitcher Tyler Charlton with two outs in the fourth trailing 2-0. He coaxed a lineout by Drew Politte to leave a runner in scoring position in the fourth and escaped a second and third situation in the sixth by striking out Roos.
"It was up in the air until (Friday) who would be the starter, but one thing (Charlton) and I mutually agreed on was that if one of us needs to come out of the game, the other one would put everything on the line," Walsh said.
His first pitch of the seventh inning was driven home run distance down the left field line by Politte, but it hooked foul.
"I missed on a slider, so he probably knew a fastball was coming. He put a good barrel on the ball, but thankfully it was just a long strike," Walsh said.
Walsh got Politte to tap back to the mound, struck out senior Aaron Moss and outraced junior Adam DuPont to the first base bag on a ground ball to first baseman Schroeder to preserve the victory.
Clutch hitting was the signature of Lindbergh in the early innings.
After Roos led off the third inning with a double down the left line, Dupont drove him in with a two-out single to center. After a leadoff single and stolen base by junior Chris Ammons, Roos drove him home with another two-out single.
Meanwhile, Bjorn was dealing, striking out eight and yielding only two hits through five innings. Several long at-bats by the Cadets, including a 12-pitch marathon to lead off the game by Luke Matschiner, raised Bjorn's pitch count, and at 99 pitches, he was lifted after five strong innings.
"The game plan was really to grind out at-bats and I thought we did a phenomenal job of just hanging in there," Horne said. "Even though we really couldn't get to him, we really made him work."
A leadoff triple by Nepute and RBI groundout by Schroeder plated a run in the fifth to cut the lead to 2-1 before the rally in the seventh sent CBC to the final four.
"We were right in the position we needed to be," Scott said. "We were three outs away."
But the soothing voice of Horne and the clutch hit by Stevens sent the Cadets to the next round.
"He's been doing it all year for us," Horne said. "He collected himself and got it done."