GLEN CARBON — Father McGivney sophomore pitcher Jackson Rodgers put the first two Greenfield runners on base.
Despite the game time temperature of 94 degrees and a heat index of 104, Rodgers wasn't sweating.
Instead, Rodgers fanned the next three Tigers on called third strikes.
"Panic is not in my vocabulary," Rodgers said. "I stayed calm out there. I got them on straight heat. I just go out and do my best and try and win for my team."
After the third strikeout, Rodgers imitated Tiger Woods with a pumped fist in the air as he walked to the dugout.
From there, McGivney rolled to a 13-0 victory over Greenfield to win the Class 1A Sectional 7 championship. It was the first sectional title in the two-year history of the varsity program.
"Thirteen is not an unlucky number," Father McGivney coach Chris Erwin said. "At least not today."
McGivney (28-6) will meet Camp Point (Central) in the Springfield Super-Sectional set for 6 p.m. Monday at Lincoln Land Community College in Springfield. The Griffins have won 10 consecutive games.
"Holy smokes. To come out in front of our home fans and give them a show like this is amazing," Rodgers said. "There's no better feeling. Now we just have to take care of business on Monday."
Rodgers (8-0) entered the game with a 1.05 ERA. He struck out 11 in a five-inning shutout with one walk and one hit batter. He gave up three hits, all doubles.
"Walking the first hitter was not in the plan," Griffins senior catcher Luke Deakos said. "Jack is a very composed pitcher out there. He doesn't get flustered. He knew he had runners on, but I wasn't worried and I don't think he was worried. He made some great pitches and hit his spots and got out of it. He just did a great job. He painted the black today. He lives for this kind of moment."
Rodgers noted he was probably trying to do a little too much in the first inning.
"I knew they had great hitters coming up and Luke called a great game back there and I hit my spots," Rodgers said. "I knew I had to battle and get down and get it done."
Greenfield coach Jacob McEvers lamented the fact no Tigers player could come through with a clutch hit in the first that might have changed the way the game played out.
"We had some guys who just weren't able to pull the trigger," McEvers said. "It kind of swung right there. I give Father McGivney credit. They took advantage right away. They put the ball in play and jumped on us. They never looked back."
McGivney ripped six hits, including three doubles and a triple, and benefited from two walks as the Griffins put up a pitcher's best friend of seven runs in the first inning.
"We love this park," Erwin said. "We hit really well here. The guys were really fired up to play today. Everybody was fitting at the bat rack and wanting to get up there. Everybody was seeing the ball really well. It got real contagious real fast."
Deakos credited Rodgers' strikeouts in the first for firing up the Griffins in their half of the inning.
"That was the catalyst for sure," Deakos said. "Everyone was fired up coming off the field. We were locked in at the plate."
The Griffins roughed up four Greenfield pitchers. Senior starter Clayton Woods faced eight batters and got just one out before junior Drake Stuart relieved him.
Woods gave up a single and walk before sophomore first baseman Gabe Smith crushed a ball to left center field. The 6-foot-4, 225-pound Smith rumbled to third for his first triple. The two RBI gives him 49 for the season. Smith, who entered the game hitting .505, also singled, walked and scored two runs.
"The energy from Jackson striking out the side fired us up. We were all hyped up," Smith said.
He was excited for his first triple of the season.
"I'm not the fastest guy," Smith said with a grin. "I'm a pretty big boy. Getting that triple was great. We've got a special team with a lot of great guys. I'm glad to do my part."
Erwin liked seeing Smith run around the bases.
"He was rumbling," Erwin said. "I didn't know if he was going to be able to stop."
With one out, sophomore Daniel Gierer hit a run-scoring double. Rodgers followed with a double and he came home on a single by Deakos.
"We wanted to be aggressive," Deakos said. "We wanted to manufacture some runs and we blew it open. We had a hit parade there."
Deakos' hit chased Woods.
"Clayton has never been hit that hard all year," McEvers said. "He's been fantastic this year. At times, he's put some guys on and got out of it. When he was throwing up there over the plate, they were hitting it. They were just fantastic today. They were ready to go."
After a walk to sophomore Jacob McKee, freshman AJ Sutberry doubled in two runs. With two outs, senior center fielder Austin Callovini drove in a run on a fielder's choice to complete the scoring tsunami.
"The guys made my life easy," said Rodgers, who reached double-digit strikeout totals for the seventh time this spring.
Rodgers did not surprise Erwin.
"He's a very seasoned kid," Erwin said. "He's done it all season long for us. Having the ball and on the mound gives us a real boost."
McGivney added two runs in the second and closed out the scoring with a four-run third inning.
Erwin got an icy bath after the game when the players dumped their cooler mix of water and Gatorade on him.
"That was special. It's a regular thing now," Smith said. "We did it in the regional and now in the sectional. Hopefully, he's ready Monday."
With it hotter than high noon in Death Valley, Erwin did not mind the liquid being poured on him.
"Hey, it felt really good," Erwin laughed. "This was the third one. I hope it's not the last. I'm super proud of my seniors and my team and the coaching staff."
It just was not to be for Greenfield, McEvers said.
"I tip my cap to that team," said McEvers, whose squad was playing for its first-ever sectional championship. "We didn't misplay any balls. They just hit the crap out of it. There you go. I'm proud of my guys. At this point, when somebody swings it a little better, that's how it goes. We just met our match today."
Class 1A Sectional 7 baseball final: Father McGivney 13, Greenfield 0 (5)
Father McGivney vs. Greenfield baseball
Father McGivney vs. Greenfield baseball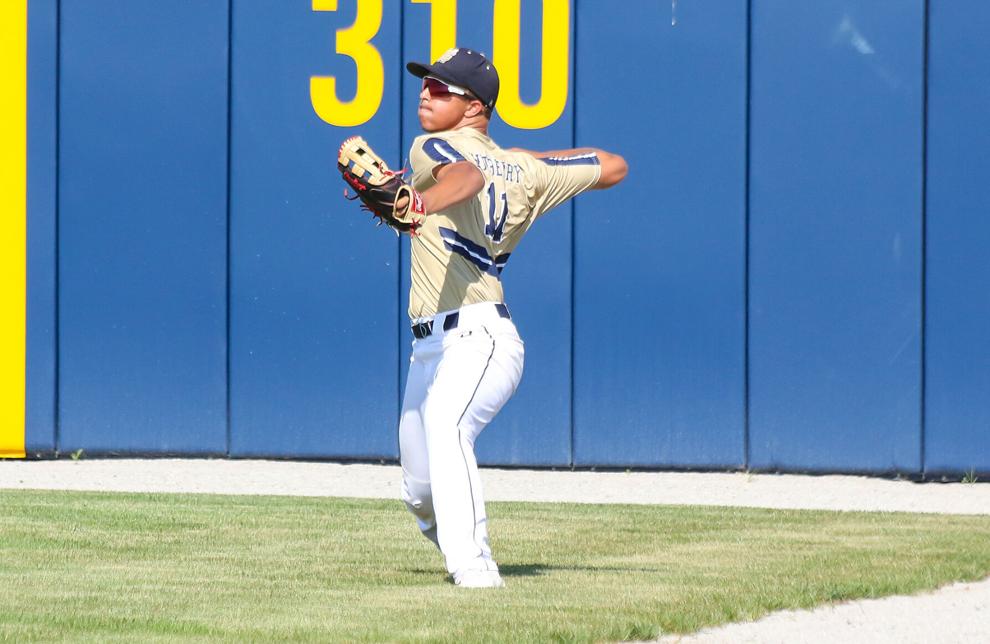 Father McGivney vs. Greenfield baseball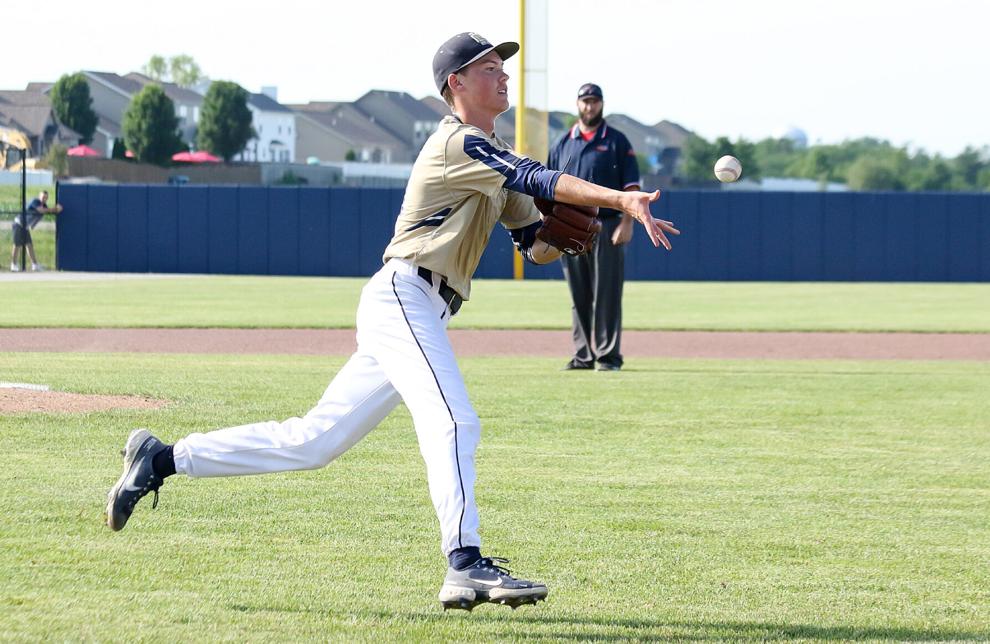 Father McGivney vs. Greenfield baseball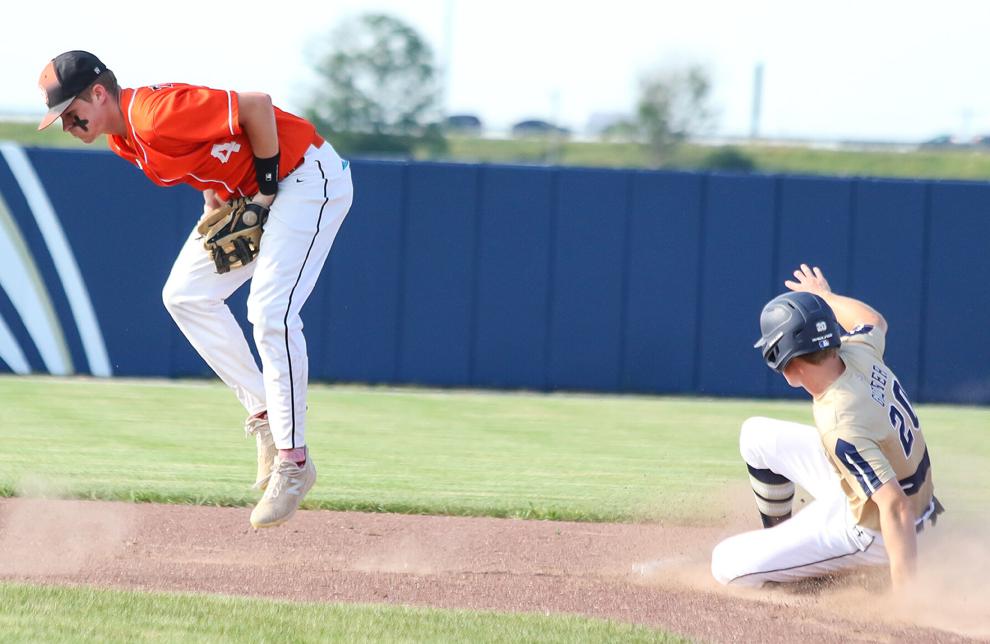 Father McGivney vs. Greenfield baseball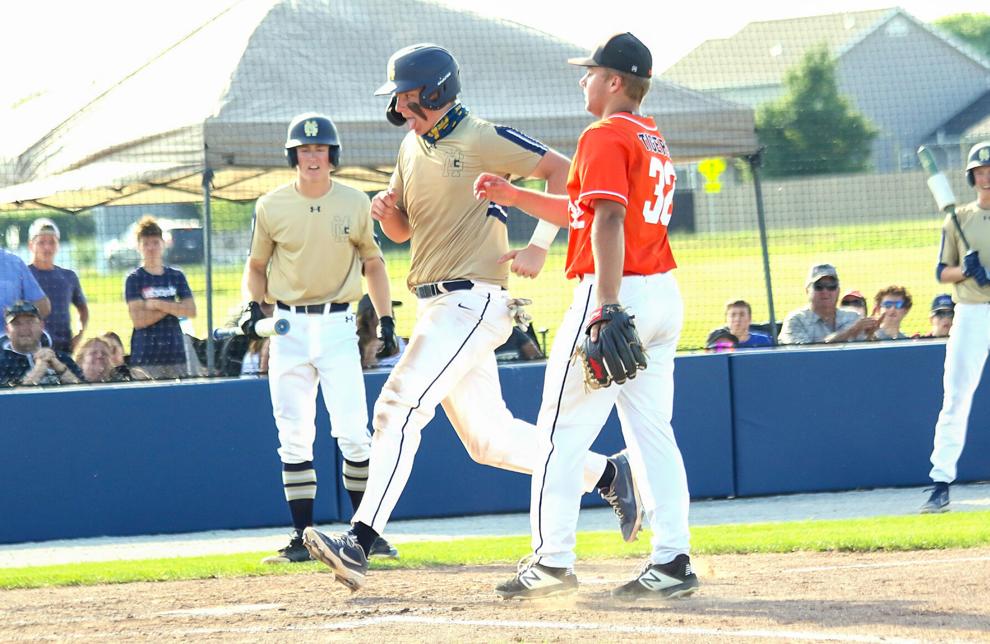 Father McGivney vs. Greenfield baseball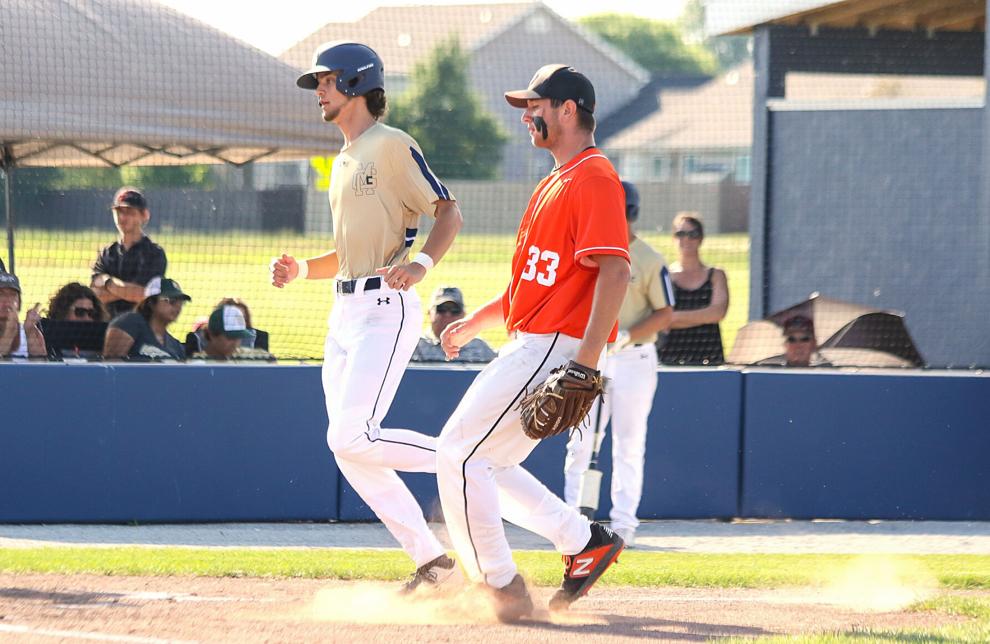 Father McGivney vs. Greenfield baseball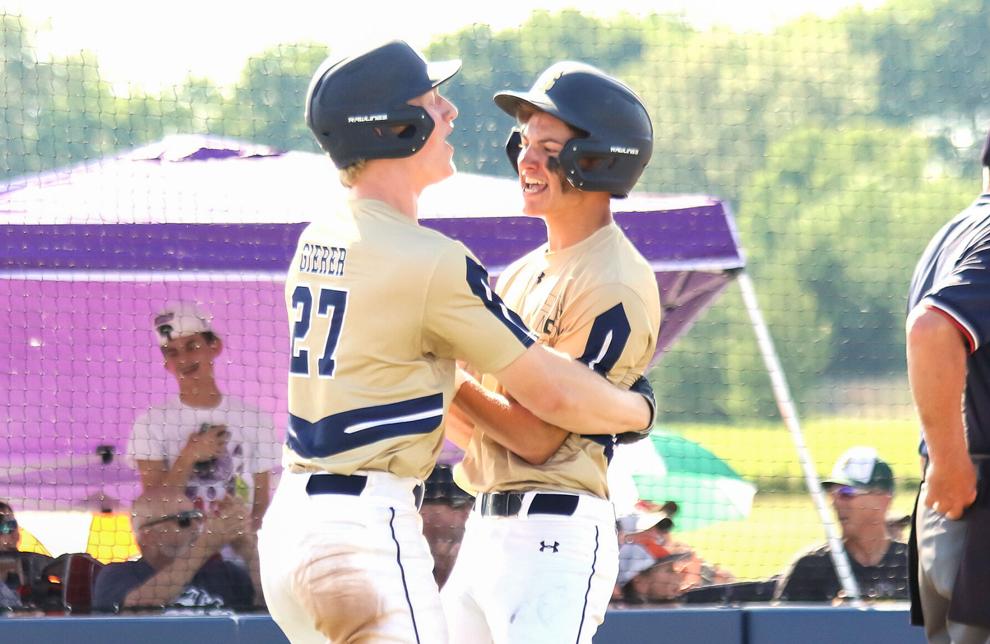 Father McGivney vs. Greenfield baseball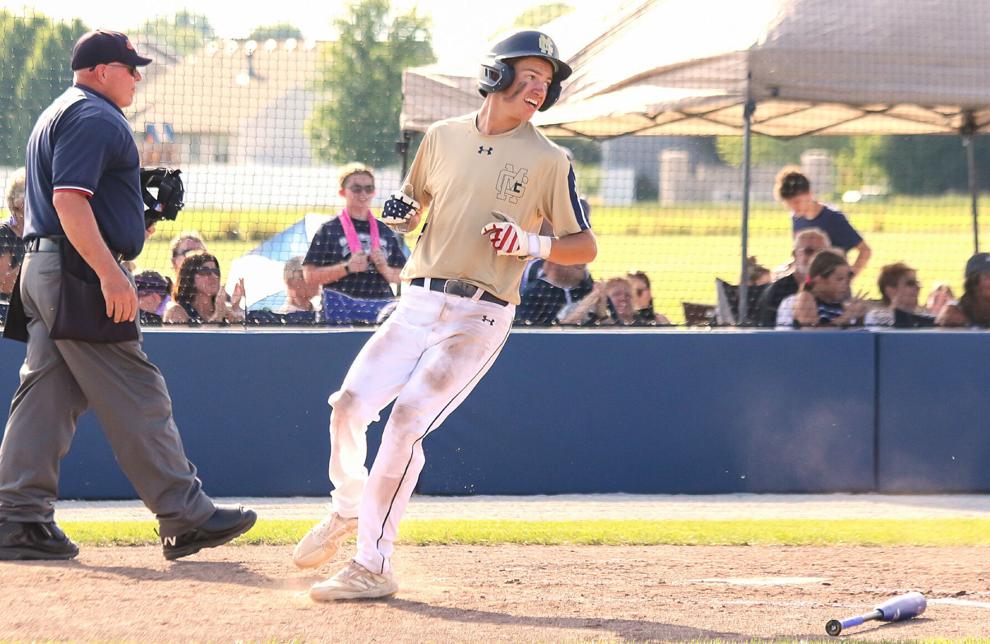 Father McGivney vs. Greenfield baseball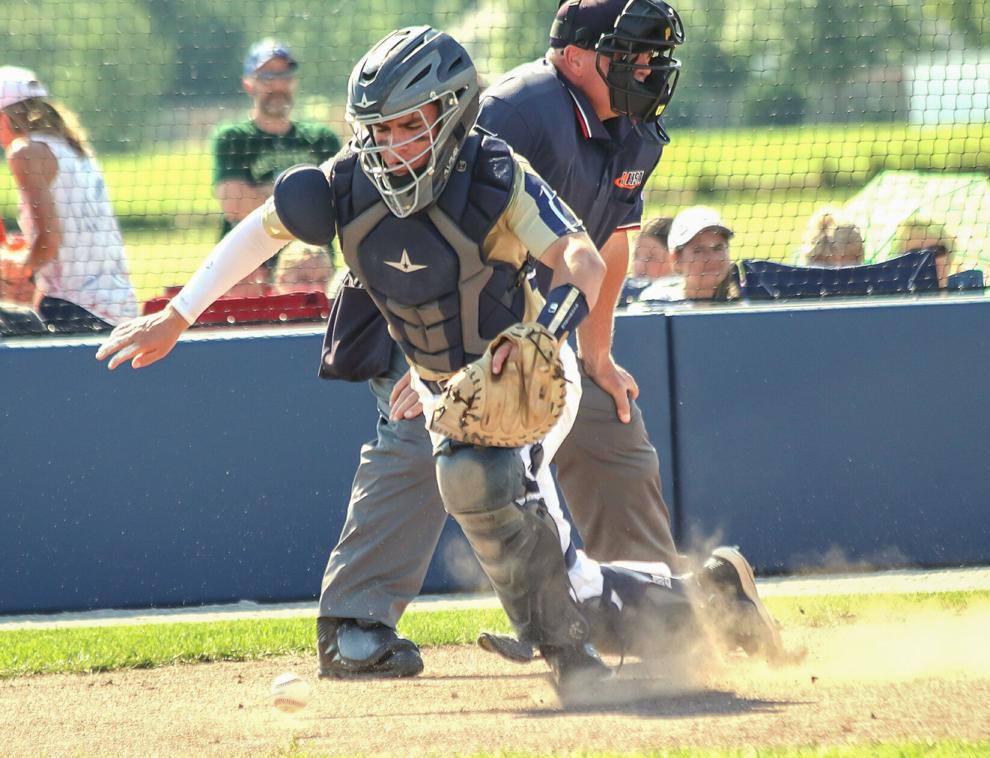 Father McGivney vs. Greenfield baseball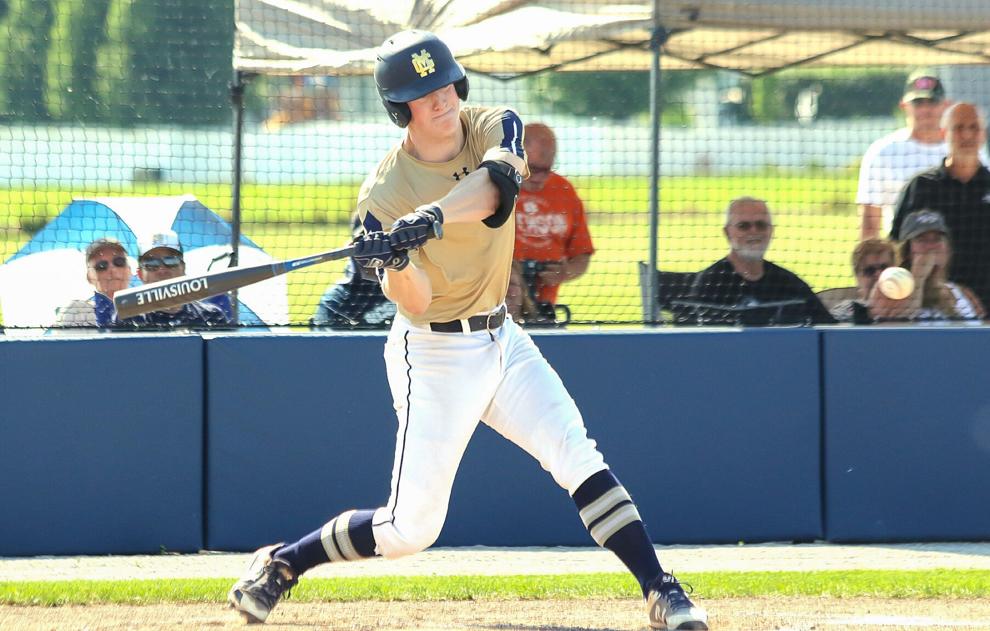 Father McGivney vs. Greenfield baseball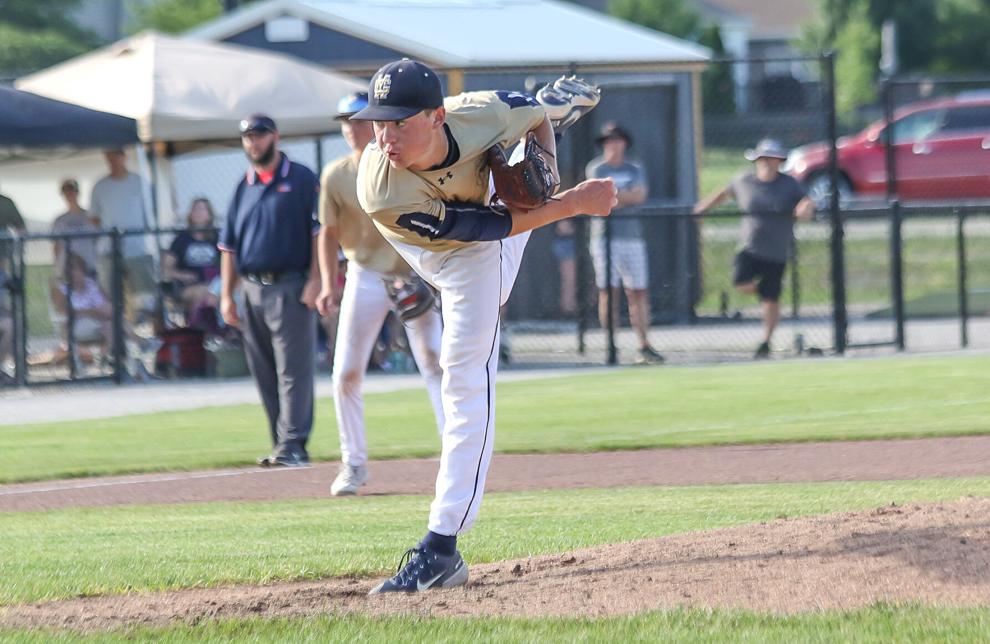 Father McGivney vs. Greenfield baseball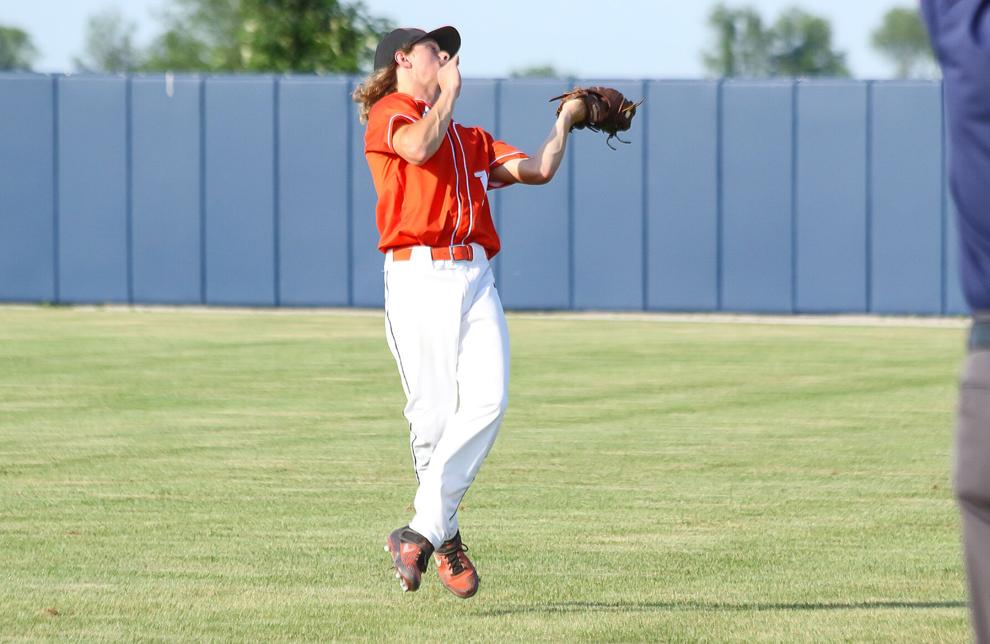 Father McGivney vs. Greenfield baseball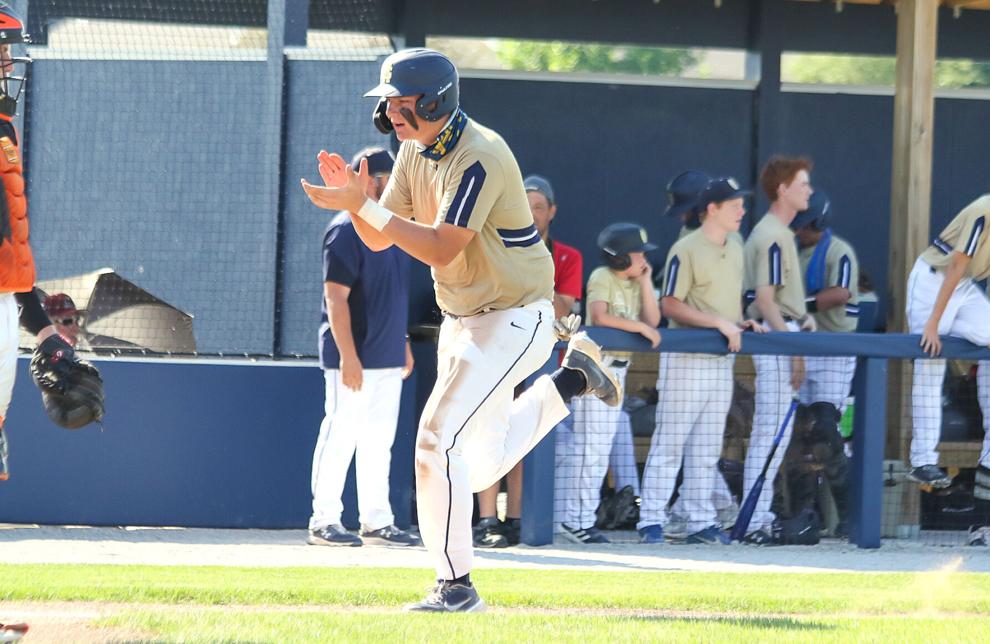 Father McGivney vs. Greenfield baseball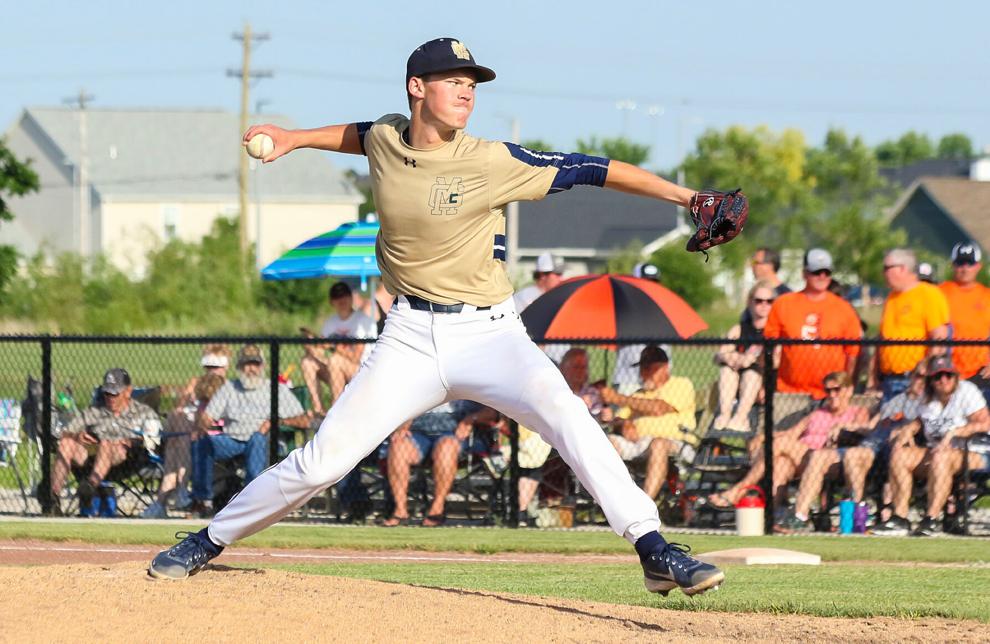 Father McGivney vs. Greenfield baseball