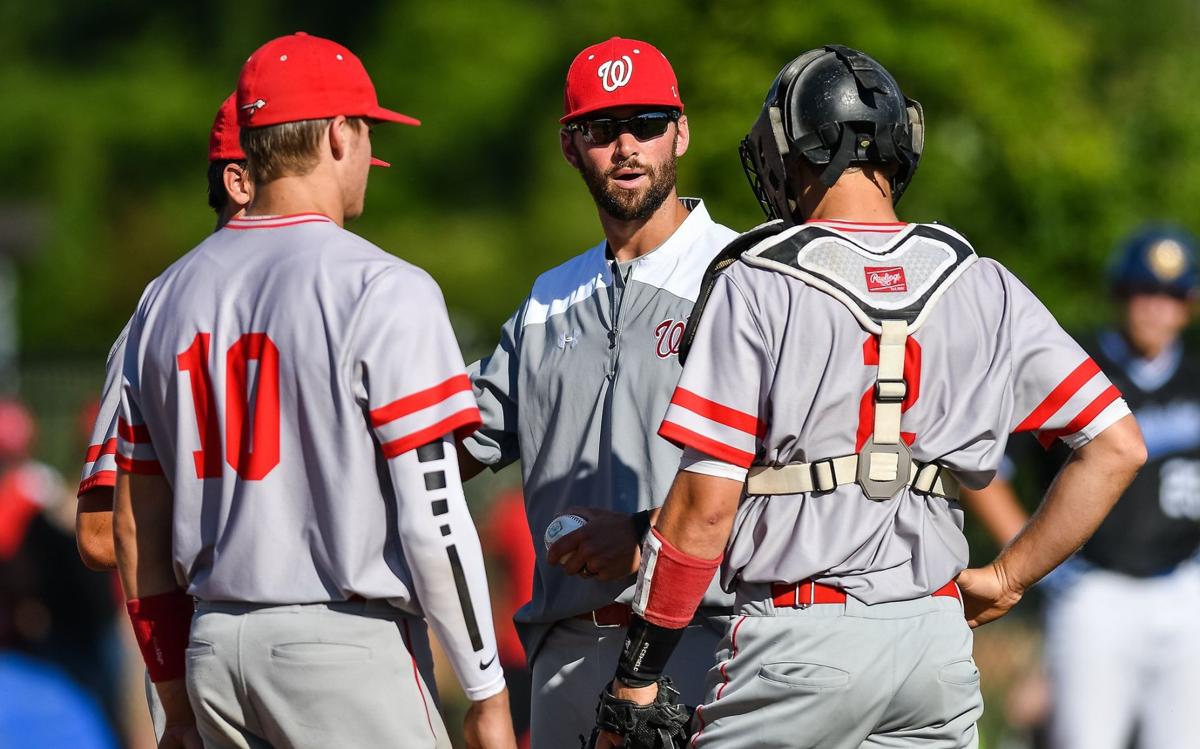 TROY, Mo. — Justin Rodgers is no stranger to the baseball coaching ranks.
And after a two-year hiatus from those ranks, the former Winfield High coach is rejoining that fraternity once again after he was named the new Troy Buchanan baseball coach on Friday.
"I'm super excited," Rodgers said. "It's a chance to be in Troy and to build on that relationship. I'm excited about what we've been doing and what we should have the opportunity moving forward - just super excited for the opportunity here."
Rodgers' hiring was approved by the Troy Buchanan administration on Tuesday. He will succeed Andrew Elmendorf, who was promoted to the assistant principal position at the high school. 
"(Rodgers) has come in and established a great relationship with our administration, the kids, the athletes, the coaches and has just exemplified what we've been looking for in a new head coach," Troy athletics director Jason Smith said. 
Rodgers served as an assistant coach for Grandview for three seasons before accepting the top coaching position at Winfield prior to the 2013-14 season. Rodgers totaled 69 wins in the five seasons and won two district titles before accepting a teaching position at Troy before the 2018-19 season.
"I was happy and loved it there at Winfield," Rodgers said. "I loved the people I worked with and loved the players. I have nothing but great things to say about them. There was a little part of me that wondered if I could do it at a Class 5 program and in the bigger part of the GAC. I thought it would be something I would be interested in. It was tough (to move away from Winfield). But, I'm happy with how it worked out now."
Rodgers learned a lot from being on the same coaching staff with Elmendorf and highly-successful softball coach Lance Richardson.
"They're the type of coaches that I want to be like," Rodgers said. "The way they go about things and how they deal with players. They're all so positive with the players. They do a great job while they're coaching and you wouldn't know if they were upset or not. They always keep a cool demeanor."
While he will serve as the assistant principal at the high school, Elmendorf won't be far away from the diamond if needed.
"I told him over the phone that I'll give him anything that he needs," Elmendorf said. "I told him that he can lean on me as much as he wants."
Elmendorf served as the Troy baseball coach for seven years after being on former Francis Howell Central coach Ray Howard's staff for two years. Elmendorf finished with a 99-89-1 record in seven years with Troy.
"It was tough (to walk away)," Elmendorf said. "I don't think you're ever ready to give it up. I've grown up with sports and athletics my entire life. I love baseball to death and we've had a lot of success over the last couple of years, so it was tough."
The Trojans were 79-45 in their last four seasons under Elmendorf. They played in four district title games, capturing the 2017 Class 5 District 8 title. 
Rodgers has some lofty aspirations for his new team.
"We would like to have a program that is competitive for the conference, district and state titles, but that's not the most important thing that we're looking at," Rodgers said. "We want men to lead the program. We want to prepare them for the world and be successful in whatever they choose to do. If they can have some fun moments along the way and if that includes winning conference and district, that's great."
STLHighSchoolSports.com is the most comprehensive source of stats, scores and stories from any and all area high schools.