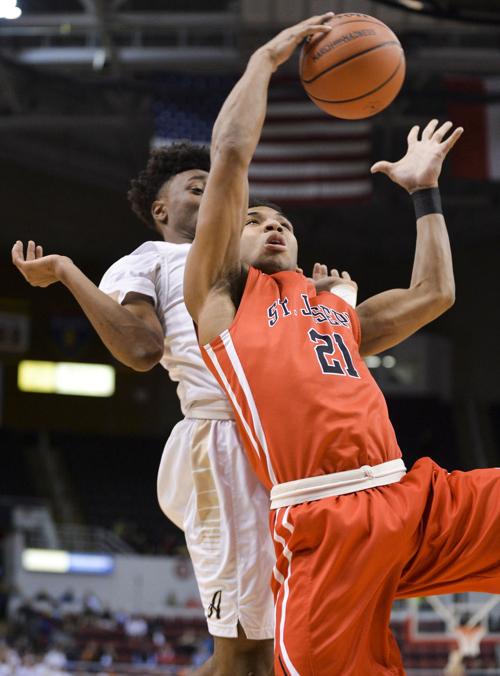 PEORIA • Facing a more mature version of itself, the Althoff High boys basketball team saw its dream season end with a 67-63 loss to Westchester St. Joseph in the Illinois Class 3A state championship Saturday at Carver Arena.
The Chargers (28-6), who beat the Crusaders in double overtime 97-95 about six weeks ago at the O'Fallon Shootout, were a shade too quick and a sliver too strong for Althoff.
They are athletic like Althoff, but don't have the shooters. Instead, they like to take it to the rim and force the action that way. St. Joseph went to the free-throw line 25 times compared to just 13 for Althoff.
"It's a little tougher to be upbeat and talk about all the positives after a loss," said Althoff coach Greg Leib, whose team was in the state tournament for the first time. "We're as disappointed as anybody, but we got beat by a great team and a great coach. We had our opportunities. It just didn't work out for us."
Althoff sophomore Jordan Goodwin turned in another electric performance with a game-high 23 points. He also grabbed a game-high 12 rebounds with four assists and two steals.
Junior Tarkus Ferguson and sophomore C.J Coldon added 12 points apiece and junior Brendon Gooch chipped in 10 points and nine rebounds.
Althoff (30-4) had owned the rebound advantage against every team throughout its postseason run and during its nine-game winning streak. Its last loss was Feb. 7 to St. Joseph.
In the championship, the Chargers had 36 rebounds to 28 for the Crusaders. That played a huge role in the Crusaders not being able to get on one of the double-digit scoring binges that usually puts their opponent away.
St. Joseph junior center Nick Rakocevic, who did little in the team's first meeting, had a team-high 11 rebounds to go with 18 points.
"They are such a good team," Leib said. "Our margin of error was much smaller playing from behind. We needed them to miss some shots and make some mistakes. That's why they're state champs, they did not do those things. (Rakocevic) was much more active this time. He made a big difference."
Things looked good for a few minutes when Gooch sunk a 10-foot floater to tie the game 43-43 a minute into fourth quarter. But St. Joseph immediately went on a 5-0 run to give itself some breathing room. Althoff was within 52-50 as late as 3:19 left in the game but free throws made the difference down the stretch.
Althoff missed all five of its free throw attempts in the fourth, while St. Joseph converted seven of 10.
Rakocevic, who has dozens of Division I college scholarship offers already, is 6-foot-11 and on the skinny side at 205 pounds.
"This is the state championship," Rakocevic said. "You have to give it your all. When a stage like this comes across you have to be ready. It might not come again."
A trio of athletic, physical guards also delivered for the Chargers, who added to the title they won in 1999. Senior Glynn Watson, who signed with Nebraska, had 19 points and six rebounds while senior Joffrey Brown added 15 points and six rebounds.
Another senior, Jordan Ash, had nine points, eight assists, seven rebounds and four steals. Ash will play at Northwestern next season.
"It's always tough to get down here," said St. Joseph coach Gene Pingatore, who has been on the Chargers' sideline for 46 years. "Just to get down here is special. To win it again, we're elated. A lot of great people never got here. This is really special."