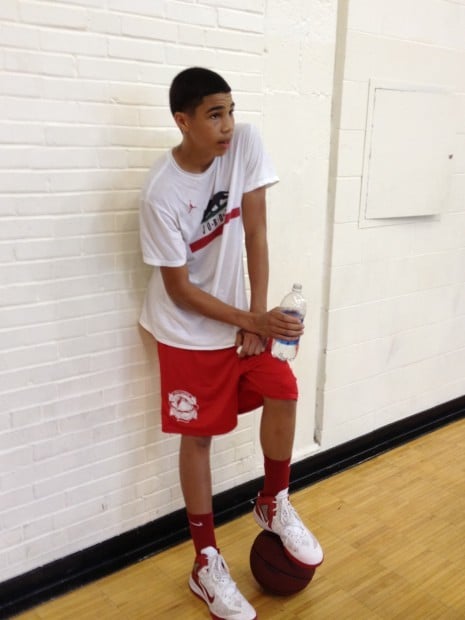 Jayson Tatum has a target on his back that's bigger than his size 14 shoes. A soon-to-be freshman at Chaminade, Tatum has a name people recognize and a basketball game few have seen in someone so young.
The son of CBC and Saint Louis University graduate Justin Tatum, Jayson has all the makings of being the next great player to come out of St. Louis. At least, that's what people tell him. The younger Tatum, for his part, isn't trying to be all of that. His goal is to be the best player he can be each and every day. Anything else is beyond his control. His ears do work, though. He hears the chatter.
"It helps me work harder," Tatum, 14, said.
At 6-foot-5 and 160 pounds as an incoming freshman, Tatum has the physical makeup that projects him to grow to nearly 7 feet tall. His father is 6-6. His mother is 6-1. Both played high-level college sports. His genetics are hardwired to be athletic. The most telling physical trait Tatum possesses is his wing span. When his arms are spread they are 6 feet and 9 inches apart. He looks like a pterodactyl.
While his physical gifts could make him a post player, like his father was at CBC and SLU, Tatum is developing his all-around game. Justin wanted his son to have a guard's skills to pair with his large body. So instead of planting him under the basket, Tatum has grown up handling the ball and shooting jump shots.
"His ball handling for his size is really good," Corey Frazier said. "I think his midrange game is his best asset. He has great upside."
He went out and put his skills on display last week at the elite Fab Frosh Camp in Georgia. This week's Cardinals Featured Athlete came away the second-ranked prospect in the Class of 2016. This is in no small part due to his intense work with Frazier. 
Frazier is Tatum's club team coach with the Whatever It Takes To Succeed Training (W.I.T.T.S.) team. He's also one of Justin Tatum's close friends. Frazier's co-founder of W.I.T.T.S., Ryan Johnson, is Tatum's cousin. The trio have been hands-on in helping develop the youngster. Frazier says it's all in the family.
"His mom and dad pushed him to work with us. I think that's because there's no hidden agenda," Frazier said. "My goal is to see him get better every single day. He's like a little brother. I just want to see him succeed."
He'll try to do that while following in the ever-growing footsteps of one Bradley Beal. The Chaminade graduate and lottery pick in the NBA draft, Beal was arguably the best high school player to dribble a ball in this town. Tatum will be at Chaminade in the fall and Frazier is one of those who believes he can reach that lofty perch among the area's best players.
"Brad (Beal) and B.J. (Young) set the bar high," Frazier said. "I think he can carry the torch."
This summer will be a huge step in his development. The W.I.T.T.S. 14U team won the Nike Memorial Day Classic in Atlanta at the end of May. The victory gave the team a slot at the prestigious Peach Jam on July 19-22 in North Augusta, South Carolina. There, Tatum and his teammates will take on the top talent in their age group the nation has to offer. If he and W.I.T.T.S. are successful, that target, like Tatum, will only get bigger.